Master of Arts in Sport Psychology – Doctor of Psychology (PsyD) Dual Degree

Master of Arts in Sport Psychology – Doctor of Psychology (PsyD) Dual Degree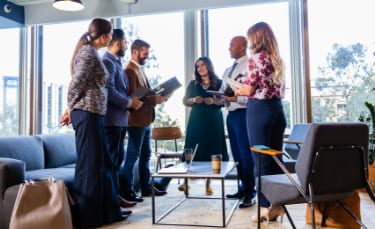 Get Psyched for a Career Helping Athletes Improve Their Performance
NU offers an innovative dual-degree program that prepares students to work in clinical settings, as well as with athletes in sports settings. This program provides a unique training opportunity with clinical clients, as well as athletes with clinical concerns while preparing you to apply the skills and knowledge developed from the fields.
Both the Master of Arts in Sport Psychology and the Doctor of Psychology offer the highest level of available training in applied sport and clinical psychology, respectively.The MA/PsyD dual degree program is for practitioner-scholars who seek education and training in sport and clinical psychology.
Complete both degrees within 6 years.
GMAT not required for admission.
Explore National University's scholarship opportunities. Eligibility requirements apply.
This PsyD program offers hands-on training to prepare for a variety of careers including clinician and program administrator.
Program Learning Outcomes
As a graduate of National University's Sport Psychology PsyD dual degree program, you'll have knowledge, skills, and competencies in the following areas:
Demonstrate knowledge of the foundational concepts and guiding principles of scientific psychology
Develop, articulate, and maintain constructive and contextually sensitive working relationships with clients, colleagues, supervisors, and other professional contacts
Promote, restore, sustain, or enhance positive functioning and a sense of well-being in clients through preventive, developmental, or remedial services
Conduct problem identification, selection of appropriate methodology, analysis and interpretation of data, and clear and accurate communication of findings
Articulate, value, and work consciously with individual and contextual differences within intersecting systems, in accordance with professional standards, laws, and ethics
Describe, explain, synthesize, and apply performance enhancement techniques and theoretical perspectives with individual performers and teams
Describe, explain, synthesize, and apply various assessment tools in an evolving process to create effective action plans, including screening for clinical issues
Use counseling skills to develop working relationships with clients and learn how the self impacts the client-consultant relationship
Identify sources of bias within themselves, integrate concepts, and adapt their skills to work with a diverse range of populations
Critically analyze ethical and decision-making principles in a professional and culturally appropriate manner

Dr. Alvin McLean
Dean of JFK School of Psychology
"If you're committed to making a difference in the lives of high-performance individuals, this is a great program for you."
Contact Us
Take the first step by starting your application online today. To speak to an enrollment advisor about this program, please email [email protected].
Why Choose National University?
We're proud to be a veteran-founded, San Diego-based nonprofit. Since 1971, our mission has been to provide accessible, achievable higher education to adult learners. Today, we educate students from across the U.S. and around the globe, with over 185,000 alumni worldwide.
Program Disclosures
Successful completion and attainment of National University degrees do not lead to automatic or immediate licensure, employment, or certification in any state/country. The University cannot guarantee that any professional organization or business will accept a graduate's application to sit for any certification, licensure, or related exam for the purpose of professional certification.
Program availability varies by state. Many disciplines, professions, and jobs require disclosure of an individual's criminal history, and a variety of states require background checks to apply to, or be eligible for, certain certificates, registrations, and licenses. Existence of a criminal history may also subject an individual to denial of an initial application for a certificate, registration, or license and/or result in the revocation or suspension of an existing certificate, registration, or license. Requirements can vary by state, occupation, and/or licensing authority.
NU graduates will be subject to additional requirements in a program, certification/licensure, employment, and state-by-state basis that can include one or more of the following items: internships, practicum experience, additional coursework, exams, tests, drug testing, earning an additional degree, and/or other training/education requirements.
All prospective students are advised to review employment, certification, and/or licensure requirements in their state, and to contact the certification/licensing body of the state and/or country where they intend to obtain certification/licensure to verify that these courses/programs qualify in that state/country, prior to enrolling. Prospective students are also advised to regularly review the state's/country's policies and procedures relating to certification/licensure, as those policies are subject to change.
*Positions may require additional experience, training and other factors beyond successfully completing this degree program.Depending on where you reside, many positions may also require state licensure, and it is the responsibility of the student to ensure that all licensure requirements are met. We encourage you to also review program specific requirements. Any data provided on this page is for informational purposes only and does not guarantee that completion of any degree program will achieve the underlying occupation or commensurate salary.
Terms & Conditions
By checking this box as my electronic signature and submitting this form by clicking the Request Info button above, I provide my express written consent to representatives of National University and National University System affiliates (City University of Seattle, Northcentral University and National University Virtual High School) to contact me about educational opportunities, and to send phone calls, and/or SMS/Text Messages – using automated technology, including automatic dialing system and pre-recorded and artificial voice messages – to the phone numbers (including cellular) and e-mail address(es) I have provided. I confirm that the information provided on this form is accurate and complete. I also understand that certain degree programs may not be available in all states. Message and data rates may apply. I understand that consent is not a condition to purchase any goods, services or property, and that I may withdraw my consent at any time by sending an email to [email protected].
I understand that if I am submitting my personal data from outside of the United States, I am consenting to the transfer of my personal data to, and its storage in, the United States, and I understand that my personal data will be subject to processing in accordance with U.S. laws, unless stated otherwise in our privacy policy. Please review our privacy policy for more details or contact us at [email protected].