Bachelor of
Public Administration
4-week
COURSES
Start sooner and finish faster with our innovative course design.
Year-round
enrollment
Our admissions team reviews applications year-round.
200k+ Alumni Worldwide
Become a member of NU's global community.
Earn a public administration degree and make a difference in your community
Cities, towns, and villages depend on advocates who are sensitive to the needs of their community and possess the specialized knowledge and skills to make improvements that benefit the people who live there. National University's Bachelor of Public Administration (BPA) is designed to prepare you for an important career in a dynamic and growing field.
Our public administration degree can qualify you to pursue a wide range of professional roles and responsibilities at the local, state, and federal levels. From writing grant proposals and speaking at fundraising events to becoming a leader in waterworks management, successful completion of NU's BPA program can prepare you for mid-level positions in government agencies and nonprofit organizations.
Public administration is an important and respected career path ripe with opportunities for advancement, and our curriculum is designed to prepare you with the industry-current qualifications to pursue them.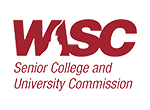 The Western Association of Schools and Colleges (WASC) accredits public and private schools, colleges, and universities in the U.S.
Course Details
Course Listing
Preparation for the Major
3 courses; 13.5 quarter units
Course Name
MNS 205 Intro to Quantitative Methods – 4.50
Key mathematical and statistical concepts useful for understanding business problems and making informed decisions with the right tools are introduced. Concepts relate to numbers, formulas, linear equation models and descriptive statistics. Applications focus on personal decisions and decisions within businesses in the areas of finance, discounts, pricing, interest rates, loans, insurance, investment, payroll and taxes. Microsoft Excel is the software used in this class. MNS 205 and MTH 210 are the primary quantitative courses required for MNS 407. Students who have taken college algebra or calculus (MTH 215 or MTH 220) are exempt from this course.
ECO 203 Principles of Microeconomics – 4.50
In this course, students will study the price system, market structures, and consumer theory. Topics covered include supply and demand, price controls, public policy, the theory of the firm, cost and revenue concepts, forms of competition, elasticity, and efficient resource allocation, among others.
ACC 201 Financial Accounting Funds. – 4.50
A survey of basic accounting theory and the application of accounting principles, this course includes the recording and summarization of business transactions in the form of financial statements under the rules of generally accepted accounting principles. (GAAP). It is designed for students who have little or no prior knowledge of financial accounting, this course corresponds to Principles of Accounting I at other colleges.
Requirements for the Major
12 courses; 54 quarter units
Course Name
ODV 420 Intro to Organizational Behavior – 4.50
An introduction to the impact that individuals, groups, and structure have on behavior within organizations for the purpose of applying such knowledge toward improving an organizations effectiveness. The course will focus on work-related behavior with an emphasis on individual and group performance as it relates to organizational productivity and processes. A central theme will be the development of "people" skills to help all employees- staff, front-line supervision, and management- improve their effectiveness.
PAD 400 Intro to Public Administration – 4.50
A general survey course of the theory and practice of public administration, its legal and constitutional foundation and the role of the public administrator in public policy. The context of the discussions are based on the current issues facing administrators.
PAD 401 Public Policy Development – 4.50
This course discusses the public policy issues facing communities and the role of the public administrator in implementing policy. Examines the role of community action groups in developing and influencing policies. Evaluates the impact of policy decisions on communities and the ethical issues surrounding decisions.
PAD 402 Urban Environments – 4.50
This course explores the role urban environments play in the nation. Discusses the issues unique to cities and large metropolitan areas and the role of governments and public agencies in addressing the issues. Discusses the ethical issues facing public administrators in dealing with urban and rural environments.
MGT 400 Ethics in Law, Business & Mgmt – 4.50
Exploration of values and ethics in businesses that operate locally and internationally. Moral philosophies, values, conflict of interests, discrimination, business cultures, and ethical standards are critically presented. Ethical leadership of people, technology and sustainability are used in the development and implementation of ethical business programs.
PAD 403 Government Relations – 4.50
This course is an exploration of how to communicate with citizens in a positive and helpful fashion. Discusses how to interact with community groups and the press and how to promote public understanding of, and support for, government activities.
MNS 407 Management Science – 4.50
Prerequisite: MNS 205 and MTH 210
An introduction to the fundamentals of business analytics. Focuses on the management science approach for problem solving, the application of linear programming, the use of decision analysis techniques, as well as project management tools. It is practical and students gain advanced skills in Excel. This course is a prerequisite for MGT 451.
PAD 404 Nonprofit Management – 4.50
The course discusses the theories and roles of nonprofits in public administration. It explores the relationships between nonprofits and the public sector; and sources of revenue. Discusses the public policies towards the nonprofit sector and the ethical issues surrounding the sector.
ACC 434 Government and Nonprofit Acct – 4.50
Prerequisite: ACC 201
A study of the specialized accounting principles applicable to state and local governments and other non-profit organizations, with an emphasis on fund accounting principles used in the recording of assets, liabilities, equity, revenues and expenditures. Also covers the analysis and interpretation of financial statements of such governmental and nonprofit entities.
LED 420 Adaptive Leadership in Change – 4.50
Analysis of constant and continuous change in modern organizational environments. This class will provide students with the skills needed to recognize the potential impacts of change on their organizations, and to lead their organizations through the change process effectively. Students will develop skills in assessing organizational culture and learn to create the learning organization of the future.
MGT 422 Team Bldg, Interpers Dynamics – 4.50
An overview of the issues of quality applied to human resources management, topics include the delegation of authority and empowerment, work groups, team building, and employee involvement, reward/recognition programs and employee morale, and the importance of written and oral communication skill in the delegation, sharing, and execution of work. Students gain a clearer understanding of the ways the workplace is changing to improve productivity and profitability.
PAD 405 Senior Research Project – 4.50
Prerequisite: Satisfactory completion of 36qu of BPA major coursework.
Supervised senior project undertaken by students of public administration when they have completed all core courses in the program. Coordinated by full-time faculty and chaired by a public administration faculty member chosen by the student from previous courses taken within the program. Students select a viable topic in public administration to research and then meet with their chair once a week for two months. Upon completion, students present their project to chair, other faculty and peers in an open forum. Accelerated study is not permitted with this course. PAD405 is two months in length. Students who do not complete the Senior Project within the two-month period are eligible, at the discretion of the instructor, to receive a grade of "IP" with a maximum of a one-time, six-month extension. Students who do not complete the project at the end of the extension period will need to retake the course. Grading is by H, S, or U only. Course is eligible for an "IP" grade.
Upper-Division Electives (4 courses; 18 quarter units)
Students are encouraged to take any minors or electives in the following prefix areas: CJA, MGT, HRM, ODV, LAW, ACC, FIN, BKM, HUB, LED, and ECO.
Concentration in WaterWorks Management
Requirements for the Concentration:
4 courses; 18 quarter units
Course Name
PAD 410 Water Works Management in CA – 4.50
Climate change, population growth, water resources, impact of special groups, and demand for transparency snd accountability are among many contemporary issues facing the water and wastewater industry. This course will provide students with an overview of the significant industry-specific issues along with knowledge of maintenance and operations of water facilities, infrastructure and assets, key chemical and biological laboratory tests, and requirements for operating a proactive Capital Improvements Program.
PAD 415 CA Water Law & Compliance – 4.50
Water and wastewater agencies operate in an organizational landscape filled with federal, state, regional and local laws, regulations, and policies. For California water and wastewater agencies, knowledge and understanding of state and local regulatory compliance is essential in providing California residents with safe drinking water. This course will provide students with extended review of governing regulations focusing on Safe Drinking Water Act and Clean Water Act will differentiating the interrelationship between state, regional, and local water authority law and regulations.
PAD 420 HR & Labor Relations – 4.50
More than 95 percent of all water and wastewater services in California are provided by public sector agencies. Agencies must comply with a special set of laws, rules, regulations, and procedures related to recruitment, hiring, promotion and other personnel actions. This course will focus on the role of Human Resources while providing students with measures and structure for developing performance improvement and professional development. The course will also cover employee training & development, safety & risk management and effective labor relations.
PAD 425 Leadership in Water Mgt – 4.50
The complex challenges of the water and wastewater industry require a unique approach to leadership. This course will provide the student with the opportunity to explore core issues in the practice of leadership & how they affect the organization's achievement of its goals and objectives. Students will identify different theories and styles of organizational and integrative leadership and evaluate them in the context of effectively operating a water or wastewater agency.
Degree and Course Requirements
To receive a Bachelor of Public Administration, students must complete at least 180 quarter units as described below, 76.5 of which must be completed at the upper-division level, 45 of which must be completed in residence at National University, with a minimum of 69 units of the University General Education requirements. In the absence of transfer credit, students may need to take additional general electives to satisfy the total units for the degree. Refer to the section on undergraduate admission procedures for specific information regarding application and evaluation. All students receiving an undergraduate degree in Nevada are required by State Law to complete a course in Nevada Constitution.
What Can You Do with a Public Administration Degree?
National University's unique Bachelor in Public Administration degree blends central theories of public administration with business operations and management. You'll learn ways to apply public administration practices to program and resource management and understand accounting and budgeting for government agencies and nonprofits. NU is also one of the few universities in California and beyond to offer a Water Management concentration that focuses on the high-growth areas of management, compliance, and leadership in this critical field. According to the BLS, the median annual wage for social and community service managers was $69,600 in May 2020. Employment of social and community service managers is projected to grow 15% from 2020 to 2030, faster than the average for all occupations.*
Career Opportunities in the Public Administration Field
Administrative officer
City manager
County administrator
Department head
Grant administrator
Financial manager
Government community relations specialist
Government office manager
Planning/development director
Public policy analyst
Urban planning manager
Employers of Public Administration Graduates
Local, state, and federal government
Urban planners
Chamber of commerce
Business and industry
Nonprofit organizations
*SOURCE: Bureau of Labor Statistics, U.S. Department of Labor, Occupational Outlook Handbook, the internet, https://www.bls.gov/ooh/management/social-and-community-service-managers.htm (viewed May 19, 2022)
Cited projections may not reflect local or short-term economic or job conditions and do not guarantee actual job growth.
Complete Your Bachelor of Public Administration Degree Online
National University has always been dedicated to meeting the needs of working adult learners. While earning your degree is important to your future, you don't need to put your life on hold to do so. The Bachelor of Public Administration (BPA) can be completed 100% online, so you can study when and where it's most convenient for you. You will engage with faculty weekly and participate in discussions with faculty and classmates on online discussion boards. Quizzes and exams are completed online, and you can submit your assignments directly to your professors through the online portal.
Waterworks Management Concentration
Become a Leader in the Waterworks Industry. National University is proud to support the workforce needs of the waterworks industry. No other resource is more vital to California's survival and prosperity than its water supply. The water and wastewater industry anticipates a rapidly growing demand for highly skilled professionals in the coming years.
As current seasoned leaders retire, the water and wastewater agencies will face increasing vacancies, many of which require a bachelor's degree. There are numerous academic pathway opportunities available. Visit the Waterworks Concentration page for additional details.
National University is currently the only institution in California that offers a bachelor's degree specifically designed to prepare new leaders for the waterworks industry. This accelerated program allows students who have completed their associate degree to work toward a bachelor's degree with minimal time and expense.
Bachelor of Public Administration/Master of Public Administration Transition Program
Students who are currently enrolled in the Bachelor of Public Administration program, have a GPA of at least 3.0, and are within six courses of graduation may register for the BPA/MPA transition program by taking two MPA classes as electives during the BPA program. To be eligible, students must apply for and begin the MPA program within six months of completing their BPA program. Students may choose up to two of the graduate-level public administration courses (with the exception of PAD 631 and PAD 644).For students in the BPA/MPA transition program, the university will waive up to two graduate-level public administration courses taken as part of the bachelor's degree, but these students must still meet the residency requirements for the MPA. Students must complete graduate-level coursework taken as part of the BPA degree with a grade of "B" or better.
Program Learning Outcomes
Synthesize the theories of public administration
Analyze the operations and procedures of public management and nonprofits
Develop skills in managing a public sector or nonprofit organization
Apply the theories and practices in program and resource management
Apply the theories and practices of accounting and budgeting in government and nonprofits
Evaluate the role of community groups in local government
Analyze ethical situations in the public sector
Utilize research processes to address a current problem in public administration
Analyze complex database queries for real-world analytical application platforms
Design medium-to-large data warehouses
Collect and analyze data, conduct literature reviews, and present findings
Hear From Our Faculty
Learn more about the bachelor's degree in Public Administration at National University.
Admissions
Enrolling in a university is a big decision. That's why our dedicated admissions team is here to guide you through the admissions process and help you find the right program for you and your career goals.
To that end, we've simplified and streamlined our application process, so you can get enrolled in your program right away. Because we accept and review applications year round, you can begin class as soon as next month, depending on your program and location of choice.
Learn more about undergraduate, graduate, military, and international student admissions, plus admissions information for transfer students. You can also learn more about our tuition rates and financial aid opportunities.
To speak with our admissions team, call (855) 355-6288 or request information and an advisor will contact you shortly. If you're ready to apply, simply start your application today.

Why Choose National University
Four-Week Courses
75+ Degree Programs
Online or On-Site
Year-Round Enrollment
Military Friendly
We're proud to be a veteran-founded, San Diego-based nonprofit. Since 1971, our mission has been to provide accessible, achievable higher education to adult learners. Today, we educate students from across the U.S. and around the globe, with over 200,000 alumni worldwide.

"The BPA program at National University has been a profound experience, expanding my understanding of topics relating to urban environment, government operations, and even social justice. The program encompasses the foundations of the public sector while also empowering students with the knowledge to make positive contributions in their future endeavors."
–Erika Torres., 2021 Graduate

Frequently Asked Questions
Career and Salary Outlook
Public administration is a high-growth career field offering a diverse range of opportunities for professionals who have a strong foundation in public management, ethical leadership, and local, state and federal procedures and practices.
Public Administrators oversee budgets and allocations of resources and services in a variety of capacities to implement public policy within public governments and companies that provide services to support their efforts. Backgrounds and knowledge in finance, accounting, and auditing reflect the importance of budget related skills.
Key skills associated with BS in Public Administration are:
Public Administration
Finance
Accounting
Auditing
Strategic Planning
Social Work
Economics
Data Analysis
Procurement, Purchasing, Financial Tracking
Human Services
Job Opportunities for Public Administration Graduates
The public sector is always in need of professionals with the rigorous training to meet the complexities of the management of public programs and assets. Your career path could include teaching or training assignments, research, or a variety of roles within government and nonprofit organizations including business administrators, government relations managers, budget specialist, policy analyst, and many others.
According to Emsi labor market analytics and economic data1, employers seeking Bachelor of Public Administration graduates are primarily public sector entities or contractors who provide consultation and software solutions. Emsi also confirms some of the top job titles for professionals who have earned this degree include:
Federal (US Government, US Dept of Veterans Affairs)
State Government Administrations
City Government Administrations
Nonprofit Social Assistance Organizations
Local Government Services Providers
Management Consulting Companies
SOURCE: Emsi Labor Analyst- Report. Emsi research company homepage at https://www.economicmodeling.com/company/ (Report viewed: 2/17/2022). DISCLAIMER: The data provided is for Informational purposes only. Emsi data and analysis utilizes government sources to provide insights on industries, demographics, employers, in-demand skills, and more to align academic programs with labor market opportunities. Cited projections may not reflect local or short-term economic or job conditions and do not guarantee actual job growth. Current and prospective students should use this data with other available economic data to inform their educational decisions.
Does public administration require math?
The general education program consists of a minimum of 70.5 quarter units. Of the 70.5 units, students must complete at least 4.5 units at the upper-division level and 4.5 units in diversity-enriched coursework. To prepare for the major, students must complete:
MNS 205* Intro to Quantitative Methods
ECO 203* Principles of Microeconomics
ACC 201 Financial Accounting Funds
* May be used to meet a General Education requirement.

Year of You Scholarship
Do you qualify for a needs-based scholarship? Learn more about the NU Year of You Scholarship and other scholarship opportunities to unlock the door to your dreams!
Program Disclosure
Successful completion and attainment of National University degrees do not lead to automatic or immediate licensure, employment, or certification in any state/country. The University cannot guarantee that any professional organization or business will accept a graduate's application to sit for any certification, licensure, or related exam for the purpose of professional certification.
Program availability varies by state. Many disciplines, professions, and jobs require disclosure of an individual's criminal history, and a variety of states require background checks to apply to, or be eligible for, certain certificates, registrations, and licenses. Existence of a criminal history may also subject an individual to denial of an initial application for a certificate, registration, or license and/or result in the revocation or suspension of an existing certificate, registration, or license. Requirements can vary by state, occupation, and/or licensing authority.
NU graduates will be subject to additional requirements on a program, certification/licensure, employment, and state-by-state basis that can include one or more of the following items: internships, practicum experience, additional coursework, exams, tests, drug testing, earning an additional degree, and/or other training/education requirements.
All prospective students are advised to review employment, certification, and/or licensure requirements in their state, and to contact the certification/licensing body of the state and/or country where they intend to obtain certification/licensure to verify that these courses/programs qualify in that state/country, prior to enrolling. Prospective students are also advised to regularly review the state's/country's policies and procedures relating to certification/licensure, as those policies are subject to change.
National University degrees do not guarantee employment or salary of any kind. Prospective students are strongly encouraged to review desired job positions to review degrees, education, and/or training required to apply for desired positions. Prospective students should monitor these positions as requirements, salary, and other relevant factors can change over time.