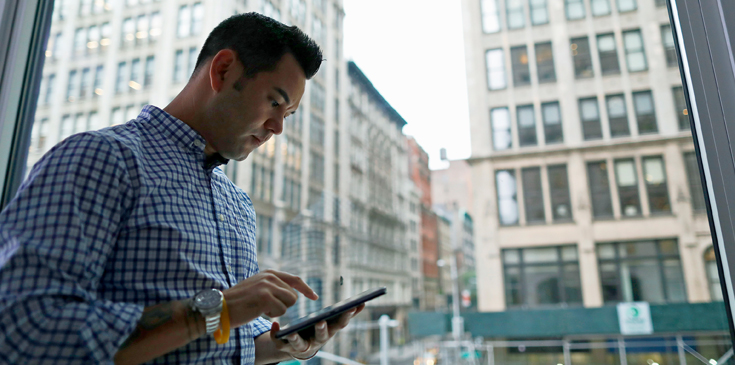 For one National grad, it is a career choice that has brought a lot of professional satisfaction. As the city treasurer of Redding, California, Allyn Van Hooser already knew a lot about the interworking of local government when she decided to go back to graduate school. Although she's already accomplished in her field, her Master in Public Administration (MPA) from National University has already given her new insight into her job as a city administrator, department head, and elected official.
"Every class I've taken so far has directly related to my job. I was shocked that it would have that great of an immediate impact. I thought it would be interesting and helpful, but it wouldn't actually relate to my job immediately," Van Hooser says. "I find great value in being able to apply what I learn, which is even better because then I retain it."
National University's master in public administration offers courses that introduce students to various aspects of working in the public sector. One of the required courses focuses on urban planning, which had direct relevance for a project Van Hooser worked on with a developer in Redding.
"We've got a change in leadership at the city of Redding and they're moving towards a team-based management style, which is very new for governments," she says. "I was able to study about that and the effects of how you implement it. I'm on the leadership team here to help that happen."
Van Hooser is one of the more than 22 million government employees in the United States. Approximately 14.5 million people work for local government, 5 million for state government, and 2.8 million for the federal government, according to the U.S. Bureau of Labor Statistics.
What Can I Do With a Public Administration Degree?
Many students might wonder, "What can I do with a public administration degree?" A degree in public administration prepares you to pursue careers in the public sector, which can include local, state, and federal government, as well as other public agencies and nonprofit organizations. "Public administration is a discipline of understanding and learning about public management," says Kenneth Goldberg, academic program director for NU's bachelor and master of public administration programs. "Public administration teaches students about managing government, which is different than the for-profit sector. Although we generate income by collecting taxes, we know our job is not to generate income for stockholders or anything like that."
While a bachelor of public administration gives you a foundation in the discipline, the master's degree prepares you for higher-level management positions. Goldberg adds that the master of public administration (MPA) is the terminal degree for the field. While a master of business administration (MBA) prepares students to work in the private sector, an MPA teaches students what they need to know about the public or nonprofit sector. Students also learn about nonprofit management and grant administration.
"What nonprofits have in common with government is a strong propensity to serve the public," Goldberg says. "That aligns them pretty nicely with the principles of public administration. And we also do grant management, because that's growing into its own specialization in nonprofit management and public administration."
Many students who pursue a degree in public administration, especially at the graduate level,  have previous experience in the public sector. Many are also veterans or active duty military who are committed to a career in public service. "The program really helps to prepare students for mid-level positions, but a lot of our students also go into executive positions and sit on policy-making boards or have gone into elected political offices within state government," says Deborah LeBlanc, professor of public administration. "There is a whole array of areas that people can go into with this master's or bachelor's degree program and transition into a variety of governmental and quasi-political positions."
LeBlanc says that the positions that are available depend a lot on timing. Immediately following elections, there is often a lot of turnover as administrations transition to new leadership. "Right now there's a new governor who's now taking applications to field thousands of positions within the state of California. So a person coming in with public administration background, who is a creative, innovative kind of person would be best suited for this stage of governmental development," she says. "Eighteen months from now, you may need more of an analytical person who's coming in and will take a look at the statistics and prepare the reports on how well the administration is doing. It depends on the place and stage of operations within government. No matter what your personality type, if you're innovative, outgoing, creative, and problem-solving oriented, there's a place for you in government."
What Is Public Administration? A Field With Many Career Options
Public administration graduates can work with government, law enforcement, public transportation, education, criminal justice, and public health, among other fields. Job titles include urban planner, health services manager, education administrator, public administration consultant, program analyst, financial analyst, human resources director, city manager, financial manager, executive manager, and logistician. The field offers careers for both civil servants and elected officials.
One of the more in-demand positions within local government is that of a city manager, who is responsible for the overall administration of a city government. While a mayor and city council members are elected officials, city managers are appointed civil servants responsible for operations in small towns and major cities. They implement policies developed by the mayor and city council and oversee departments, control budgets, and often serve as the day-to-day head of the city. According to the National League of Cities (NLC), the average salary for city managers is $106,408, although this figure varies widely across the country depending on the size of the municipality. LeBlanc says there are often more opportunities to break into the field in smaller municipalities. "City managers are fairly sought-after and highly paid positions," LeBlanc says. "An MPA might prepare students to start as a management analyst and then move from there to an assistant city manager. And then from there to city manager."
LeBlanc explains that many students also develop or draw on expertise in a specific policy area such as housing, public health, economic development, or urban planning. Urban and regional planners, for example, develop land use plans and programs that help create communities, accommodate population growth, and redevelop facilities in towns, cities, counties, and metropolitan areas. According to the Bureau of Labor Statistics, the median pay for urban planners in 2017 was $71,490 and employment is expected to grow 13 percent from 2016 to 2026, faster than the average for all occupations. In California, the annual mean wage for urban planners was $89,350.
LeBlanc says she has also seen growth in administrative positions in law enforcement, prison management, and corrections management. National University's Law Enforcement Scholarship, for example, is intended for employees of law enforcement agencies across the United States who have the goal of earning an associate, bachelor's, or master's degree or academic certification, including the bachelor and master of public administration. The award covers 25 percent of tuition, up to $16,500, for approved coursework. The scholarship can be used towards programs on National University's campuses in Los Angeles and San Diego or for an online degree. Examples of agencies with eligible employees include police departments, sheriff's departments, highway patrol, the FBI, U.S. Customs and Border Protection, departments of corrections, and offices of juvenile justice.
According to Governing magazine, finance-related roles are among the fastest growing areas of local government employment. Data from the Census Bureau's Annual Survey of Public Employment and Payroll showed that finance-related positions increased 5.4 percent between 2014 and 2017. Other areas of local government experiencing growth include transit, fire departments, and parks and recreation. The NLC estimates that the average salary for a chief financial officer is $87,173.
What Can I Do With a Public Administration Degree? Options at National
National University offers both a bachelor's and master's degree in public administration. "The program is really designed to encourage the development of strategic, innovative, and creative problem-solving," LeBlanc says. "National University is not just a place where students are getting a degree. We really work with students to help to develop them as individuals through the journey of public service."
The bachelor of public administration has 12 required core courses with four upper division electives. Students are required to complete Introduction to Quantitative Methods, Principles of Microeconomics, and Financial Accounting prior to entering the major. The 12 core courses include coursework in public administration, management, leadership, and accounting. Individual courses include Introduction to Organizational Behavior, Introduction to Public Administration, Public Policy Development, Urban Environments, Ethics in Law, Business & Management, Government Relations, Management Science, Nonprofit Management, Government and Nonprofit Accounting, Team Building and Interpersonal Dynamics, Adaptive Leadership in Change, and a senior research project.
Undergraduate students learn management skills for the public or nonprofit sector, learn theories and practices in program and resource management, gain skills in accounting and budgeting in government and nonprofits, evaluate the role of community groups in local government, analyze ethical situations in the public sector, and utilize the research process to address contemporary problems in public administration. The degree is a four-year program offered online and onsite at the campus in San Diego. Goldberg says the online degree is the most popular because of the flexibility it offers. Classes are offered on a four-week block schedule.
The master of public administration is comprised of eight core courses that include Foundations of Public Administration, Seminar in Urban Affairs, Public Personnel Policy, Quantitative Methods, Ethics, Urban Planning and Redevelopment, and Finance Management and Grant Administration. The eighth class is a capstone course that is similar to a master's thesis. Students can then take four electives of their choice or choose one of two specializations: human resource management or organizational leadership. According to Goldberg, the organizational leadership specialization is the most popular. All of the MPA courses are four weeks long except for the capstone course, which spans eight weeks. "It's a pretty detailed project and it takes time to put it all together and do your research," Goldberg explains.
Many of the master's students are like Van Hooser, with significant professional experience in government under their belts, while others are new to the field. Most already have some familiarity with what they can do with a degree in public administration. "One unique thing about the program is that we provide a very well-rounded background of public administration for someone who either wants to get into the discipline or is in it for a promotion," Goldberg says.
For the capstone course, students are able to choose a project that aligns with their professional interests. "Many students do case studies. The neat thing about the capstone course is that we let the students bring real-world issues into the course," Goldberg says. "If there's an issue that they want to know more about, we'll work with them to try to make it their thesis. We bring a lot of practitioner experience into it. It may be an analysis of a public administration issue, public personnel policy type, human resources, or a review of organizational leadership."
LeBlanc worked with a student who was employed in the San Diego city attorney's office on drafting a grant proposal for her capstone project. "As part of her graduate program for completing the MPA program, I helped her put that grant together. She submitted it to her state attorney, and it got funded," LeBlanc says. "Then she actually got invited for an interview and got hired as the senior paralegal in the city manager's office. It was directly tied to the grant project she had done in the master's program."
Goldberg says that one of the hallmarks of NU's approach to teaching public administration is its focus on the practice of public service. He tries to bring real-world examples into the classroom. He teaches the first course that students take, Foundations of Public Administration. To illustrate the idea of intergovernmental relations, which refers to the interactions of various levels of government, he discusses, for instance, how current issues like legalization of marijuana and immigration play out in relations between local, state, and federal governments.
Many of the public administration faculty also have many years of public sector or nonprofit experience. "We're very fortunate to have some very well established faculty that have practitioner expertise in the courses they teach," Goldberg says. "For example, our urban planning and redevelopment course is taught by the assistant city planner for San Diego. So everybody has an area of expertise that they bring to the courses that they teach."
Among Colleges in San Diego — A Unique Transition Program
One of the unique aspects of both programs is that undergraduate students who are pursuing their bachelor of public administration degree at National can choose to participate in the transition program, which allows them to take up to two graduate courses in the last six months of their undergraduate program. The courses will then give them a head start on the master of public administration degree. Current MPA student Michael Lopez started in the bachelor's program and is now finishing the capstone project for the master's degree. "I've benefited from the transition program because I paid a lower place for the classes and it eliminated a couple of classes I'd have to take during the master's program," he says.
Lopez started college several years ago but was unable to continue for financial reasons. With a background in the semiconductor industry, he started working with local elections in the early 2000s as municipalities were starting to implement electronic voting machines. He's worked in county government ever since. Thanks to a partnership National University had with his local county, Lopez was able to enroll in the bachelor of public administration, which he earned in July 2017. Two months later, he started the master's program with the specialization in organizational leadership. Lopez' capstone project will focus on how technology can influence and improve elections. He's previously worked on a pilot project that leveraged existing technology to improve accuracy and accountability in voting. "I think it's important to focus on what I have a passion for," he says.
"I kind of fell into public service and I couldn't see myself doing anything else. I really have a passion for serving the community," he says. "I've been able to move up because of my years of service and also because of the degree I was able to obtain from National University. Within a month of getting my bachelor's, I was promoted and now I'm setting myself up to work in executive management here in Santa Clara when the opportunity arises."
He says the program's format has allowed him to pursue higher education, which otherwise would have been unattainable. "Being a single dad and working full time, I would've never been able to complete my degree without a program like this. Having a concentrated focus on one class at a time really helped me achieve what I wanted to do, which was to earn my bachelor's," Lopez says. "It wasn't just the format, it was that the professors really challenge you to think outside the box and think about creative solutions to some of the issues we discussed."
What is public administration? A great career choice! If you want more information about public administration careers or information about the Bachelor of Public Administration degree, check out the program page.