Healthcare & Nursing Degrees
4-week
Courses
Balance work, life, and school with convenient four-week courses.
Millions in
Scholarships
Explore National University's scholarship opportunities. Eligibility requirements apply.
230K+ alumni
worldwide
Become a part of NU's global alumni community driven by excellence.
Make an impact on the health and wellness of your community by earning your healthcare or nursing degree online or on-site at National University. As a Veteran-founded nonprofit dedicated to serving the needs of busy adult learners, NU offers online nursing and healthcare programs that prepare you for a rewarding career in a variety of health agencies, nursing, clinical laboratory science, healthcare administration and management, and more.
NU is proud to be the first and only academic institution in the world to achieve a Planetree International recognition. Planetree International recognition means person-centered principles are integrated into the curriculum of each of our healthcare programs of study.
Through our convenient four-week courses, you can immerse yourself in career-driven degree and certificate programs that help you reach your goals — one course and one month at a time. Discover which program is best for you and get started as soon as next month.
What Can a Nursing or Healthcare Degree Do for You?
Earning a healthcare or nursing degree from NU provides you with the tools and knowledge to take your passion for helping people and turn it into a fulfilling and meaningful career. The depth of understanding you'll gain in a healthcare or nursing program will help you make a difference in the wellness and well-being of others.
To prepare the next generation of healthcare leaders, NU has transformed the academic culture of its healthcare programs into a student-centric model, using person-centeredness as the conceptual framework to support all learning activities. Integrating these principles means you are able to gain knowledge and application of the principles throughout your coursework, preparing you to support a culture of person-centered care.
Here are just a few of our top nursing and healthcare programs:
Develop the skills needed to protect communities ahead of a health crisis in our Master of Public Health (MPH) program. This program is offered online and can be completed in as few as 18 months, preparing you for leadership positions in health promotion and disease prevention, community mental health, or public healthcare administration.
Take your passion for providing care and develop your nursing skills in our Bachelor of Science in Nursing (BSN) and Master of Science in Nursing programs. In these CCNE-accredited programs, you'll develop skills and specializations that will help you succeed in your role as a nurse and make a difference in your community.

Take your career further with our Doctor of Nurse Anesthesia Practice (DNAP) program. This hybrid program helps you master the art and science of anesthesia care delivery and prepares you to sit for the National Certification Exam (NCE) to become a CRNA.
Gain the skills you need to improve overall human health through learning to conduct clinical research and develop methods and procedures to analyze medical samples in our Bachelor of Science in Clinical Lab Science (BSCLS) program. This program's prior learning assessment credit option provides an affordable and accessible route toward degree completion for licensed MLT students.
Success Stories
Graduates of our healthcare and nursing degree programs have gone on to make a difference by promoting wellness and health in their communities. Learn more about our inspiring graduates on our Alumni page. See our healthcare & nursing course list here.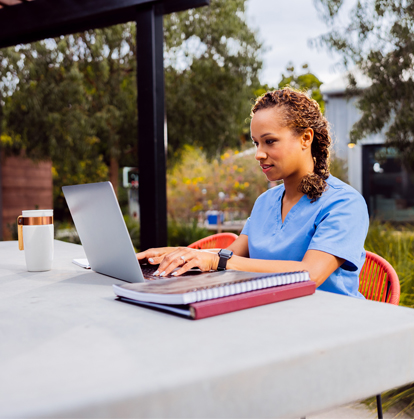 "The only person you should compete with is yourself. Seek improvements and accept failure. It doesn't matter who is doing better than you; continue to grow and be a better version of yourself every day."

⎯ Krishafaye R., Class of 2020