Law & Criminal Justice Degrees
4-week
Courses
Balance work, life, and school with convenient four-week courses.
Millions in
Scholarships
Explore National University's scholarship opportunities. Eligibility requirements apply.
230K+ alumni
worldwide
Become a part of NU's global alumni community driven by excellence.
Make a lasting impact in your community by earning your criminal justice and law degree online or on-site at National University. As a Veteran-founded nonprofit dedicated to serving the needs of busy adult learners, NU offers criminal justice and law programs that prepare you for a rewarding career in law enforcement, security, public administration, government, law, public service, and more.
Through our convenient four-week courses, you can immerse yourself in career-driven degree and certificate programs that help you reach your goals — one course and one month at a time. Discover which program is best for you and get started as soon as next month.
What Can a Criminal Justice & Law Degree Do for You?
Earning a criminal justice degree or law degree from NU provides you with a wealth of knowledge and understanding of the intersection of laws, processes, and systems that make justice a reality. Your comprehensive grasp of the system will help increase your marketability in the field as you assist individuals and the community you serve.
Here are just a few of our top criminal justice and law degree programs:
Our BS in Criminal Justice Administration program is designed to meet the educational and professional needs of individuals interested in law enforcement, with diverse topics of study including forensic science, research methods, juvenile justice, corrections, and more.
You can also prepare for an exciting career in the field of cybersecurity with our BS in Cybersecurity program and our MS in Cybersecurity program. These programs are taught by expert faculty with real-world experience so you can gain the skills and techniques necessary to be successful in the growing job market.
If you're interested in government and public administration, our Master of Public Administration (MPA) program will prepare you to step up and take a lead role in government management. This program focuses on applying traditional business skills to the unique challenges of public administration.
Success Stories
Graduates of our criminal justice and law degree programs have gone on to make a difference by advocating for justice and equality in their communities. Learn more about our inspiring graduates on our Alumni page.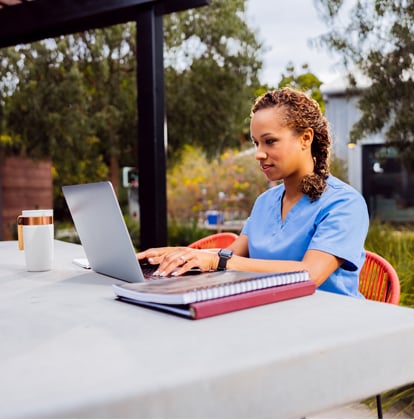 "The program helps students prepare for the real world by presenting them with current criminal justice issues. It highlights the importance of having honest and quality professionals working in law enforcement, courts, and corrections, especially after the incidents that our nation experienced."

⎯ Gloria L., Class of 2022