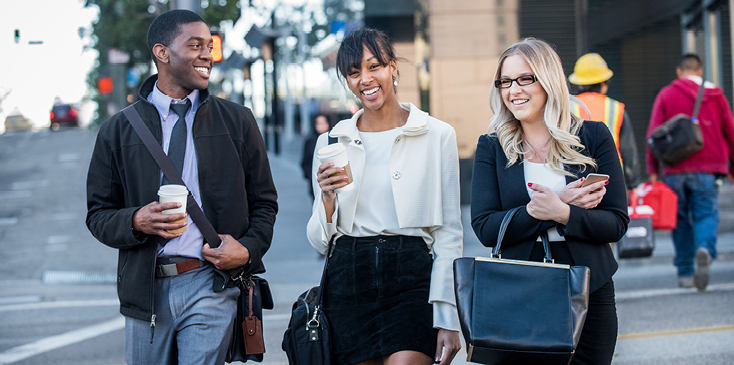 With such a large military presence, it's not surprising the defense industry leads San Diego employment opportunities. In fact, one out of every five jobs in the region relate to the defense industry, with companies in categories such as cybersecurity, high tech, and computer science. There are many opportunities in several other industries, too, if you're starting on the path toward your first career, are seeking to change your current position, or are pursuing a new business idea.
For June 2018 to June 2019, the BLS reported the five top industries in San Diego for highest growth were in:
Careers for Active Military, Veterans, and Their Families
National University, a military-friendly, Yellow Ribbon Program school offers many services to active-duty servicemembers and veterans, including more than 90 online degrees in areas such as engineering and technology, health care and nursing, business and marketing, science and math, criminal justice and law, and more. In fact, National University earned a gold award in the 2019-2020 Military Friendly Schools survey.
Whether active duty, reserve, or retired military, the all-veteran staff at National University's Veteran Center can answer all your questions about finding a military-friendly college. These experts can also help you learn about military tuition assistance, such as making the most of VA Educational Benefits, Post-9/11 GI Bill, and Survivors' and Dependents Educational Assistance.
Did you know you can transfer your GI Bill to your spouse or a family member if you are an active-duty or select reserve servicemember with under 16 years of service? If you meet a few other criteria, you can enable a loved one to pursue their career dreams with a degree from National University.
When you take a look at the 5 Best Jobs for Veterans, you'll see why the Bachelor of Science in Cybersecurity and Bachelor of Science in Information Systems are popular choices among our veteran students
Education and Health Care Careers Are Always Options
Teaching and research hospitals are known for developing cures and solutions, and these institutions need health care professionals of all kinds. On growing area is health information, and you can prepare for a career in this area with a Master of Science in Health Informatics.
National University offers several health care related programs, such as the Bachelor of Science in Public Health, which prepares individuals for careers in health and government agencies. National's Bachelor of Science in Health Care Administration gives you the skills needed for a management-level position within a public or private health care organization. And the Bachelor of Science in Nursing (California) can lead you toward becoming a licensed registered nurse (RN) in California.
Still Growing: Technology and Startups
Technology — and its unique challenges — have spurred demand for highly skilled workers, especially in cybersecurity and computer science and networks. National's Bachelor of Science in Cybersecurity or Bachelor of Science in Information Technology Management are solid options to get you started in a career in either of these fields.
The "green technology" has created demand for scientists, entrepreneurs, and research and development engineers to help creative eco-friendly solutions, such as zero-emission vehicles, alternative fuels, and smart technology. Many of the programs through in National's College of Professional Studies also teach the innovative skills you need to succeed in various positions within a high-tech company.
A Solid Foundation for Any Career: The Master in Business Administration
Regardless of whether you want to enhance your current professional trajectory or start a new career, an MBA will give you many options. A graduate degree in business administration gives you management skills fit for any industry. And, with a heavy presence in San Diego, National University offers both on-campus and online MBA options for those who call the city home. For inspiration, here's a story about how an active-duty U.S. Air Force servicemember fit an online MBA into her life.
No Matter Where You've Been, You Can Start a Degree Program Now
If you've been in the military or in the workforce for years and are considering returning to school as an adult learner, this "how to go back to school" checklist offers a helpful refresher on what to consider as you pursue your degree.
Adult learners in San Diego have options when it comes to online colleges, and National University rises to the top by offering online and on-campus programs at several San Diego locations. Regardless of format, new courses start at the beginning of each month with rolling admissions, so whatever your schedule and whenever you are ready, National University admission advisors can get you started on a career path focused on one of the top industries in San Diego.
Check out this overview of Universities in Southern California: Online Degrees at National University or dive right in to learn all about National University's programs.