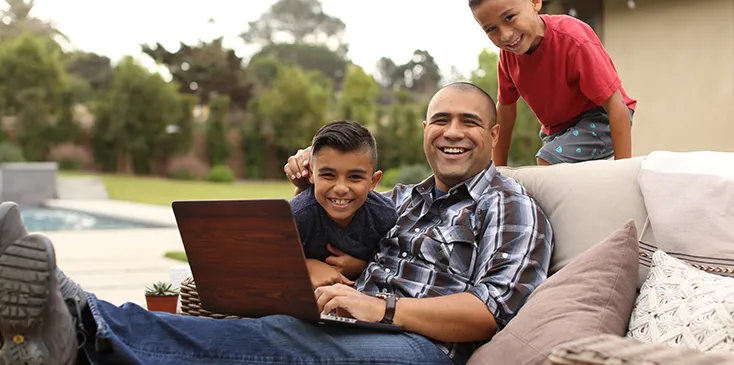 Henry Ford once said: "Anyone who stops learning is old, whether at twenty or eighty. Anyone who keeps learning stays young."
The fact is, it's never too late to return to education. National University is dedicated to delivering lifelong learning opportunities for adult learners who want to pursue their education. But, we also understand how difficult it is for many adults to make the decision to return to the classroom and to juggle their studies along with other family or career responsibilities.
Adult learners have to weigh the work and family balance before they can even begin to find the time to commit to a return to their studies. Often, the balancing act can be tricky and education is the first thing to slide.
It shouldn't have to be like this. At National University we are committed to providing solutions and workable alternatives to advanced education for adult learners.
Flexible Online and On-Campus San Diego Universities
National University students have the choice of studying either on campus or online. With 28 academic campuses throughout California, including six in San Diego, National University is one of the most accessible colleges and universities in San Diego.
At National, on-campus learning primarily takes place in the evenings or on weekends and is designed to fit around the specific needs of adult learners. Many programs are also offered online, taking flexibility a step further and allowing students to study at a time and a place to suit their individual needs. Students may also balance their educational options between on-campus and online learning.
Most of National University's programs are delivered in a flexible four-week class format. This enables students to fit periods of study around work and family commitments. It also means that students can schedule their educational progress over whatever time period suits them.
Want to graduate as quickly as possible? That's possible. National University's programs run throughout the year with no extended breaks over the summer months.
Want to take your time and find a work/life/study balance that fits in with your busy lifestyle? We can help you schedule your educational goals around your life. At National University you'll be following in the footsteps of thousands of similarly placed graduates who may not have been able to access a high-quality educational experience any other way.
Want to start now? You can. With year-round enrollment, you'll never find yourself more than a month away from starting your education.
The balancing act of work-family-education is always going to be a challenge, but educational quality, flexibility, and accessibility can make it much easier to manage.
Providing Accessible and Achievable Education to Adult Learners
The prospect of returning to education might be a little daunting, particularly for students who have been away from the classroom for a number of years. That transition can be smoother when you choose a university geared to the needs of adult learners. The average age of a National University student is 33 years old. Our students include working adults, single parents, activity duty military, Veterans, and adults returning to education after a long break. From students just starting out with their careers to grandparents following a passion or pivoting to a new chapter in their lives, adult learners will find themselves in good — and supportive — company at National University.
Our commitment to adult learners is a top priority for the entire university. In fact, as the largest private nonprofit university in San Diego, we make that clear in our mission statement.
Our pledge to provide educational opportunities for adults was recognized in 2017 when National University was ranked by Washington Monthly magazine as the top school for adult learners in Southern California.
What Can You Study at National University?
With more than 75 programs to choose from across a range of disciplines, degrees, and certification options, National University is well-placed to help students reach new goals in fields as diverse as Teaching and Educational Administration, Business and Marketing, Health Care and Nursing, Social Sciences and Psychology, Engineering and Technology, Criminal Justice and Law, Arts and Humanities, and Science and Math.
To help you find the right program for your educational goals, National University created a program finder on our website where you can search for programs based on degree level, the area of study, and format for accessing the classes (on campus or online).
If you've been thinking about the possibility of returning to education as an adult learner but have dismissed the prospect as an impossible pipedream, it's time to think again. National University might have the solution you need.
For more information about how National University can help you return to education, earn your degree, and open doors to new opportunities visit our programs page.