So, you're an active-duty military servicemember or a Veteran and you're looking for a great education. Where do you even start? First, the internet is flooded with options. The moment you type "military-friendly college" into your search bar, you'll be overwhelmed by the number of Google search results. (You'll get more than 170 million, actually.) Weeding through those results can seem like a monumental task, but we've got your back! The key is to take your decision journey one step at a time.
What Makes a Collge Military Friendly?
For a school to be considered a military-friendly college, it must meet certain criteria. You'll want a school that understands the specific challenges and concerns that face Veterans and active-duty service members. This could mean helping you understand and apply for your VA benefits, or offering you personalized assistance as you transition out of the military into campus life. You'll want to take into account whether the school has an accessible and supportive Veteran center on campus to give you the guidance to reach your goals. It is also a good idea to make sure that the college you consider is well-credentialed and follows industry recommendations, especially regarding standards for military Veterans.
It is also important to consider a school that offers a wide range of curriculum and degree levels so that you can weigh all your options. For instance, you may want to aim for a bachelor's degree, but also want a school that offers post-graduate studies. Perhaps you want to write a book. You may consider a Bachelor of Arts in English. If you're tech-savvy or have military training in cybersecurity, you may want to investigate a Bachelor of Science in Cybersecurity. You'll also want to consider both campus and online degree programs so that you can complete your class assignments no matter where you are stationed in the world.
Finally, a military-friendly college should offer flexibility, with year-round admissions and online degree options that fit your schedule easily. Whether you're on active duty or a Veteran, your time is precious and must be managed carefully. Juggling everyday responsibilities and educational goals takes planning, and a university that gives you flexible class scheduling can make all the difference to your educational success.
Pursue a Military-Friendly College that Understands the Challenges of Veterans and Servicemembers
In 1971, Navy Captain Chigos founded National University and Veterans and servicemembers have been at the heart of its mission to be a military-friendly college ever since. National University understands the challenges and obstacles that you face and works hard to ensure that active-duty and Veteran students from all branches of the military can reach their educational goals, whether they plan to earn a degree on campus, online, or at a military base — at home or abroad.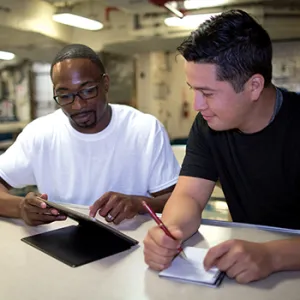 "There are challenges encountered by active duty servicemembers, such as time management issues, "says Karla Payne, Manager of the Veteran Center at National University. "When transitioning out of the service, many of them don't want a break in their classes. They want the transition to their VA benefits to be seamless. At the Veteran Center, military-affiliated students are guided with step-by-step instructions to apply for their educational VA benefits. We also provide a list of outside resources to assist them with their needs."
With more than 1 million servicemembers enrolled in colleges throughout the country, it's not a surprise that higher learning institutions all want to claim to be "military-friendly." But, in practice, their ability to support the educational needs of servicemembers and vets varies widely. As San Diego's largest, private nonprofit university, National University offers more than 75 degree programs and tuition discounts for military personnel and their dependents. They also offer one-month classes on campus, online, and on more than a dozen military bases.
For Payne and her staff at NU, guiding servicemembers on their educational journey is not just a job; it's a passion. "Helping students work toward their goals and seeing them achieve those goals is one of the best parts of working at the Veteran Center," she says. "When a student graduates from National, they should look back and know they had the support they needed, and that all of the different departments worked together to help them accomplish their degree."
A Military-Friendly College Offers Specific Financial Assistance and Support
National University has a number of benefits that are geared to Veterans and servicemembers in pursuit of degrees. In addition to military tuition discounts, the university offers credit transfers, comprehensive financial aid opportunities, and Veteran-focused scholarships. Let's take a closer look at some important areas of support available and how they can benefit you.
Military Tuition Discounts – A winner of the prestigious Ray Ehrensberger Award for Institutional Excellence in Military Education, National University recognizes the unique needs of Veteran students. As a Yellow Ribbon School, National helps military and Veteran students cover tuition expenses. Yellow Ribbon is a provision of the Post-9/11 GI Bill that can help you attend school at little or no cost. This can include tuition discounts for active-duty servicemembers and spouses of active-duty servicemembers or reservists.
Our Military resources page outlines what benefits are and are not covered. It's important to know that National University's Veterans Affairs Office is set up to help you apply for and process applications for the Montgomery GI Bill or VA benefits. Once approved, funds are conveniently distributed through the VA Department directly to you.
Military Credits and Financial Guidance ­­– When you leave the military, you can obtain a record of your training known as the Joint Services Transcript, or JST. The JST is a record of completed training that is approved for credit by the American Council on Education (ACE). ACE is a nonprofit advocacy group for colleges and universities that has been working with the military to get Veterans credit for military experience since the 1950s. National University honors military training courses as regionally accredited if the courses are recommended by the ACE.
You can also take the CLEP, DSST, ACCUPLACER tests to stretch your tuition dollars. These tests can help you waive or "test out" of certain classes so you can move through to your degree requirements more quickly. What's more, the DSST and CLEP tests are government funded (so they're free!) for active-duty and reservists. Vets pay ($80), but are reimbursed.
Scholarship – The Veteran Center offers the Veterans' Victory Scholarship to qualified applicants. The scholarship awards up to $5,000 in support based on academic or community achievement and financial need. The National University Veterans' Victory Scholarship is considered a "last money" scholarship and is designed to supplement military GI Bill® Chapter 31 and Chapter 33 educational benefits when those benefits are exhausted. This scholarship is not intended to replace federal and state financial aid, employer tuition assistance or income, and will only be used to help fund up to the last two to four courses in an academic degree program. If you receive this scholarship, it can help bridge the gap to degree completion.
A Military-Friendly College Gives You Academic Options
Once you decide to take that all-important step toward advancing your education, what are your options? You should look at schools that offer a wide variety of courses and degrees for associate, bachelor's, master's, or doctoral programs.
National University offers degrees, credentials, and certificates in teaching and education, business and marketing, healthcare and nursing, social sciences and psychology, engineering and technology, criminal justice and law, arts and humanities, and science and math. Of course, with all of these possibilities, it's good to know that you have counselors ready to help you decide which area of study fits you best or interests you most. The programs are designed to help you get ahead without disrupting family or work obligations. Whether you attend classes at one of NU's 28 campuses or take advantage of the convenient online offerings, National University likely has a program for you.
Whichever program you select, choose a school that understands how busy life can get and has a format in place to help you achieve your academic goals. "Due to deployment and work schedules, sometimes an online course is easier than attending a class on-site," says Payne.
If you are still worried that pursuing a degree may not fit into your busy schedule, it can be reassuring to know that someone is there to help. "We let students know the university offers tutoring and has a great library. We make sure they know they are not alone," Payne says. "We also encourage them to reach out to fellow students."
Whether you are still on active duty or are a Veteran, earning a degree or certificate can open doors to new opportunities now and later. You can use what you've learned to transition into the civilian workforce, move up the ladder with a current employer, start your own business, or simply fine-tune skills you already have. A school that supports your academic and personal growth is key to achieving your dreams.
A Veteran-Friendly Campus is a Welcoming One
When you hear the term "military-friendly campus," it should mean exactly what it says. It's not always easy to make the transition from military to student life. Let's face it, many things in your life are about to change – from your responsibilities to your sleep patterns. You may not be accustomed to a campus environment or to taking tests. And you may be worried that the logistics of it all will just be too much and will keep you from realizing your academic goals. Don't be discouraged. Choose a college that has a Veteran-friendly campus that celebrates the hard work you put into your military service and welcomes you with open arms. You'll find many classmates going through some of the same life and career changes as you; you won't have to navigate the academic waters alone.
The National University Veteran Center is in place to support your transition, answer questions, connect you with resources, and give you the guidance you need to acclimate to your new surroundings and successfully earn your degree. You'll find more than just a wealth of helpful information at the center. You'll also find a community — a place to make meaningful connections with other military students and staff who will cheer you on from your first day to graduation and beyond. As you evolve as a student, the support remains with you every step of the way.
The Veteran Center offers a number of services tailored to your unique needs, including:
Quarterly student orientations connecting you with staff members from all departments — from faculty and student services to financial aid and career services.
Dedicated military transition coaches who will work with you one-on-one to assist with your transition and provide regular check-ins.
Veteran Fellows Program with monthly engagement activities to give you the opportunity to meet other student Veterans.
Work-study opportunities that allow you to maintain a part-time job and stay on track for school.
Connections to community Veteran resources that provide support outside the classroom.
A Veteran Center Lounge to meet for study groups or grab a cup of coffee.
Mentoring opportunities, including strengths assessments, development workshops, and networking opportunities.
The Military Veteran Center is also the point of contact for the National University Student Veteran Organization (NUSVO), providing opportunities for student Veteran professional development and leadership.
Choose a School That Supports You at School And Beyond
When your degree is almost complete, you should be able to count on your educational institution to help you with the next step: your professional goals.
Here are just a few ways that National University provides assistance:
Job Portal: Access to employment opportunities posted by employers seeking our students and alumni.
Career Exploration and Assessments: Access to online Myers-Briggs and Strong Interest Inventory assessments that can help you focus your goals and interests.
Career Resources: Career information sheets for degree programs, Reference USA, job search help, interviewing tips and techniques.
Kuder Journey: An all-inclusive career resource, including tools to suggest career options and prepare you for your job search. Includes a resume and cover letter builder and interviewing information.
Resume and Cover Letter Assistance: Development and review of your resume to help your strengths shine through.
Career Events: Career fairs, workshops, employer information sessions, and webinars.
The Recap: Keep a Military-Friendly College Checklist and Check it Twice
As you can see, there's a lot to consider when choosing a college. Whether you are looking into an on-campus experience or are considering military-friendly colleges online, it can help to keep this checklist in mind as you consider your options:
Does the school have career-oriented programs?
Does the school have programs to explore your areas of interest or growth goals?
Does the institution have good graduation/career placement rates?
Does it offer flexibility in admission and class schedules?
What academic calendar does it use?
If you are an online student, will you have access to online research, databases, and other academic materials?
Does the school offer on-base classes?
Will it accept your VA benefits?
Is the school's financial aid office knowledgeable about Veterans benefits and other financial aid programs you could be eligible for?
Are there any other special discounts/scholarships for active-duty servicemembers or vets?
Is it a Yellow Ribbon school? Does it offer discounts or assistance to military spouses or dependents?
Does the school offer student support services for military members and vets?
Does it offer career services to help military members transition to the workforce?
As a final reminder, make sure you select a college that keeps you top of mind. To that point, if you check the National University Facebook page, you will see one hashtag that remains constant: #NUFAM. If you choose National University, you become part of a cohesive family of teachers, fellow students, Veterans, alumni, and administrators.
You have worked hard to get to this point in your life and you deserve a university that is an advocate for Veterans and military-friendly education. You deserve a university that embraces you from the moment you arrive till the day you graduate — and even beyond. Fittingly, when asked what makes her job rewarding, Payne doesn't hesitate to answer, "Commencement! Seeing students cross the stage is amazing. Just knowing I helped them achieve their goals, even in a small way, makes it worth it!"
Please visit our military admissions program page to learn more about National University's enduring tradition of helping servicemembers and Veterans pursue higher education and achieve their goals. We'd love to have you join the #NUFAM!