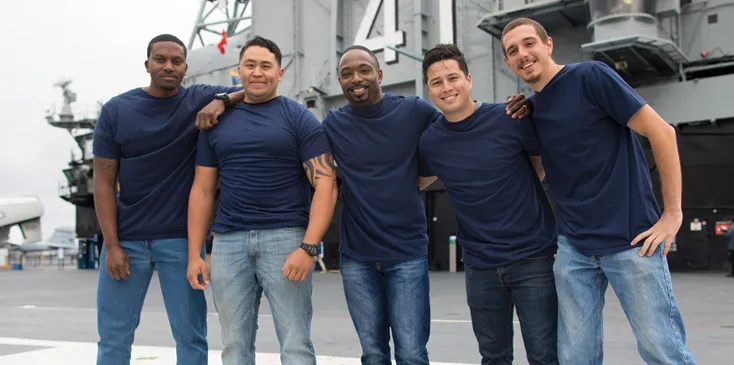 You joined the United States military to serve your country and build your character. Your military service allowed you to do that and so much more. Now it's time to move forward and further your education, a decision that can impact your future in a big way. But perhaps you are not sure where to start, or how to manage taking classes if you are still on active duty – or maybe, most important of all, how to pay for it.
Whether you are looking to improve your chances of promotion within the military, preparing to transition to a new career after your service is complete, or are a vet looking to explore new career opportunities and new directions, as a member of the military, you will qualify for the most comprehensive package of military tuition assistance available. Not only that, but your family members may be eligible for educational assistance as well.
However, taking advantage of your benefits requires a little knowledge and some research. As a Veteran-founded, nonprofit institution of higher education, National University knows that you have unique needs that other students might not have – and that you probably have many questions. Our admissions and financial aid staff are always available to help you understand all your options and work with you to plan for your career goals, whether you are active duty or a Veteran.
We've put together a quick rundown of some of the types of assistance that you may have access to as a member of the military community. Keep in mind that this is not a comprehensive list and there are a great many requirements to sift through; your best bet is to get in touch with the financial aid advisor at any institution you are considering to find out more information. But the following resources can help you get started with your thinking.
The GI Bill
The GI Bill is the most familiar military tuition assistance program available, allowing millions of Veterans to further their education since 1944. Under this bill, qualifying Veterans and their family members can receive money to cover all or some of the cost of obtaining an education.
Montgomery GI Bill
The Montgomery GI Bill provides eight semesters or up to 36 months of monthly tuition payments at eligible US academic institutions. The program serves members of our armed forces who completed active terms of service during the 1990's, up through the passage of the Post 9/11 Bill. (See below.) The current maximum payment under the Montgomery GI Bill is $1,928 monthly, based on the number of classes you enroll in (also known as "training time"), which is determined as follows:
12 hours and above – full-time
9-11 hours – 3/4 time
6-8 hours – 1/2 time
3-5 hours – less than 1/2 time
0-2 hours – 1/4 time
All told, that's over $60,000 in available aid over the life of your benefits package.
In order to receive military tuition assistance, you must have completed high school, as well as two years of active military service.
Furthermore, if you attend an accredited school such as National University, you will find additional military tuition discounts and scholarships for military personnel as well as your dependents. More on that later.
Post 9/11 GI Bill
The Post 9/11 GI Bill is a wide-ranging educational provision for active-duty military, based largely on your length of military service. Benefits match up to 100 percent of your tuition cost of the most expensive public state schools. In addition, your chosen school may participate in the "Yellow Ribbon Program." Schools such as National University may voluntarily waive a portion of the remaining tuition not already covered by other financial aid you may have received.
Armed Forces Active-Duty Tuition Assistance
Each branch of the military offers a special program of military tuition assistance to its active members, unrelated to the provisions under the GI Bill. The programs are collectively known as "Armed Forces Active Duty Tuition Assistance." This program is intended for active enlisted military personnel who wish to further their education during off-duty hours. All courses within this program must be completed prior to the end of a service member's active duty period.
The "Armed Forces Active Duty Tuition Assistance" program only funds degrees at the next level up from any degree you currently hold; for instance, if you already hold a bachelor's degree, your benefits will only apply toward a master's degree. Depending on the branch of the military in which you currently serve, there may be certain restrictions based on your particular goals.
Army Tuition Assistance
The Army funds 100 percent of the tuition costs with certain caveats. Currently, Army tuition assistance is limited to 130 hours of undergraduate credit towards your bachelor's degree and 39 hours of graduate credit for all post-bachelor degree education. Additional school costs such as books are not covered under this program.
Army tuition assistance is currently approved according to the type of courses you take. In addition, the courses you select must be part of an approved degree program. (A few years ago, the army added a provision that military personnel must have ten years of service before receiving tuition assistance for a next level program, such as a master's degree. If you have used financial support for any part your bachelor's degree, you are unable to use it to get a similar degree.)
While you are on active duty, you may be eligible to apply for Army tuition assistance. Whether you are an enlisted soldier, warrant officer, or a Troop Program Unit (TPU) warrant officer (without a commission), the only requirement is to have a certain amount of active duty time to complete your school courses.
If you are an officer or a commissioned warrant officer, you'll need to incur a two-year active duty service commitment in exchange for tuition assistance. Selected Reserve officers and commissioned warrant officers must commit to four years in the army reserves. These service obligations start the day of the last class paid by Army tuition assistance. Keep in mind that if you're an officer who voluntarily leaves, or is discharged due to conduct, you'll be required to reimburse the Army for tuition assistance received for the service time you were unable to complete.
The Army encourages you to use these benefits at any type of educational institution, including schools that offer online degrees. The only requirement is that the school's online program must be accredited.
Marine Corps Tuition Assistance
If you serve as a Marine, tuition assistance education benefits can assist you while on active duty so you may work towards your educational goals as you serve your country. Just like the Army, the Marine Corps encourages its personnel to use this benefit at any type of educational institution, including accredited schools that offer online degrees.
If you're an officer in the Marine Corps (whether commissioned or non-commissioned) and you wish to use tuition assistance to further your education, you must agree to two more years of active service. In the event that you need to leave the Marine Corps prior to the completion of your obligation, you will need to repay a prorated amount of the assistance you've already received.
Navy Tuition Assistance
Navy tuition assistance will cover your tuition for both your bachelor's and/or master's degree but does not pay for any fees, books, materials, or exams. Funding restrictions are the same as standard limitations for all military personnel. However, the hourly limits are 16 semester-hours, 24 quarter-hours or 240 clock-hours per person. If you fail to maintain a determined grade point average (GPA) or obtained an incomplete for a course, you will be required to pay back the assistance you've already received.
Both enlisted sailors and officers are eligible to apply for navy tuition assistance. Unlike enlisted sailors who do not incur any additional obligation, officers must serve at least two years following the completion of a course of study, or repay any tuition assistance used during the two years prior to leaving the United States Navy.
Just like the Army and the Marine Corps, the United States Navy encourages you to use this benefit at any type of educational institution, including schools that offer online degrees. Again, the only requirement if you choose a virtual learning environment is that the school must be accredited.
Air Force Tuition Assistance
Air Force tuition assistance will cover you for the majority of your college and/or graduate school education. However, unlike the Navy, the Air Force will fund tuition as well as fees. Upon reaching 124 hours for a baccalaureate program or 42 hours for a graduate program, you will have reached your cap. In addition, you must make your tuition assistance request prior to starting your classes. If you have a Grade Point Average (GPA) lower than 2.1 in your graduate courses, or you have a GPA below 1.1 in your undergraduate courses, you will have to pay back your tuition assistance in full as opposed to having the option to make partial payments.
As an enlisted airman you are eligible for Air Force Tuition Assistance. You will not incur any additional service obligation by participating in tuition assistance as long as you complete your coursework while you are still in the service. If you're an officer, you will be required to serve twelve more months after you've finished your course. This will run concurrently with your other service obligations, it will not add to them.
Just like the other branches of the military, the United States Air Force encourages you to use this benefit at any type of educational institution, including schools that offer online degrees. Again, the only requirement for a virtual learning environment is that the school's program must be accredited.
The U.S. Coast Guard
Tuition assistance benefits for active duty servicemembers of the Coast Guard are similar to those offered by the other branches of the military and carry many of the same restrictions. Assistance is limited to courses only and does not include fees. There is an annual maximum cap of $2,250 and that can be applied to both undergrad and graduate coursework. Again, any institution or program you choose must be accredited. The Coast Guard also fully funds high school completion programs for personnel who do not have a high school diploma.
As you can see, there are many options available to help you fund your education both while you are on active duty and as a Veteran, but you do need to do your homework and get good advice on how to wade through all your options.
How Does National University Help Those in the Military Further Their Education?
National University is a San Diego-based nonprofit educational institution founded in 1971 by retired U.S. Navy Captain David Chigos. For over 20 years, National University has offered flexible online education programs designed for busy adult learners balancing work, family life, or military duties. Their commitment to those who are serving or have served in the military runs deep.
"National University employs Veterans and former Veterans, who are a strong part of the student community," says Johnny Lopez, Manager of Financial Aid for the San Diego region of National University.  "The staff Veterans create relationships with the school's students, to first and foremost help them feel comfortable understanding how the education plan at National University works, and eventually how to find a job that fits students' chosen career path."
Johnny continues, "A lot of our students come directly out of the military wanting to go to school, but they don't have a clear understanding of what they want to do with that degree. This is the main reason National University has a large Veteran population, in order to walk the students through the process of getting an education. As the student continues through the university system, these retired Veterans help them maintain their progress."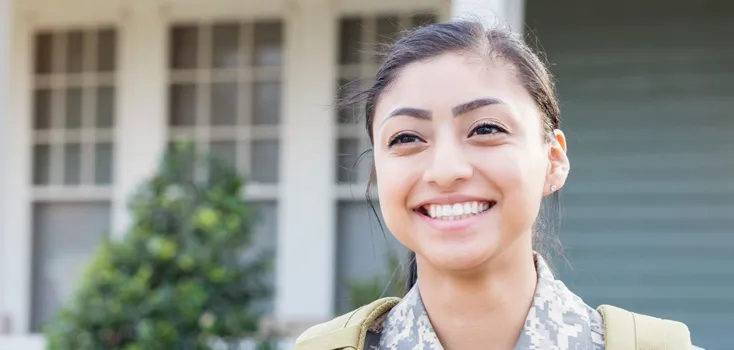 National University prides itself on offering one of the most flexible ways to earn a degree.  The university offers a wide variety of certifications and degrees through their intensive one-course-per-month format. National University is dedicated to making lifelong learning opportunities accessible, challenging, and relevant to a diverse student population, allowing their students the ability to thrive in the ever-changing market. As a Yellow Ribbon approved university, National provides Veterans and current military personnel the opportunity to develop and further their career with little to no financial strain, offering military tuition assistance, discounts, and scholarships, for students and their dependents.
National University is comprised of four professional schools, including the School of Business and Management, School of Engineering and Computing, School of Health and Human Services, and School of Professional Studies as well as two colleges, the Sanford College of Education and College of Letters and Sciences.
National University educates students across all 50 states and from 65 countries. Over 90 online degree programs are available and delivered using the latest technology to provide dynamic, interactive online learning environments, accessible 24 hours a day, seven days a week no matter where you are located. National University even offers classes at over a dozen military bases, including the Naval Air Weapons Station at the China Lake military base in California.
National University's undergraduate and graduate programs include healthcare, business, education, engineering, the humanities, law and criminal justice, and homeland security. As the leader in educator training in California, National University credentials more teachers than any other California university.
What Are the Forms of Military Tuition Assistance at National University and How Does Someone Qualify?
According to Johnny Lopez, Manager of Financial Aid for the San Diego region of National University, "Anyone who is still on active duty, whether in the Army, Navy or any branch of the armed forces, is automatically eligible for tuition assistance from the federal government."
In addition, as a strong proponent for US military personnel, National University offers military tuition discounts and scholarships to those who are currently serving in the military or have served in the armed forces in the past. Moreover, all dependants of military personnel may avail themselves to the same tuition discounts as those who serve. Reserve members and National Guard members may qualify for many of the same benefits as well.
What Other Services are Available to Military Learners?
For servicemembers transitioning out of the military into student life, the National University Veteran Center offers a number of unique support services and a community of other military students and staff who can help you navigate your educational experience and set you up for career success.
Among the services available are mentoring opportunities and work-study options, along with dedicated military transition coaches. The Center is located on National's Spectrum Campus in Kearny Mesa, but even if you are out of the area, help is available via phone, email, or live chat.
The National University Veteran Center also serves as the contact point for the National University Student Veteran Organization (NUSVO); they also provide professional development and leadership opportunities for student Veterans.
Next Steps? Learn More!
Finally, keep in mind that individual service branches each have their own specific guidelines, requirements and limits for educational benefits offered. You should always check with your Education Services Officer (ESO) to determine what benefits may be available to you.
The Financial Aid team at National University is also ready to help with information. To find out more about National University's financial aid and scholarships for active-duty and retired service members, please visit our page.