Master of Arts Degree
in Counseling Psychology
(California)
4-week
COURSES
Start sooner and finish faster with our innovative course design.
Year-round
enrollment
Our admissions team reviews applications year-round.
185k+ Alumni Worldwide
Become a member of NU's global community.
Help Guide Families, Couples, and Individuals Through Emotional and Psychological Situations
If you're a compassionate individual who cares about helping people and feel a calling to make a difference in their lives, becoming a marriage and family therapist can be a very satisfying career choice.
National University's Master of Arts in Counseling Psychology is designed to prepare you to work with couples, children, and other family members and help them manage various emotional situations and/or psychological issues. Our program challenges students to understand and practice therapy from both the client's and the practitioner's perspectives in order to gain a deep understanding of how the process works and to become an effective counselor.
Students in this online MFT program choose between two specialization options based on their career goals: the standard Marriage and Family Therapist Option and the Combined MFT/LPCC (Licensed Professional Clinical Counselor) option.
Upon completion of the program, you'll be well-prepared to sit for the Marriage and Family Therapist (MFT) License mandated by the Board of Behavioral Sciences in the state of California.
NU's online MFT program is designed for California only. Either option may not meet requirements in other states. Students should consult the licensing boards of the appropriate states for information about licensure outside of California. Click the link for more detailed course information.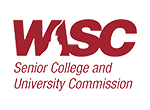 The Western Association of Schools and Colleges (WASC) accredits public and private schools, colleges, and universities in the U.S.
Course Details
Course Listing
Prerequisites for the Major
2 courses; 9 quarter units
Course Name
PSY 501A Foundations in Counseling I – 4.50
A study of the essential principles and theories of psychology. Topics include social, developmental, and cognitive psychology.
PSY 501B Foundations in Counseling II – 4.50
A study of the essential principles and theories in psychology. Topics include an overview of biological psychology, personality theory, and abnormal psychology.
Core Requirements I
6 courses; 27 quarter units
Students will take classes from this sequence, then take 3 area of specialization courses, Core Course Sequence II.
Course Name
PSY 605 Lifespan & Sexual Development – 4.50
Prerequisite: Bachelor's Degree in Psychology , or PSY 501A and PSY 501B
This course examines the theories of development as applied to the clinical assessment, diagnosis, and treatment of children, adolescents, adults, and older adults. Areas considered include diversity, gender, and multicultural issues as well as identifying normative developmental transitions and their differentiation from deviant developmental patterns. This course also focuses on developing foundational knowledge of human sexuality at a professional level.
PSY 610 Community Mental Health – 4.50
Prerequisite: Bachelor's Degree in Psychology, or PSY 501A and PSY 501B
This course explores community mental health theories and practices in the US and internationally from the theoretical perspectives of community psychology and social justice. Topics include the history of institutionalization and community mental health movements; navigating the complex public health and social services systems; working with dual diagnosed clients, useful therapeutic models and effective practices; principles of recovery; strength-based assessment and resilience; and fundamentals of case management.
PSY 612A Clinical Assessment I – 4.50
This course discusses clinical assessment from the bio-psycho-social-spiritual, resiliency, recovery and medical models. Interviewing skills and the use of assessment instruments are covered. Assessment, diagnosis, and treatment approaches for anxiety disorders and obsessive-compulsive and related disorders.
PSY 612B Clinical Assessment II – 4.50
Prerequisite: PSY 612A
This course covers the assessment and diagnosis for Gender Dysphoria and Anxiety, Psychotic, Personality, and Dissociative Disorders in the DSM and other assessment systems. Students will practice assessment skills and development of treatment plans during the course. Outcomes assessment and case conceptualization processes will be discussed.
MFT Core Requirements II
3 courses; 13.5 quarter units
Students interested in becoming a Licensed Marriage and Family Therapist will take these courses between Core Sequence I and III.
Course Name
PSY 636 Child and Adolescent Therapy – 4.50
Examines assessment techniques, perspectives, and strategies essential to the treatment of children and adolescents. It also includes the therapeutic relationship, assessment and diagnosis, evidence-based treatment, family systems perspective, and legal/ethical concerns related to working with children and adolescents. Public settings and treatment based on cultural awareness as well as the recovery/resiliency model are covered.
PSY 632A Family Therapy – 4.50
This course provides a comprehensive review of the theories, strategies, techniques, and critical issues involved in clinical work with families. This course will discuss various treatment approaches including an emphasis on evidence-based, recovery, and resilience-based approaches. Students will have the opportunity to role play family sessions.
Core Requirements III
11 Courses; 49.5 quarter units
Course Name
PSY 627 Legal & Ethical Issues – 4.50
This course examines the laws and professional codes of ethics pertaining to the practice of counseling and psychotherapy. How legal and ethical issues impact the profession of counseling with an emphasis on current California law is discussed.
PSY 680A Counseling Practicum I – 4.50
Prerequisite: PSY 644C with a minimum grade of S.
First of a two-course field practicum where students work as MFT or LPCC trainees. Students participate in an academic seminar for six months at the university. Students must complete a minimum of 125 hours of face-to-face work with clients at a clinical site. This class will meet outside of regular class hours.
PSY 628 Group Therapy – 4.50
A comprehensive study of the major approaches, techniques and interventions used in group psychotherapy. Also emphasizes dynamics of group process including the types, stages and formation of groups.
PSY 637 Cultural & Social Justice Issues – 4.50
CHD 640 Treatment of Addictions – 4.50
This course covers the theories, etiology, assessment, diagnosis, and treatment of addictive and compulsive disorders from the resiliency, recovery, and medical models. This course also addresses the impact of socioeconomic status, ethnicity, other environmental factors and contemporary controversies on the development and treatment of addictive disorders.
PSY 679 Psychology of Trauma – 4.50
Historical-Review all addendums
This course is an examination of trauma with a focus on the sources of trauma and the distinctions between them. Relational violence is studied as a specific example of trauma. An emphasis is placed on empirically-based assessment and intervention of the different trauma-related disorders. Crisis counseling and multi-disciplinary treatment is also covered.
PSY 680B Counseling Practicum II – 4.50
Prerequisite: PSY 680A
Second of a two-course field practicum where students work as practicum trainees. Students participate in a four-month academic seminar at the university. Students must complete the remainder of the state-required practicum experience hours of face-to-face work with clients in a community agency. This course will meet outside of regular class hours.
PSY 678 Psychopharmacology – 4.50
Psychopharmacology is the study of how medications and other drugs affect the human mind and body. This course has two major areas of focus. The first area of focus is on the principles of neuroscience and the brain mechanisms that are responsible for behavior. In order to understand how psychiatric medications work, one must first understand how the brain works, especially the neurons of the brain. The latest understanding of how psychotherapy changes brain functioning is also discussed. The second major area of focus is an exploration of the major therapeutic drugs for depression, psychosis and anxiety, etc. Metabolism of the medications and their action on neurotransmitter systems are important parts of the knowledge base. Emphasis is on choice of medication, mode of action and side effects.
Optional Sequence IV: PCC Option
3 courses; 13.5 quarter units
Students interested in becoming a Licensed Professional Clinical Counselor will take these courses after Core Sequence III.
Course Name
PSY 653 Research and Evaluation – 4.50
The Research Methods and Evaluation course provides a brief introduction to various forms of research methods: quantitative, qualitative, mixed methods, art-based, and community-based participatory research. We will explore these paradigms as they apply to social science research, and students will apply these methodologies to a research question of their choosing. Scientific problem-solving will be emphasized to include observational techniques and measurement tools, coding, analytic strategies, and reporting of research – as well an in the use of program evaluation. This course emphasizes the embodied research and the ability of students to navigate published literature in the field of mental health.
PSY 624A Testing and Assessment – 4.50
Acquaints students with the standard career interest measures used in clinical practice, including the psychometric principles of the measures. Emphasizes integrating conceptual, ethical, and practical information drawn from client background and assessment reports.
Degree and Course Requirements
To receive the Master of Arts in Counseling Psychology, students must complete at least 90 quarter units of graduate work. A total of 13.5 quarter units of graduate credit may be granted for equivalent graduate work completed at another institution, as it applies to this degree, and if the units were not used in earning another advanced degree. Students for whom English is a second language must take and pass an English Language Proficiency exam prior to beginning any coursework. Students should refer to the section on Graduate Admissions for specific information regarding additional application and evaluation requirements.
Why National University's Online Master's in Counseling Psychology?
If you care about helping people and feel a calling to make a difference in your community and those around you, National University's MA in Counseling Psychology will provide you with the advanced knowledge and skills to pursue a career in marriage and family therapy or professional clinical counseling. There is a growing demand for improving mental health in our society, and the job outlook for marriage and family therapists is projected to grow much faster than the average for all occupations.*
Throughout the program, you'll work closely with faculty members who are also practicing professionals in their field, so you'll gain real-world insights into how licensed therapists can make a positive difference in the lives of their clients.
Our program can be completed in 20 months, at which time you'll be prepared to sit for the Marriage and Family Therapist (MFT) License mandated by the Board of Behavioral Sciences in the state of California. By adding just three more courses in three months, you can also be eligible to sit for a license in Professional Clinical Counseling.
*SOURCE: https://www.bls.gov/ooh/community-and-social-service/marriage-and-family-therapists.htm
What Can You Do with a Master's in Counseling Psychology?
Marriage and family therapists work in a variety of settings, such as private practice and mental health centers. According to the Bureau of Labor Statistics, they're also in great demand; employment of MFTs is expected to grow 16 percent by 2030, which is much faster than the average for all occupations.*
Once you've mastered and completed your NU coursework and earned your MFT license, you'll be qualified for a broad range of positions across the state of California**. These include:
Mental Health Counselors
Mental Health Professionals
Counselors
Substance Abuse Counselors
Mental Health Clinicians
Clinicians
Licensed Mental Health Professionals
Mental Health Therapists
Licensed Mental Health Counselors
Behavioral Health Counselors
Behavioral Health Care Advocates
Behavioral Health Therapists
Therapists
Outpatient Clinicians
Family Counselors
Mental Health Coordinators
Private Practice Clinicians
Clinical Directors
Clinical Supervisors
Mental Health Case Supervisors
Public Mental Health Managers
*SOURCE: https://www.bls.gov/ooh/community-and-social-service/marriage-and-family-therapists.htm#tab-6
**SOURCE: Emsi Labor Analyst- Report. Emsi research company homepage at https://www.economicmodeling.com/company/ (Report viewed: June, 2022). DISCLAIMER: The data provided is for informational purposes only. Emsi data and analysis utilizes government sources to provide insights on industries, demographics, employers, in-demand skills, and more to align academic programs with labor market opportunities. Cited projections may not reflect local or short-term economic or job conditions and do not guarantee actual job growth. Current and prospective students should use this data with other available economic data to inform their educational decisions.
Specializations Available in this Program
The field of psychology is robust and offers numerous pathways to difference-making careers. To provide the industry with highly skilled professionals on the cutting edge of the market's current and expected needs, National University's MA in Counseling Psychology offers two career-focused specializations:
MA Counseling Psychology MFT – This specialization is for students committed to helping individuals, couples, families, adolescents, and children in psychotherapy. You'll learn how to assess, diagnose, and treat psychological stress or impairment, mental disorders, or problems that arise in couples and families, and how to work in various mental health settings. Only licensed MFTs may provide counseling to families and couples.
MA Counseling Combined MFT/LPCC – This specialization is for students interested in also being licensed as a Professional Clinical Counselor (LPCC) in California. It meets the academic requirements for both the LMFT and LPCC. The combined option adds three courses specific to the scope of practice for LPCCs, including career counseling, research, and assessment techniques. This option includes additional hours of practicum training experience to meet state requirements for PCC trainees. The specialization focuses on individual psychotherapy, group psychotherapy, and vocational counseling.
Program Learning Outcomes
As a graduate of National University's Master's in Counseling Psychology program, you will learn the following skill sets:
Demonstrate core psychological concepts and therapeutic skills that underpin counseling, psychotherapy, and mental health counseling
Demonstrate current professional standards of ethics, values, and laws related to the practice of professional psychotherapists
Demonstrate cultural competence in addressing the mental health needs of people of diverse backgrounds and circumstances, including an appreciation for the wide cultural diversity among California's multiple diverse communities
Apply a working knowledge of a range of topics important to mental health practice, including (but not limited to) psychopharmacology, addictive and compulsive disorders, structured psychological assessment, relational violence, gender and sexuality, and trauma/crisis
Understand norms and principles of public mental health work, including (but not limited to) case management, collaborative treatment, evidence-based practice, strength-based model, resiliency, and recovery-oriented care to work with clients
Integrate professional development through self-reflection, emphasizing personal capacities such as self-awareness, integrity, sensitivity, flexibility, insight, compassion, imagination, and personal presence
Hear From Our Faculty
Watch our video to learn more about the Master of Arts in Counseling Psychology program from Dr. Brian Tilley, PhD, Program Director.

"If you care about helping people, really feel a calling to make a difference in your community and with those around you, then this is the program for you."
-Dr. Brian Tilley, PhD, Program Director, MA in Counseling
Admissions
Enrolling in a university is a big decision. That's why our dedicated admissions team is here to guide you through the admissions process and help you find the right program for you and your career goals.
To that end, we've simplified and streamlined our application process, so you can get enrolled in your program right away. Because we accept and review applications year round, you can begin class as soon as next month, depending on your program and location of choice.
Learn more about undergraduate, graduate, military, and international student admissions, plus admissions information for transfer students. You can also learn more about our tuition rates and financial aid opportunities.
To speak with our admissions team, call (855) 355-6288 or request information and an advisor will contact you shortly. If you're ready to apply, simply start your application today

Why Choose National University
Four-Week Courses
75+ Degree Programs
Dynamic Online Learning
Year-Round Enrollment
Military Friendly
We're proud to be a veteran-founded, San Diego-based nonprofit. Since 1971, our mission has been to provide accessible, achievable higher education to adult learners. Today, we educate students from across the U.S. and around the globe, with over 185,000 alumni worldwide.

"The MAC program excelled at exposing students to a variety of different clinical styles among its professors. This is incredibly important for a therapist in training to experience a variety of different clinical modalities and styles in order to shape their own. The MAC program has faculty that genuinely care and are invested in the well-being and growth of their students. The lasting relationships formed among students, peers, and faculty is invaluable."
-Mary Papagolos., Class of 2011
Useful

Links
Online Graduate Degree Options for Psychology

Frequently Asked Questions
How long does it take to get a master's in psychology online?
Most online master's in psychology programs require 36 credits and take about two years to complete. The more specialized or tailored the program, or the more hours for field work or research required, the longer students take to earn their degree.
Is a master's in psychology worth it?
If you want to advance in the field of psychology, then yes, a master's is worth it. However, if you don't have strong motivation, then the challenge of a graduate degree may not be for you. It helps to talk to others in the field and gauge your level of interest prior to enrolling.
Can you earn a master's in counseling psychology online?
Students interested in earning the degree can choose to complete an online master's in psychology rather than a traditional on-site program.
Can you be a psychologist with a master's degree?
Master's programs in psychology will give you the foundation you need to conduct or apply psychological research that ultimately improves the lives of others. If you'd like to pursue a career as a psychologist, you must start with a graduate degree in psychology before earning your doctorate or sitting for a state licensure exam.
What is the difference between a master's in psychology and counseling?
While a Master's in Psychology is a typical path in obtaining a doctoral level degree in psychology, an MA in Counseling Psychology meets state licensing requirements and is a typical path to licensing.

Introducing the
Opportunity Scholarship
In honor of our students, and in celebration of our 50th anniversary, National University is investing $30 million in new student scholarships. To learn more about the Opportunity Scholarship, how you can apply, and how much you can save, inquire today.
Program Disclosure
Successful completion and attainment of National University degrees do not lead to automatic or immediate licensure, employment, or certification in any state/country. The University cannot guarantee that any professional organization or business will accept a graduate's application to sit for any certification, licensure, or related exam for the purpose of professional certification.
Program availability varies by state. Many disciplines, professions, and jobs require disclosure of an individual's criminal history, and a variety of states require background checks to apply to, or be eligible for, certain certificates, registrations, and licenses. Existence of a criminal history may also subject an individual to denial of an initial application for a certificate, registration, or license and/or result in the revocation or suspension of an existing certificate, registration, or license. Requirements can vary by state, occupation, and/or licensing authority.
NU graduates will be subject to additional requirements in a program, certification/licensure, employment, and state-by-state basis that can include one or more of the following items: internships, practicum experience, additional coursework, exams, tests, drug testing, earning an additional degree, and/or other training/education requirements.
All prospective students are advised to review employment, certification, and/or licensure requirements in their state, and to contact the certification/licensing body of the state and/or country where they intend to obtain certification/licensure to verify that these courses/programs qualify in that state/country, prior to enrolling. Prospective students are also advised to regularly review the state's/country's policies and procedures relating to certification/licensure, as those policies are subject to change.
*Positions may require additional experience, training, and other factors beyond successfully completing this degree program. Depending on where you reside, many positions may also require state licensure, and it is the responsibility of the student to ensure that all licensure requirements are met. We encourage you to also review program-specific requirements. Any data provided on this page is for informational purposes only and does not guarantee that completion of any degree program will achieve the underlying occupation or commensurate salary.