Master of Arts Degree in
Counseling Psychology (California)

Master of Arts Degree in
Counseling Psychology (California)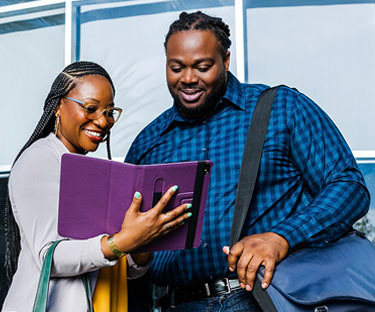 Help Guide Families, Couples, and Individuals to Mental Wellness
The Master of Arts in Counseling Psychology degree at National University prepares you with the advanced knowledge and skills needed to be an effective counselor who can make difference. If you're called to give back to the community and help others seeking mental wellness, this is an excellent path for you. Upon completion of the program, you'll be well-prepared to sit for the Marriage and Family Therapist (MFT) License mandated by the Board of Behavioral Sciences in the state of California.
You will choose from two specialization options based on your career goals: the standard Marriage and Family Therapist Option and the Combined MFT/LPCC Option.
The MA Counseling Psychology MFT option is for students committed to helping individuals, couples, families, adolescents, and children in psychotherapy. You'll learn how to assess, diagnose, and treat psychological stress or impairment, mental disorders, or problems that arise in couples and families, and how to work in various mental health settings. Only licensed MFTs may provide counseling to families and couples.
The MA Counseling Combined MFT/LPCC option is for students interested in also being licensed as a Professional Clinical Counselor (LPCC) in California. It meets the academic requirements for both the LMFT and LPCC. The combined option adds three courses specific to the scope of practice for LPCCs, including career counseling, research, and assessment techniques. This option includes additional hours of practicum training experience to meet state requirements for PCC trainees. The specialization focuses on individual psychotherapy, group psychotherapy, and vocational counseling.
This master's in counseling psychology degree is designed for California only. Either option may not meet requirements in other states. Students should consult the licensing boards of the appropriate states for information about licensure outside of California.
Program Learning Outcomes
Upon successful completion of National University's MA in Counseling Psychology program, graduates will be able to:
Demonstrate core psychological concepts and therapeutic skills that underpin counseling, psychotherapy, and mental health counseling.
Demonstrate current professional standards of ethics, values, and laws related to the practice of professional psychotherapists.
Demonstrate cultural competence in addressing the mental health needs of people of diverse backgrounds and circumstances, including an appreciation for the wide cultural diversity among California's multiple diverse communities.
Apply a working knowledge of a range of topics important to mental health practice, including (but not limited to) psychopharmacology, addictive and compulsive disorders, structured psychological assessment, relational violence, gender and sexuality, and trauma/crisis.
Understand norms and principles of public mental health work, including (but not limited to) case management, collaborative treatment, evidence-based practice, strength-based model, resiliency, and recovery-oriented care to work with clients.
Integrate professional development through self-reflection, emphasizing personal capacities such as self-awareness, integrity, sensitivity, flexibility, insight, compassion, imagination, and personal presence.
Contact Us
Take the first step by starting your application online today.
To speak to an enrollment advisor about this program, please email [email protected].
Why Choose National University?
We're proud to be a veteran-founded, San Diego-based nonprofit. Since 1971, our mission has been to provide accessible, achievable higher education to adult learners. Today, we educate students from across the U.S. and around the globe, with over 180,000 alumni worldwide.
Program Disclosure
Successful completion and attainment of National University degrees do not lead to automatic or immediate licensure, employment, or certification in any state/country. The University cannot guarantee that any professional organization or business will accept a graduate's application to sit for any certification, licensure, or related exam for the purpose of professional certification.
Program availability varies by state. This program is designed specifically for California. Many disciplines, professions, and jobs require disclosure of an individual's criminal history, and a variety of states require background checks to apply to, or be eligible for, certain certificates, registrations, and licenses. Existence of a criminal history may also subject an individual to denial of an initial application for a certificate, registration, or license and/or result in the revocation or suspension of an existing certificate, registration, or license. Requirements can vary by state, occupation, and/or licensing authority.
NU graduates will be subject to additional requirements on a program, certification/licensure, employment, and state-by-state basis that can include one or more of the following items: internships, practicum experience, additional coursework, exams, tests, drug testing, earning an additional degree, and/or other training/education requirements.
All prospective students are advised to review employment, certification, and/or licensure requirements in their state, and to contact the certification/licensing body of the state and/or country where they intend to obtain certification/licensure to verify that these
courses/programs qualify in that state/country, prior to enrolling. Prospective students are also advised to regularly review the state's/country's policies and procedures relating to certification/licensure, as those policies are subject to change.
National University degrees do not guarantee employment or salary of any kind. Prospective students are strongly encouraged to review desired job positions to review degrees, education, and/or training required to apply for desired positions. Prospective students should monitor these positions as requirements, salary, and other relevant factors can change over time.
Related Downloads
Useful Links