Denise Benitez has been passionate about public service for as long as she can remember. From working with nonprofits to serving as a gang prevention counselor for adolescents to conducting substance abuse assessments for adults, Benitez has dedicated her life — and her career — to helping others rise above whatever difficulties they might be facing. And this is what led her to seek a master's degree in counseling psychology at National University.
A Belief in the Power to Change
Living in Los Angeles, Benitez has had a front-row seat to the mental, emotional and physical struggles individuals face regardless of age, race, gender, education, or socioeconomic status. However, she hasn't let that discourage her from trying to make a difference. "I believe that both nature and nurture play a role in a person's circumstances," she says. "But I also believe that, by changing the environment a person finds himself or herself in, we can give these individuals an opportunity to thrive. And that's what I focus on doing every day."
Benitez has worked in the public service sector for more than 15 years. During this time, she became intrigued with the role counseling, therapy and rehabilitation could play in transforming people's lives. "This interest slowly evolved and led me to make the decision to pursue a master's degree in counseling psychology," she says. Not one to procrastinate, Benitez began her search for a program that would be the right fit for her and her family.
Finding a Home at National University
Benitez initially began a master's program at another institution. "I tried it, but it was exhausting," she explains. Because of the class schedule, she had to leave work two hours early twice a week to make it to class on time — and she also had a clinic on Saturdays. "That was unrealistic for me. I was a mother of three at the time and I couldn't put my children on hold [because of the demands of school]. That's not my world."
Not wanting to give up on her dream of earning a master's degree in counseling psychology, Benitez looked for other options and that search brought her to National University in 2013.
"National made it possible for me to live the life I wanted," says Benitez, who attended evening classes at National University's satellite campus in Los Angeles. Students in the program only take one class at a time, with each class lasting just four weeks. "That really made it feel like things weren't just dragging out," says Benitez. "Because we were finishing a class every four weeks, there were a lot of small wins along the way."
In addition to the class schedule, Benitez also enjoyed the small class sizes, which were often no larger than 15 students. "We got to know each other really well," says Benitez. And the smaller class sizes also provided opportunities for engagement. "There were lots of group projects, which I was really hesitant about at first. But it was so interesting to hear about the perspectives of others, to talk through our differences, and to come together to do presentations. A lot of really good work and thinking came out of those projects."
Her professors in National's Master's Degree in Counseling Psychology program also made the learning experience a very rich and rewarding one for Benitez. "Many of them have actually done work in the field and some are still working as therapists," she explains. "This gives them the ability to relate the material we studied to real life. And they made themselves accessible to us both in the classroom and outside of it."
A Decision to Specialize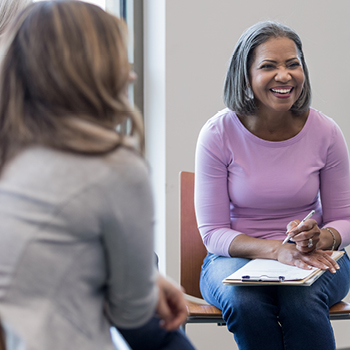 With a strong interest in family systems and group dynamics, Benitez decided to add the marriage and family therapy (MFT) specialty to her psychology degree while at National.
Because of the training required for this specialization, Benitez has found that with her psychology-counseling degree she's able to connect with her clients in a more meaningful way. "There are deep core issues that I'm able to help people with," she says. "I help them find where the pain and hurt they're experiencing are coming from so that they can understand it and make choices about how to deal with it." Benitez explains that her goal is to provide people the tools and skills needed to address challenges — such as anger management — for the long term. "I'm not just fixing something for the moment so that a person has to keep coming in for therapy," she says. "Together, my clients and I are doing the work required to help them live a better life."
Benitez credits the education she received in the psychology and counseling degree MFT program with much of the success she's had in the profession. "At least 70% of what I do now is what I learned how to do at National," she says. "That includes treatment plans, progress notes, assessments, diagnosing, genograms, and understanding the dynamics in group settings."
Opening the Door to More Options and Better Opportunities
Benitez completed her master's degree in counseling psychology MFT in 2015 and became a Licensed Marriage and Family Therapy (LMFT) in 2019. "I actually graduated and earned my license before the students who were in the first program I attended," she says.
Today, Benitez has her own private counseling practice which opened at the beginning of 2019. She also continues to work with nonprofits and other programs that benefit from her expertise. By having an MFT license, she's now able to serve in supervisory roles and has found those to be something she really enjoys.
Benitez sees no limits in her future. "I feel I can do anything," she says. Opportunities she's considering include everything from divorce mediation to couples' retreats to empowerment engagements.
Worth the Effort
After juggling the demands of family and work while earning her master's in counseling psychology degree at National, Benitez acknowledges there were challenges. "It could be tough to absorb all of the information," she says. "It's important to study, review, read and not fall behind. You have to be disciplined. It's a graduate program — the big leagues. But the expectations are reasonable. And you're going to get out of it what you put into it."
For Benitez, the pride she had when finishing the program was also shared by her family. Although graduation ceremonies were held in San Diego and Benitez lives in Los Angeles, she and her family wanted to be there in person to celebrate her achievement. "There was no way we were missing that ceremony," says Benitez. "So, my family and I decided we'd take a road trip to San Diego. The whole process of earning my master's degree was truly a family effort from beginning to end."
Benitez has words of advice for others who are considering earning their master's degree in counseling psychology at National University. "Do it," she says. "Don't think about it. Dive in. Once you're in it, you're going to get all the confidence and support you need."
Interested in learning more about how you can earn your master's in counseling psychology degree? Explore the National University's Master of Arts in Counseling Psychology program page to learn about the possibilities. There, you can request additional information and arrange to speak with one of our admission advisors who can answer any questions you might have about the program and will guide you through the application process.