Master of Arts in Performance Psychology

Master of Arts in Performance Psychology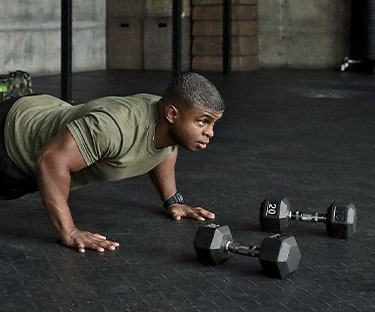 Explore the Intersection of Performance and Psychology
Learn the latest trends in theories, research, and applied techniques across the fields of business, exercise physiology, the fine arts, military and combat psychology, as well as sport psychology, with the Master of Arts in Performance Psychology. You'll see why the MA in Performance Psychology is one of the most well-rounded sports psychology master's programs.
The program's teaching explores the intersection of performance with psychology as you research techniques, counseling, peak performance, and sport science. Upon completion, you'll satisfy academic requirements to seek certification by the Association for Applied Sport Psychology (AASP).
Our hands-on instruction, paired with faculty support, will allow you to apply your knowledge to various settings, including university and professional athletics, fine arts performances, corporate settings, children in school and community sports organizations, coaching, and teaching.
Plus, our program is formatted for an optimal student experience. The classes have a four-week format, allowing you to focus on one class at a time, so you can balance your schoolwork with other responsibilities. Though the program is online, you can easily connect with faculty and get the support you need — a true benefit that's not found in all sports psychology master's programs.
Program Learning Outcomes
Upon successful completion of National University's MA in Performance Psychology program, graduates will be able to:
Analyze how psychological factors influence performance.
Analyze empirical and theoretical research related to the major.
Apply theoretically sound performance enhancement assessments and techniques with individual performers and teams representing various competitive arenas.
Integrate theoretical perspectives from counseling, sport psychology, and related fields into performance settings.
Apply counseling skills to working relationships with clients and athletes.
Apply ethical principles in a professional and culturally appropriate manner.
Upon completion of your degree, you'll have a wide variety of career choices in the sports psychology field and beyond. National University grads can transfer their skills to these jobs and more:
Mental conditioning coach
Clinical sports psychologist
Sports rehabilitation therapist
Sports research specialist
University or professional team coach
High school teacher
Guidance counselor
Social worker
To learn more about career opportunities and benefits of a master's in performance psychology, read our post: What Can You Do with a Performance Psychology Degree?
To receive a Master of Arts in Performance Psychology degree, students must complete at least 67.5 quarter units. A total of 13.5 quarter units of graduate credit may be granted for equivalent graduate work completed at another institution, as it applies to this degree and provided the units were not used in earning another advanced degree. Students should refer to the section on graduate admission procedures for specific information on admission and evaluation.
Core Requirements
(15 courses; 67.5 quarter units)
| Course | Description |
| --- | --- |
| PSY 602 | Sport/Performance Psychology |
| HUB 601A | Organizational Behavior |
| HUB 641 | Stages of Adult Development |
| PSY 637A | Multicul Iss Perform Consult |
| PSY 603 | Performance Psy Alt Population |
| PSY 614 | Counseling in Performance Psy |
| PSY 613 | Performance Consulting Skills – Prerequisite: PSY 602 and PSY 603 |
| HUB 650 | Behavioral Research |
| HUB 642 | Theories of Behavior Change |
| PSY 604 | Performance Psy Corporate Pops |
| PSY 607 | Ethics in Performance Psy |
| PSY 606 | Motor Behavior |
| PSY 609 | Psychopathology |
| PSY 639 | Consulting Practice Dev. |
| PSY 615 | Fieldwork – Prerequisite: Successful completion of all core requirements |
Contact Us
Take the first step by starting your application online today.
To speak to an enrollment advisor about this program, please email [email protected].
Why Choose National University?
We're proud to be a veteran-founded, San Diego-based nonprofit. Since 1971, our mission has been to provide accessible, achievable higher education to adult learners. Today, we educate students from across the U.S. and around the globe, with over 180,000 alumni worldwide.
Program Disclosure
The Master of Arts in Performance Psychology program is currently operating using guidelines from the Association for Applied Sport Psychology (AASP) to become a Certified Mental Performance Consultant (CMPC). Students seeking certification must pass additional exams and have completed approved mentor hours. Please see the CMPC website for more details.
Students who obtain a CMPC may use the letters CMPC after their name and highest university degree. It does not designate the individual as a "sport psychologist." Requirements for providing psychological services are determined by individual state, provincial, and territorial licensing boards.
For up-to-date information on program licensure eligibility requirements for a state, please visit: https://www.nu.edu/licensuredisclosures/
---
Successful completion and attainment of National University degrees do not lead to automatic or immediate licensure, employment, or certification in any state/country. The University cannot guarantee that any professional organization or business will accept a graduate's application to sit for any certification, licensure, or related exam for the purpose of professional certification.
Program availability varies by state. Many disciplines, professions, and jobs require disclosure of an individual's criminal history, and a variety of states require background checks to apply to, or be eligible for, certain certificates, registrations, and licenses. Existence of a criminal history may also subject an individual to denial of an initial application for a certificate, registration, or license and/or result in the revocation or suspension of an existing certificate, registration, or license. Requirements can vary by state, occupation, and/or licensing authority.
NU graduates will be subject to additional requirements in a program, certification/licensure, employment, and state-by-state basis that can include one or more of the following items: internships, practicum experience, additional coursework, exams, tests, drug testing, earning an additional degree, and/or other training/education requirements.
All prospective students are advised to review employment, certification, and/or licensure requirements in their state, and to contact the certification/licensing body of the state and/or country where they intend to obtain certification/licensure to verify that these courses/programs qualify in that state/country, prior to enrolling. Prospective students are also advised to regularly review the state's/country's policies and procedures relating to certification/licensure, as those policies are subject to change.
*Positions may require additional experience, training, and other factors beyond completing this degree program. Depending on where you reside, many positions may also require state licensure, and it is the responsibility of the student to ensure that all licensure requirements are met. We encourage you to also review program-specific requirements. Any data provided on this page is for informational purposes only and does not guarantee that completion of any degree program will achieve the underlying occupation or commensurate salary.