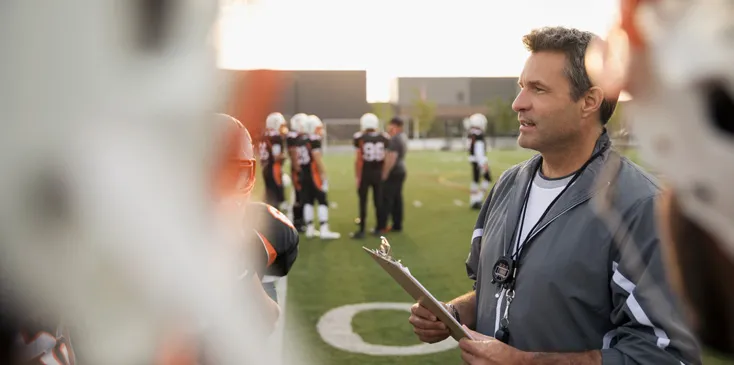 At one time or another, most every sports enthusiast has imagined playing their game in the big leagues. But while you may never start for your favorite NBA team or wow global audiences on an Olympic stage, have you considered the many other ways that you can turn your passion for sports into a fulfilling career?
For some sports enthusiasts, a bachelor's degree in sports psychology is a practical and exciting way to transform their love of the the game into a rewarding profession. Designed to help you explore the psychological factors that influence performance in sport, this degree provides an opportunity to build the tools and skills you need to be involved in all the drama and passion of athletic competition, even if you are not batting cleanup yourself.
While a sports psychology degree is typically associated with a career as a sports psychologist, it can also be the first step toward a number of interesting career opportunities for pursuing your own passions and helping others pursue theirs.
What is Sports Psychology?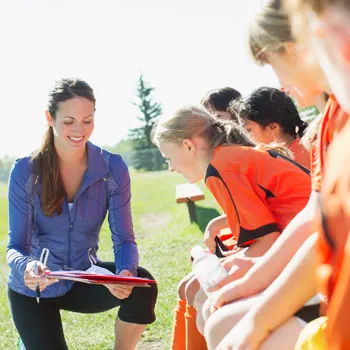 The American Psychological Association defines sports psychology as "a proficiency that uses psychological knowledge and skills to address optimal performance and well-being of athletes, developmental and social aspects of sports participation, and systemic issues associated with sports settings and organizations."
In short, the field explores the principles and theories of psychology through the lens of athletic competition. Many aspiring professionals enter the field in order to work with elite athletes, including those who play at the professional level. But the reality is that the principles of sports psychology can be used to improve the performance of a wide variety of people both inside and outside the sporting arena, including student-athletes of all levels, coaches, corporate employees, and even members of the military.
Career Paths in Sports Psychology
When it comes to careers in sports psychology, your professional path will be influenced by a variety of factors, including the level of education you wish to pursue, the type of clients you are interested in helping, and the setting in which you want to work.
"You can translate a sports psychology degree into a number of career options," says Sarah Castillo, lead faculty for National University's Bachelor of Arts in Sport Psychology program and the co-director of the Center for Performance Psychology. "Some of our students go into athletic coaching. Others are consultants who integrate the things that they've learned about performance into corporate programs."
One of the most common career choices is that of a licensed sports psychologist. In this profession, you will help your clients achieve their goals, whether that means enhancing their performance, improving interpersonal relationships with teammates or coaches, or overcoming a personal challenge. Castillo reports that these struggles can include eating disorders, depression, behavioral disorders, and other challenges that you also find in the mainstream population. However, as a sports psychologist, you will be uniquely equipped to help clients who are dealing with these issues in the context of athletic pursuits and the pressures and challenges that they bring.
There is currently a high need for professionals who are equipped to help clients deal with and understand these types of challenges. For example, according to the Bureau of Labor Statistics, demand for psychologists — which includes sports psychologists — is expected to grow by 14 percent between 2016 and 2026, a growth in the job market by an additional 23,000 positions during that period. This number includes sports psychologists.
While there are many options for working with athletes in various capacities after obtaining a bachelor's sports psychology degree, you must complete a Ph.D. and obtain licensure to be an official sports psychologist.
Though this particular job title is a common one for someone with a degree in sports psychology, it is far from the only option. With a bachelor's in the field, you will have the foundational skills and knowledge to pursue a variety of positions, including — but not limited to — the following roles:
Certified Mental Performance Consultant
When athletes want to gain a competitive edge, they often turn to certified mental performance consultants. Similar to the role of a sports psychologist, the industry's consultants help individuals enhance their performance by assessing strengths and weaknesses, exploring mental roadblocks, creating action plans, and other interventions. Consultants can be found on the staffs of professional sports teams, college athletic departments, and even Olympic-level staffs.
Though the responsibilities are similar, sports psychology consultants differ from sports psychologists in that they are not required to complete a Ph.D. or obtain psychology licensure to practice. Instead, you can qualify with either a master's or doctoral degree, and national-level certification from the Association for Applied Sports Psychology.
Personal Trainer
If you are interested in helping athletes of all levels achieve their goals for physical fitness through a career as a personal trainer, a degree in sports psychology can be a powerful tool.
"A lot of our students own their own gym and are looking for ways to expand the services that they can provide through courses in sports psychology," Castillo says.
With a sports psychology background, you will be better equipped to help your clients who have hit a rut or are feeling discouraged in their training. By being able to work with your athletes through both mental and physical challenges, you can increase their success while enhancing your own career.
Performance Psychologist
Athletes are not the only population who can benefit from sports psychology principles. As a performance psychologist, you can put these strategies into action in a variety of settings ranging from the corporate world to music, medicine, acting, and even comedy.
"Today, big corporations are really looking at how to maximize performance, and consequently they're looking for people that are trained to work with elite performers in an athletic context," Castillo says. "An individual I went to graduate school with is the director of leadership training for Coca Cola. That may not sound like the typical application of a sports psychology degree, but that's exactly where the field is going."
Though executives and other high-achieving professionals in the corporate world may not be attempting to score goals or shoot hoops, the metaphorical home runs they are trying to hit in the office can create a similarly competitive environment that results in some of the same challenges faced by elite athletes. Consequently, many of the principles sports psychology professionals are trained in translate well to the corporate setting.
As with a formal sports psychologist role, you will need to complete a doctoral-level degree and obtain a psychology license in order to practice as a performance psychologist. However, if you are not licensed or only have a master's degree, you can still work in a consultant capacity.
Military
Are you a current or aspiring member of the armed forces? A sports psychology degree could offer very practical applications for your career.
"A lot of our students are military," Castillo says. "They take the principles that we teach in performance enhancement in the sport psychology program back to their active duty military units."
From examining the psychological factors that influence physical performance to learning techniques for reducing anxiety, completing a sports psychology program can help not only to improve your performance as a member of the armed forces — it can equip you to encourage others to perform their best as well.
However, you do not need to be on active duty with the military to work in this field after completing a sports psychology degree. Because members of the armed forces operate under many of the same conditions as professional sports — experiencing high stress, physical demands, and necessitated periods of intense concentration — many professionals have found that hiring sports psychology consultants can help units perform better on the job.
In fact, Castillo herself worked as a sport psychology consultant at the United States Military Academy at West Point for nine years before joining the teaching faculty at National University. In addition to her own experience, she reported that the U.S. Army is currently a leading employer of sports psychology professionals, with members of the field employed at military bases both in this country and abroad.
Launching Your Sports Psychology Career
Interested in pursuing one of the many exciting career possibilities available in the field of sports psychology? Now is an opportune time to get started, Castillo reports.
"The field of sport and performance psychology is growing and it's growing at a much faster rate than we've ever seen," she says. "The impact of the work of psychologists has really been seen and felt, particularly in the military, as well as in professional and Olympic sports."
What does that translate to? More opportunities and jobs for professionals with the right skills and training and a passion for helping others achieve their highest level of performance.
"We've really made a huge impact when you look at hiring percentages," Castillo says. "The number of jobs that are out there is growing. More hiring managers in diverse areas of employment are looking at sport and performance psychology graduates."
Whether you want to work with elite athletes, military service members, high-achieving executives, or another type of performer altogether, one of your first steps toward a career in sports psychology is to pursue a bachelor's degree.
Sports Psychology Degree vs. General Psychology Degree
When it comes to choosing an undergraduate program, you may wonder which is the right degree for your career — a specific sports psychology degree or a more general bachelor's in psychology? While both options emphasize many of the same principles, there are several advantages to choosing the sports psychology major if you want to eventually work in that industry.
Castillo explains that one of those benefits is that a sports psychology degree prepares you more effectively to work with the specific challenges facing your chosen clients.
"Athletes are a very particular population," Castillo says. "If you look at a general psychology degree, that's going to give you a very broad perspective of how the human mind works and how mind body interaction plays in, which is important. But the environment of sports is very, very different and the sports psychology degree reflects that."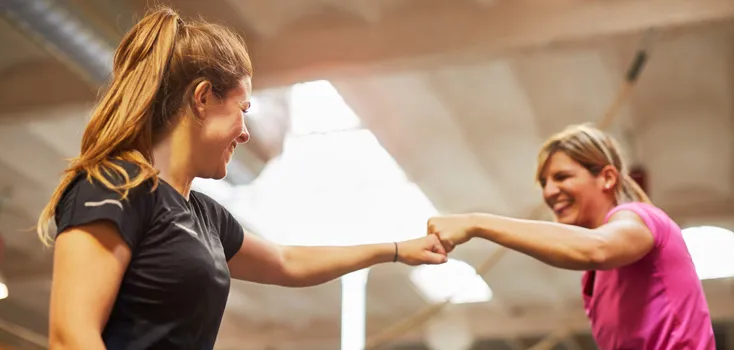 The pressures created by elite level performance in any venue is not something that the general population traditionally faces on a daily basis. So while the principles that you would learn in general psychology are still present in sports psychology, there are differences that occur because of the additional scrutiny and stress inherent in the competitive lifestyle. These can occur due to factors such as the power differential in the coach-athlete relationships or the impact of the media, Castillo reports.
Whether you pursue your sports psychology education through an online degree or study at a physical campus, you will explore many of the foundational subjects of a bachelor's in psychology degree, such as biological psychology, developmental psychology, personality theory, psychopathology, social psychology, cognitive psychology, and positive psychology.
However, you will also take courses that are specifically tailored to a career in the sports industry. For instance, National University's core requisites include the following: Foundation of Sport Psychology, History of Sport & Sport Psych, Social Psychology of Sport, Research Design and Analysis, Motor Learning, Sport Psychology for Coaches, Culture and Sport Psychology, Biomechanics of Sport, Exercise Physiology, Counseling Techniques I, and Applied Sport Psychology.
Learning Objectives in Sports Psychology
Your bachelor's degree is about far more than simply gaining theoretical knowledge. In addition to building your understanding of the latest developments and best practices in the field, you will gain practical skills that will be applied daily in your sports psychology career.
"The degree itself is as broad and expansive as any other undergrad degree, so it's a great place to start if you think that sports psychology is something that you might be interested in," Castillo says. "With an undergraduate degree, you can really go anywhere, including pursuing a graduate education if you want to go in that direction."
When choosing a degree program, be sure that the program's objectives are aligned with your professional goals. For example, the learning outcomes for National University's Bachelor of Sports Psychology Degree include the following:
Examine current trends in psychological research at the individual and team level within the field of sport psychology.
Analyze the influence of psychological factors in sport performance, and discuss techniques that can increase performance and reduce athlete anxiety.
Explore the history of sport psychology, as well as its role in the theories and systems of contemporary psychology.
Study diversity and multiculturalism's influence on the interactions and performance of groups.
Apply psychological theory in situations that involve coaching.
Use proper sport and psychology terminology in both oral and written communication.
Discuss sport psychology and performance enhancement principles in terms of both legal and ethical issues.
Explore issues related to physiological and motoric principles of performance found in both sport and physical activity.
Ultimately, the goal is to prepare you to interact with a wide range of elite performers through a curriculum that emphasizes both intellectual knowledge and a hands-on approach.
Your National University Sports Psychology Degree
Whether you are interested in pursuing a career as a licensed sports psychologist, or want to gain the skills you need to encourage elite performance in another capacity, consider enrolling in National University's Bachelor of Arts in Sports Psychology program. Supported by our highly trained faculty and staff, you will gain both the theoretical knowledge and practical skills you need to pursue a rewarding career in sports psychology.
Though the field is growing in popularity, there are currently only nine undergraduate sports psychology programs in the U.S., and of those, National is the only school that offers an entirely online degree. Through the flexibility of the remote learning option, you can complete your coursework at the time and place of your choosing, investing in your career on a schedule built around your professional and personal responsibilities.
Interested in pursuing a career as a certified mental performance consultant? In addition to the sports psychology bachelor's degree, National University offers a Master of Arts in Sport and Performance Psychology program that can help you achieve this goal, or pursue another career in the industry that requires a graduate-level degree.
"A lot of our students end up going to graduate school," Castillo says. "National's master's degree in performance psychology offers a slightly broader scope than the sports psychology curriculum. In the undergraduate program, the degree specifically focuses on the athletic environment, but when we move into our master's degree, we really broaden it. This helps students acquire the skills they need to pursue careers in many areas where new opportunities in sports psychology are opening up, like in the military."
In addition, National's Master of Arts in Performance Psychology is specifically designed to complete the coursework and mentorship requirements required to become a certified mental performance consultant. Castillo reports that a number of alumni have attained the certification and are now working in these positions across the nation.
Whether you want to advance in your current career or pivot into a new field altogether, National University's Bachelor in Sports Psychology degree can help you take the next step in achieving your goals. Want to learn more about how you can pursue a career in sports psychology with National University? Request information online by contacting us.