Master of Arts in Strategic Communication

Master of Arts in Strategic Communication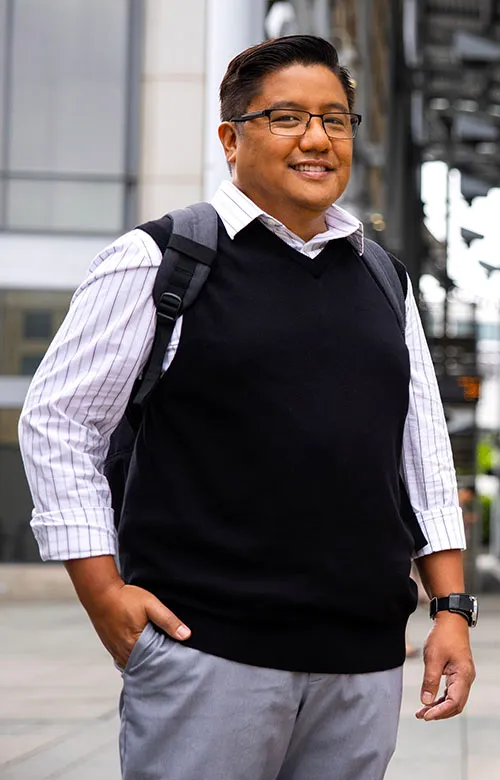 Help Organizations Develop a Consistent Voice Across Corporate Communications
If you have excellent writing skills and the capacity to influence others with your words, you might be a strong candidate for a career in strategic communications. National University's Master's in Strategic Communications is designed to teach you how to develop and implement marketing communications strategies that meet client-specific goals.
As a Strat Comms professional, you'll use principles of persuasion to craft and adapt messaging to different audiences and media platforms. You'll develop the skills necessary to effectively evaluate corporate communication strategies, write compelling messages and press releases, and implement messaging across traditional and emerging channels, such as social media, podcasts, and mobile media.
NU's online ster's in Strategic Communications is designed to develop effective, strategically sophisticated professionals who possess the full complement of analytical and practical tools to lead communication efforts. It fosters strategic thinking, logical analysis, and solution generation. Our highly skilled, professionally connected faculty will help you develop a portfolio relevant to the needs of today's strategic communications professionals.
Perhaps best of all, taking one course at a time, you can complete NU's Master's in Strategic Communications degree in just 10 months.
Learn more about the bachelor's degree in Public Administration at National University.
Program Learning Outcomes
As a graduate of National University's Master of Arts in Strategic Communications program, you'll understand how to:
Produce multi-audience, multichannel communication campaign planning documents
Manage communication campaigns by producing budgets, task lists, and schedules
Apply formative research to develop communication campaigns and messages
Create persuasive campaigns that meet professional ethical standards
Evaluate communication campaigns by conducting summative research
Deliver professional communication presentations online
Demonstrate leadership and collaborative skills by participating in group tasks and presentations as a leader and team member
Organizations in every industry must meet the challenges of operating in an increasingly complex and interdependent global environment. To do so, they need highly skilled writers who have mastered the process of planning, executing, and evaluating strategic communications efforts.
NU's Master's in Strategic Communications degree will help you develop the full complement of analytical and practical tools to lead communication efforts. It fosters strategic thinking, logical analysis, and solution generation. Our 10-month, career-focused curriculum is taught by a highly skilled faculty who have worked, or are currently working, in the field. You'll have opportunities to tap into their professional networks and even pursue internships that can prep you for an exciting career as a communications strategist.
As you study and develop an interview-ready portfolio, you'll acquire intellectual, managerial, and communication skills and competencies. You'll learn how to do everything from carrying out analyses of organizational communications needs to conducting audience analysis and formative and evaluative research. You'll use your professional-level writing skills to develop, implement, and evaluate appropriate strategies and tactics to reach multiple audiences.
National University's MA in Strategic Communications program focuses on helping you develop a deep understanding of the theories of communication and persuasion, an ability to lead and participate in the team development of organizational communication strategies, and the practical skills to plan, produce, and evaluate strategic communications programs and campaigns.
With these skills, you'll be qualified to pursue a range of communications occupations in areas like public relations, fundraising, and marketing. Some of the specific job titles* in these areas include:
Communications specialist and manager
Communications director/Director of communications
Strategic communications specialist, manager
Director of corporate communications
Internal communications manager, director
Director of marketing
Strategic communications professionals are needed in nearly every industry, including:
Educational services
Professional, scientific, and technical services
Manufacturing
Finance and insurance
Healthcare and social assistance
Retail trade
Public administration
And many others
As a communication strategist with a master's degree, you'll also likely find yourself in demand. The Bureau of Labor Statistics states that employment in media and communication occupations is projected to grow 14 percent from 2020 to 2030, which is significantly faster than the average for all occupations.**
To give you an idea of the salary range*** you might command, BLS also states that median annual wage for public relations specialists was $62,800 in May 2021, and the highest 10 percent earned more than $124,620.
* SOURCE: Emsi Labor Analyst- Report. Emsi research company homepage at https://www.economicmodeling.com/company/ (Report viewed: May 2, 2022. DISCLAIMER: The data provided is for Informational purposes only. Emsi data and analysis utilizes government sources to provide insights on industries, demographics, employers, in-demand skills, and more to align academic programs with labor market opportunities. Cited projections may not reflect local or short-term economic or job conditions and do not guarantee actual job growth. Current and prospective students should use this data with other available economic data to inform their educational decisions.
** https://www.bls.gov/ooh/media-and-communication/home.htm
*** https://www.bls.gov/ooh/media-and-communication/public-relations-specialists.htm#tab-5
To receive a Master of Arts in Strategic Communications from National University, students must complete at least 45 quarter units of graduate work, of which a minimum of 40.5 quarter units must be taken in residence at National University.
Students can transfer up to 4.5 quarter units at the graduate level from a regionally accredited institution in the areas of communication or business, provided the units have not been used to satisfy the requirements of an awarded degree. Students wishing to transfer credits into the program should contact the program faculty advisor. Refer to the section in the graduate admission requirements for additional specific information regarding application and matriculation.
Introducing the Opportunity Scholarship
In honor of our students, and in celebration of our 50th anniversary, National University is investing $30 million in new student scholarships. To learn more about the Opportunity Scholarship, how you can apply, and how much you can save, inquire today.

Erika Torres., 2021 Graduate
"The BPA program at National University has been a profound experience, expanding my understanding of topics relating to urban environment, government operations, and even social justice. The program encompasses the foundations of the public sector while also empowering students with the knowledge to make positive contributions in their future endeavors."
Contact Us
Take the first step by starting your application online today.
To speak to an enrollment advisor about this program, please email [email protected].
Why Choose National University?
We're a veteran-founded, San Diego-based nonprofit. Since 1971, our mission has been to provide accessible, achievable higher education to adult learners. Today, we educate students from across the U.S. and around the globe, with over 185,000 alumni worldwide.
Program Disclosure
Successful completion and attainment of National University degrees do not lead to automatic or immediate licensure, employment, or certification in any state/country. The University cannot guarantee that any professional organization or business will accept a graduate's application to sit for any certification, licensure, or related exam for the purpose of professional certification.
Program availability varies by state. Many disciplines, professions, and jobs require disclosure of an individual's criminal history, and a variety of states require background checks to apply to, or be eligible for, certain certificates, registrations, and licenses. Existence of a criminal history may also subject an individual to denial of an initial application for a certificate, registration, or license and/or result in the revocation or suspension of an existing certificate, registration, or license. Requirements can vary by state, occupation, and/or licensing authority.
NU graduates will be subject to additional requirements in a program, certification/licensure, employment, and state-by-state basis that can include one or more of the following items: internships, practicum experience, additional coursework, exams, tests, drug testing, earning an additional degree, and/or other training/education requirements.
All prospective students are advised to review employment, certification, and/or licensure requirements in their state, and to contact the certification/licensing body of the state and/or country where they intend to obtain certification/licensure to verify that these courses/programs qualify in that state/country, prior to enrolling. Prospective students are also advised to regularly review the state's/country's policies and procedures relating to certification/licensure, as those policies are subject to change.
*Positions may require additional experience, training, and other factors beyond successfully completing this degree program. Depending on where you reside, many positions may also require state licensure, and it is the responsibility of the student to ensure that all licensure requirements are met. We encourage you to also review program-specific requirements. Any data provided on this page is for informational purposes only and does not guarantee that completion of any degree program will achieve the underlying occupation or commensurate salary.