Master of Science in Special Education with Nevada Licensure and Endorsement for Generalist Resource Room (Nevada Only)
Master of Science in Special Education with Nevada Licensure and Endorsement for Generalist Resource Room (Nevada Only)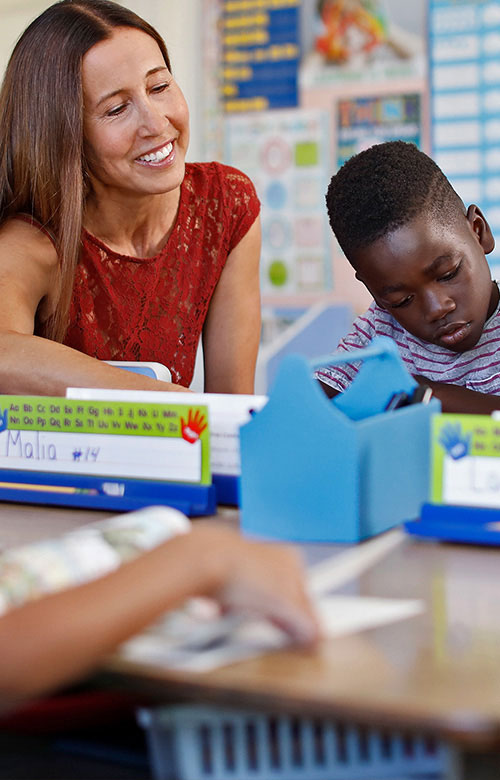 QUICK FACTS
Become a part of NU's global alumni community.
The Master of Science in Special Education includes four-week classes.
National University is San Diego's largest private nonprofit university.
We are no longer accepting applications for this program.
As an educator of students with special needs, teachers need a set of special skills. Learning to teach such students in today's schools requires knowledge of an array of teaching strategies — no one strategy can meet the needs of every special-needs student. The Master of Science in Special Education with Nevada Licensure and Endorsement for Generalist Resource Room (Nevada Only) program will teach you to instruct learners with disabilities in the K-12 system across this broad educational spectrum.
Candidates in the program are committed to becoming instructional leaders in the K-12 setting for students with special needs across developmental domains. They are presented with a variety of research-validated methods, techniques, and opportunities to develop the knowledge and skills to positively impact students' lives. Courses are designed to help you develop your awareness and acceptance of cultural, linguistic, ethnic, economic, gender, lifestyle, and ability differences.
The MS in Special Education program offers the opportunity to obtain initial NV teacher licensure and a master's degree concurrently.
Program Learning Outcomes
Demonstrate knowledge of typical and atypical development and characteristics of students with disabilities and other special needs.
Integrate fairness, equity, and access in designing the environment, teaching, and learning strategies to meet diverse student learning.
Integrate best practices, apply learning theories, methodologies, technology tools, and assessments across content areas to manage, monitor, and engage student learning. NVTL: B. V, VIII
Demonstrate the ability to focus on student learning using special education resource room technology tools through systematic study and reflection of one's own teaching practices and through shared knowledge gained from purposefully formed professional learning communities. NVTL: B. VIII
Demonstrate an understanding of effective leadership by advocating for exceptional individuals, including those with diverse needs and by collaborating within the learning community to advance professional practice.
Demonstrate competence in the application of research methods, including critiquing and synthesizing current, evidence-based education literature.
Click here for program specific course information.
Meet Our Faculty
Why Choose National University?
We're proud to be a veteran-founded, San Diego-based nonprofit. Since 1971, our mission has been to provide accessible, achievable higher education to adult learners. Today, we educate students from across the U.S. and around the globe, with over 170,000 alumni worldwide.
Four-Week Classes
Focus on one subject at a time — one month at a time — and finish your degree faster.
75+ Degree Programs
Choose from associate, bachelor's, and master's degrees, plus credentials and certificates.
On Campus or Online
Study when and where it's convenient for you with evening, weekend, and 100% online classes.
Year-Round Enrollment
Apply or transfer any time. Classes start monthly, and applications are accepted year round.
20+ Campus Locations
Attend class onsite at one of over 20 campus locations across California or in Nevada.
Military Friendly
As a Yellow Ribbon school, we offer tuition discounts to servicemembers and dependents.