Bachelor of Business Administration

Bachelor of Business Administration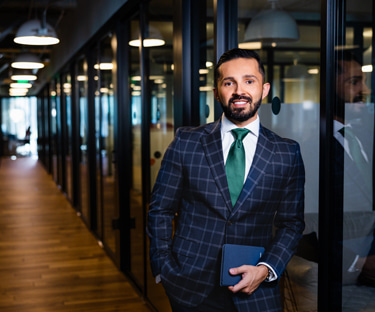 Concentrate Your Studies in a Key Area of Business and Industry
Do you see yourself as a budding entrepreneur? Are you interested in learning how to analyze the viability of a company's product or services? Maybe you'd like to develop your people-managing skills? No matter why you're looking to build or expand your business expertise, National University's Bachelor of Business Administration (BBA) degree can provide you with the tools you need to define your competitive edge and succeed in today's dynamic business world.
Our BBA program uses case studies to create real-world scenarios to help you understand everything from marketing and statistics to accounting, economics, and finance. You can also direct your studies into your specific area of interest by choosing one of ten concentrations in this program: Accounting, Alternative Dispute Resolution, Business Law, Economics, Entrepreneurship, Finance, Human Resource Management, Logistics and Supply Chain Management, Marketing, or Project Management.
NU's BBA has been selected as a preferred provider of student talent, and students in the program can qualify to apply for paid internship positions. No matter where your future in business takes you, you'll have developed the marketable skills and expertise to manage and grow your career.
Watch this video to hear Dr. Brian Simpson from the Department of Accounting, Finance, and Economics discuss the Bachelor of Business Administration program and what to expect.
Program Learning Outcomes
Upon completion of this Bachelor of Business Administration degree, you'll be able to:
Apply ethical and legal principles to a business environment
Demonstrate skills and knowledge in the areas of business math, economics, accounting, finance, and operations management needed to make sound business decisions
Apply knowledge in the fields of management, information systems, and marketing to different business environments
Apply the knowledge acquired in the program for the analysis of strengths, weaknesses, and potential improvements in a business
Demonstrate written, presentation, and research skills expected of a business school graduate
Develop a global business perspective based on the knowledge of foreign business environments and cultures

Dr. Brian Simpson
Professor and Chair, Department of Accounting, Finance, and Economics, College of Professional Studies
"The Bachelor of Business Administration program equips students with writing skills and quantitative skills. It also improves their presentation and technical skills necessary to succeed in a business setting."

Hope Ingle
Class of 2022
"My biggest takeaway from this program is that going through the rough of the program like late nights early weekends is what made me stronger, wiser, and more ready to use all of the education and skills the program gave me. Without the grit, the program would not have been as successful for me. The program made me ready to face hard days in the workforce, and I feel ready for the challenges because of it."
Contact Us
Take the first step by starting your application online today.
To speak to an enrollment advisor about this program, please email [email protected].
Why Choose National University?
We're a veteran-founded, San Diego-based nonprofit. Since 1971, our mission has been to provide accessible, achievable higher education to adult learners. Today, we educate students from across the U.S. and around the globe, with over 185,000+ alumni worldwide.
Program Disclosure
Successful completion and attainment of National University degrees do not lead to automatic or immediate licensure, employment, or certification in any state/country. The University cannot guarantee that any professional organization or business will accept a graduate's application to sit for any certification, licensure, or related exam for the purpose of professional certification.
Program availability varies by state. Many disciplines, professions, and jobs require disclosure of an individual's criminal history, and a variety of states require background checks to apply to, or be eligible for, certain certificates, registrations, and licenses. Existence of a criminal history may also subject an individual to denial of an initial application for a certificate, registration, or license and/or result in the revocation or suspension of an existing certificate, registration, or license. Requirements can vary by state, occupation, and/or licensing authority.
NU graduates will be subject to additional requirements in a program, certification/licensure, employment, and state-by-state basis that can include one or more of the following items: internships, practicum experience, additional coursework, exams, tests, drug testing, earning an additional degree, and/or other training/education requirements.
All prospective students are advised to review employment, certification, and/or licensure requirements in their state, and to contact the certification/licensing body of the state and/or country where they intend to obtain certification/licensure to verify that these courses/programs qualify in that state/country, prior to enrolling. Prospective students are also advised to regularly review the state's/country's policies and procedures relating to certification/licensure, as those policies are subject to change.
*Positions may require additional experience, training, and other factors beyond successfully completing this degree program. Depending on where you reside, many positions may also require state licensure, and it is the responsibility of the student to ensure that all licensure requirements are met. We encourage you to also review program-specific . Any data provided on this page is for informational purposes only and does not guarantee that completion of any degree program will achieve the underlying occupation or commensurate salary.