Bachelor of Public Administration

Bachelor of Public Administration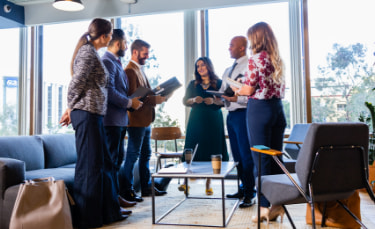 Earn a Public Administration degree and make a difference in your community
Cities, towns, and villages depend on advocates who are sensitive to the needs of their community and possess the specialized knowledge and skills to make improvements that benefit the people who live there. National University's Bachelor of Public Administration (BPA) is designed to prepare you for an important career in a dynamic and growing field.
Our public administration degree can qualify you to pursue a wide range of professional roles and responsibilities at the local, state, and federal levels. From writing grant proposals and speaking at fundraising events to becoming a leader in waterworks management, successful completion of NU's BPA program can prepare you for mid-level positions in government agencies and nonprofit organizations.
Public administration is an important and respected career path ripe with opportunities for advancement, and our curriculum is designed to prepare you with the industry-current qualifications to pursue them.
Why National University's Online Bachelor of Public Administration Program?
Hands-On Learning in High-Demand Fields. We offer a concentration in Waterworks Management with partnerships and career pathways within the water industry in California. Students get firsthand experience and professional guidance from their instructors who also work in the field.
Designed for Working Professionals. Program offers asynchronous and online course format that fits the busy schedules of adult learners with convenient four-week courses, monthly starts, and year-round enrollment.
Career-Focused WSCUC Accredited Program. The BPA degree is broad-based and introduces students to a wide range of public administration disciplines, including management and leadership, accounting, and organizational behavior. Students interested in the public sector learn about career opportunities in government, nonprofits, agencies, and more.
Learn more about the bachelor's degree in Public Administration at National University.
Program Learning Outcomes
Synthesize the theories of public administration
Analyze the operations and procedures of public management and nonprofits
Develop skills in managing a public sector or nonprofit organization
Apply the theories and practices in program and resource management
Apply the theories and practices of accounting and budgeting in government and nonprofits
Evaluate the role of community groups in local government
Analyze ethical situations in the public sector
Utilize research processes to address a current problem in public administration
Collect data, conduct a literature review, analyze data, write, and explain findings, and present results orally and in writing

Erika Torres., 2021 Graduate
"The BPA program at National University has been a profound experience, expanding my understanding of topics relating to urban environment, government operations, and even social justice. The program encompasses the foundations of the public sector while also empowering students with the knowledge to make positive contributions in their future endeavors."
Contact Us
Take the first step by starting your application online today.
To speak to an enrollment advisor about this program, please email [email protected].
FAQs
The public sector is always in need of professionals with the rigorous training to meet the complexities of the management of public programs and assets. Your career path could include teaching or training assignments, research, or a variety of roles within government and nonprofit organizations including business administrators, government relations managers, accounting, budgeting, and many others.
The general education program consists of a minimum of 70.5 quarter units. Of the 70.5 units, students must complete at least 4.5 units at the upper-division level and 4.5 units in diversity-enriched coursework. To prepare for the major, students must complete:
MNS 205* Intro to Quantitative Methods
ECO 203* Principles of Microeconomics
ACC 201 Financial Accounting Funds
* May be used to meet a General Education requirement.
Public administration is a high-growth career field offering a diverse range of opportunities for professionals who have a strong foundation in public management, ethical leadership, and local, state and federal procedures and practices.
Why Choose National University?
We're a veteran-founded, San Diego-based nonprofit. Since 1971, our mission has been to provide accessible, achievable higher education to adult learners. Today, we educate students from across the U.S. and around the globe, with over 180,000 alumni worldwide.
Program Disclosure
Successful completion and attainment of National University degrees do not lead to automatic or immediate licensure, employment, or certification in any state/country. The University cannot guarantee that any professional organization or business will accept a graduate's application to sit for any certification, licensure, or related exam for the purpose of professional certification.
Program availability varies by state. Many disciplines, professions, and jobs require disclosure of an individual's criminal history, and a variety of states require background checks to apply to, or be eligible for, certain certificates, registrations, and licenses. Existence of a criminal history may also subject an individual to denial of an initial application for a certificate, registration, or license and/or result in the revocation or suspension of an existing certificate, registration, or license. Requirements can vary by state, occupation, and/or licensing authority.
NU graduates will be subject to additional requirements in a program, certification/licensure, employment, and state-by-state basis that can include one or more of the following items: internships, practicum experience, additional coursework, exams, tests, drug testing, earning an additional degree, and/or other training/education requirements.
All prospective students are advised to review employment, certification, and/or licensure requirements in their state, and to contact the certification/licensing body of the state and/or country where they intend to obtain certification/licensure to verify that these courses/programs qualify in that state/country, prior to enrolling. Prospective students are also advised to regularly review the state's/country's policies and procedures relating to certification/licensure, as those policies are subject to change.
*Positions may require additional experience, training, and other factors beyond successfully completing this degree program. Depending on where you reside, many positions may also require state licensure, and it is the responsibility of the student to ensure that all licensure requirements are met. We encourage you to also review program-specific requirements. Any data provided on this page is for informational purposes only and does not guarantee that completion of any degree program will achieve the underlying occupation or commensurate salary.