On-site Career Choice
classrooms for Amazon Associates
Take classes on-site at Amazon locations!
National University is proud to partner with Amazon to offer a convenient way for Blue Badge associates to earn college credit without the commute. Through the Career Choice program, associates can attend NU's 4-week courses directly at select Amazon facilities.
Designed for those with limited or no college experience, these general education courses are offered on-site at SAN3, ONT2, and HOU2, and deliver an accessible and achievable pathway to a degree.
Whether you're interested in completing a few prerequisites courses before you decide on a major, or you just want to gain the confidence in your ability to achieve a college education, this is a prime opportunity to get started on your degree tuition-free while building a local support network of fellow students.
Classes begin August 1 in San Diego, Houston, and San Bernardino!
On-site Locations and Course Dates
General education courses will be held for 4-weeks from 5:00-6:30pm local time two days a week, Tuesday/Wednesday or Thursday/Friday, to match your shift. Online activities will also be required.
August 1 – August 27
COH 100: Personal Health
August 29 – September 24
ENG102: Effective College English
September 26 – October 22
COM 103: Public Speaking
August 1 – August 27
ILR 260: Academic Information Literacy
August 29 – September 26
PYS 100: Introduction to Psychology
August 1 – August 27
COH 100: Personal Health
August 29 – September 24
ENG 102: Effective College English
September 26 – October 22
MUS327: World Music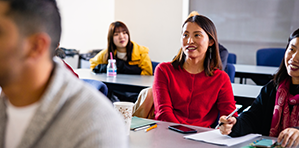 Finish Faster With Four-Week Courses
Our courses fit your life. They are offered in four-week blocks, so you can stay focused and finish faster.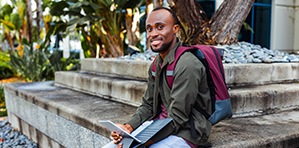 Accessible and Achievable Education
As a Career Choice partner, National University offers Amazon Associates a high-caliber education that is accessible and achievable.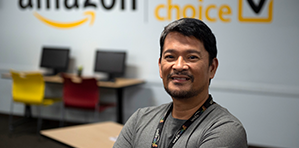 Dedicated Advisors for Amazon Associates
We make the enrollment process easy. With support from dedicated advisors just for Amazon associates, we help you forge a path to success. We're here to help and are committed to your educational journey every step of the way.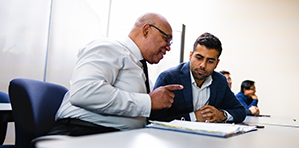 Guaranteed Academic and Career Services
Our support goes beyond academics. NU offers Amazon associates career and concierge services that include mentoring, career counseling, placement support, workshops, resume and cover letter assistance, and much more.
A Message From Our Chancellor,
Dr. Michael R. Cunningham
3 Steps to Get Started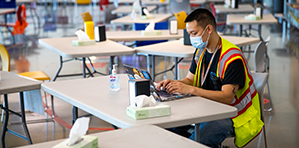 1
Complete the enrollment form
Enrolling is easy. We're here to help and will walk you through the process.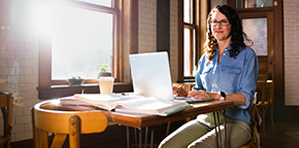 2
Speak with an advisor
A dedicated advisor will get in touch to discuss your goals and guide you through the process.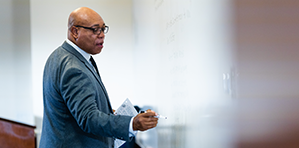 3
Begin your first class
Be sure to take note of the start date and schedule for your facility.
"The best investment I ever made
was in myself
."
Nadia L., Class of 2020
Find Your Program
By taking part in the Career Choice program, Amazon associates have the option of choosing from more than 40 career-driven, future-focused programs. Take four-week classes, one month at a time, or skip a month when you need, after completing the on-site series, to focus on work or family obligations.
Our most in-demand programs are:
Cybersecurity
Computer Science
Business
Information Systems
Use our Degree Finder to see which program fits you best. With 40+ degrees to choose from, you are sure to find the program that best fits your goals.
26 Months
Associate Degree
Median Time to Graduation
36 Months
Bachelor's Degree
Median Time to Graduation
National University Promise
At National University, students come first. Our innovative approach is driven by the needs of adult learners and is backed by 50 years of success. With dedicated support services, mentorship opportunities, and a growing network of more than 185,000 alumni worldwide, NU prepares today's workforce for tomorrow's opportunities.
Dedicated Advisors
Guaranteed Career Services
Frequently Asked Questions
Terms & Conditions
By checking this box as my electronic signature and submitting this form by clicking the Request Info button above, I provide my express written consent to representatives of National University and National University System affiliates (City University of Seattle, Northcentral University and National University Virtual High School) to contact me about educational opportunities, and to send phone calls, and/or SMS/Text Messages – using automated technology, including automatic dialing system and pre-recorded and artificial voice messages – to the phone numbers (including cellular) and e-mail address(es) I have provided. I confirm that the information provided on this form is accurate and complete. I also understand that certain degree programs may not be available in all states. Message and data rates may apply.
I understand that consent is not a condition to purchase any goods, services or property, and that I may withdraw my consent at any time by sending an email to [email protected]. I understand that if I am submitting my personal data from outside of the United States, I am consenting to the transfer of my personal data to, and its storage in, the United States, and I understand that my personal data will be subject to processing in accordance with U.S. laws, unless stated otherwise in our privacy policy. Please review our privacy policy for more details or contact us at [email protected].
*You must use your Amazon Annual tuition benefits first and the NU will cover 3 free courses If you stay within the annual tuition limits of the Amazon Career Choice program, then you will incur no tuition costs for the duration of your degree program. Amazon provides annual tuition assistance of up to $5,250 for full-time and $2,625 for part-time blue-badge associates. Speak with an Enrollment Advisor to help maximize your annual tuition benefit. Note: Your maximum tuition assistance resets each year. Any tuition amount that exceeds your annual Amazon Career Choice benefit balance will be your responsibility; should you exceed your annual tuition assistance, each course thereafter is only $700.