Fully-Funded College Tuition For Blue Badge Hourly Associates
Take Up to 10 Free Courses Your First Year
Reach Your Career Goals At NU
Amazon and National University have partnered so you may achieve your degree or certificate faster than you think – with your tuition, fees, and books all covered through the Career Choice program*. Only at NU can Amazon hourly blue badge associates take three free courses before using Career Choice benefits. That means you can complete 10 tuition-free courses in your first year.
Whether you're just beginning your educational journey or transferring with prior credit, National University delivers an accessible and achievable pathway to more than 40 dynamic, career-focused fields. The online and accelerated four-week course format is uniquely designed for working adults who are juggling work and family obligations. At NU, you can start classes sooner and finish your degree faster.
*Associate and bachelor's degree programs only. Books and other fees may apply up to your annual maximums set by the Amazon Career Choice program.
Why NU for Your Career Choice
Free tuition, fees, and books through Amazon Career Choice
3 free courses before using Career Choice benefits
Complete as many as 10 free courses in the first year
Convenient 4-week courses and monthly starts
Free academic, career, family, financial, and emotional support
Generous transfer credit policy and credit for work experience
Amazon Career Choice Professional Pathway
Construction Management Professional Certificate
The Construction Management Professional Certificate is for blue badge hourly associates looking to transition into a career in the construction industry. This non-degree pathway provides foundational knowledge of construction management, the skills needed to oversee projects, and strategies to handle logistical problems.
Find Your Program
As part of the Career Choice program, you can choose more than 40 associate and bachelor's programs, including degrees in high-demand fields such as Cybersecurity, Computer Science, Business, Psychology, and Information Systems. Take four-week classes, one month at a time, or skip a month when you need to focus on work or family obligations. Other degree programs, such as master's, that do not qualify for Career Choice may be covered by the NU tuition scholarship.
How to Get Started

Complete the Request Information Form
This form takes approximately 2 minutes to complete. An advisor will then contact you to guide you through the enrollment process.
Department Text
Learn More

Request Payment from Amazon Career Choice
Visit Amazon Career Choice and submit a payment request for National University and your chosen program.
Department Text
Submit Request

Choose a Start Date
Courses start monthly, and you can enroll any time prior to the course start date.
Department Text
View monthly start dates
---
Reach Your Goals With 360-Degree Support
National University is breaking barriers in education. Through our whole-human approach to your success, you'll get the academic, career, financial, emotional,
and family support you need to stay on track, finish faster, and reach your personal and professional goals.

Family & Community Pillar
Family-friendly online and on-site activities
Student organizations, clubs, events, and blog
Flexible courses to balance family, work, and school

Social & Emotional Pillar
Student social and emotional health services
Care Team and 1:1 solutions-focused counseling
Free on-demand mental health counseling

Career Pillar
Alumni Mentoring Network
Career services including mock interviewing and resume support
Job portal with access to employers and job postings

Financial Pillar
Fully-funded tuition through Amazon Career Choice for eligible employees
3 free courses for Amazon blue badge associates
Scholarships, grants, and 1:1 assistance

Academic Pillar
Unlimited free tutoring
Experiential learning opportunities
Academic Success Center and Writing Center
Join the #NUFam
National University, a Veteran-founded nonprofit, has been dedicated to meeting the needs of hard-working adults by providing accessible, affordable, achievable higher education opportunities since 1971.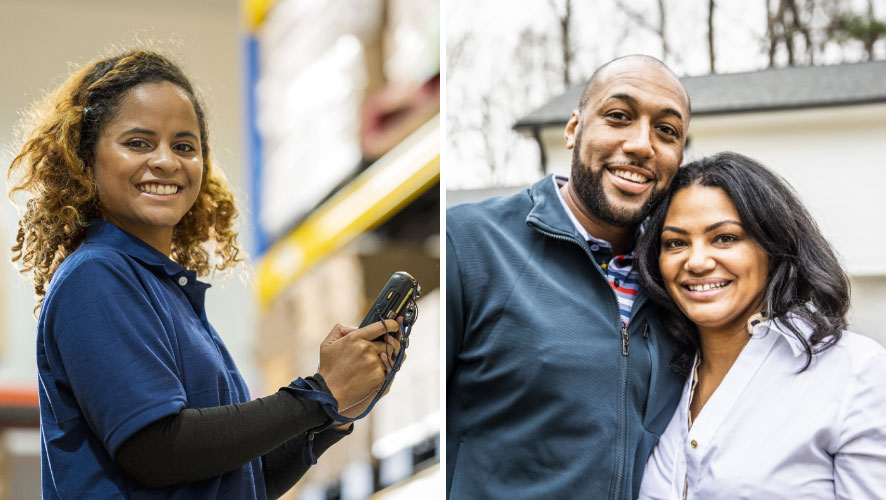 Tuition Scholarships for All Amazon Employees, Spouses, and Dependents
NU makes starting your degree and meeting career goals possible with generous tuition scholarships, convenient course formats, free tutoring, career resources, free mental health services, and more.
NU is proud to offer:
25% tuition reduction scholarships for Amazon employees who wish to pursue a master's or doctoral degree. Contact an advisor about your options.
40% tuition discount on undergraduate degrees and 25% discounts on graduate degrees for spouses and dependents of Amazon employees.
Frequently Asked Questions
Have a look below and find answers to some of the most common questions.
How do I enroll?


Sub Header Text Here
National University has a dedicated staff to assist you through your enrollment process. We are here to make the process as easy as possible by assisting in your choice and enrollment for a bachelor's or associate program. Our advisors are available to you at 1-855-456-9286 and via online chat.
Who is eligible for the program?


Sub Header Text Here
Career Choice is available to all full- and part-time blue badge hourly employees, who have been employed for 90 days. This includes all hourly non-exempt FC, CS, corporate, AWS, Amazon Fresh Stores, Amazon Books, Amazon 4-star, Amazon Pop Up, Amazon Go, and certain retail and eligible subsidiary associates. Subsidiaries include A9, A100, A2Z, Audible, Brilliance, ComiXology, CreateSpace, Fabric.com, Good-reads, Amazon Pharmacy, Shopbop, and Woot.
If you are not eligible for the program with Career Choice, National University provides another offer where you can receive 40% off undergraduate and 25% off graduate tuition. Please contact us at 1-855-456-9286 or click to learn more.
What degree programs can I choose from?


Sub Header Text Here
40 career-relevant degree programs are eligible for the Career Choice program. Our enrollment advisors can assist you in selecting the program that best matches your goals. Review all associates and bachelor's degree programs in the Program Finder.
What if I want a graduate degree?


Sub Header Text Here
We would love to speak with you about any program offering. Graduate degrees are not a part of the Amazon Career Choice benefit. NU offers a special 25% tuition reduction scholarship for Amazon employees toward graduate degrees. To learn more, please call 1-855-456-9286 or click to learn more.
When may I start my program?


Sub Header Text Here
There is a new start date every month. Take a look at our Calendar for all new start dates. To be eligible, your Amazon Career Choice voucher must be completed through Amazon Career Choice prior to the course start date.
Will I have an out-of-pocket costs?


Sub Header Text Here
NU covers the tuition of your first three courses, then the Amazon annual tuition benefits start. If you stay within the annual tuition limits of the Amazon Career Choice program, then you will incur no tuition costs for the duration of your degree program. Amazon provides annual tuition assistance of up to $5,250 for full-time and $2,625 for part-time blue-badge hourly associates. Speak with an Enrollment Advisor to help maximize your annual tuition benefit.
Note: Your maximum tuition assistance resets each year. Any tuition amount that exceeds your annual Amazon Career Choice benefit balance will be your responsibility; should you exceed your annual tuition assistance, each course thereafter is only $700.
How do I submit my voucher?


Sub Header Text Here
Your voucher is digitally sent to us after you create it through the Amazon Career Choice site. You must apply for the voucher before your first class starts. You can apply up to 90 days before your first course begins. Additionally, the last day to enroll and add courses for the same month is by the first day of the course. The voucher must be submitted, if not received, courses will be dropped.
I already have earned some college credits; can I transfer them toward my degree?


Sub Header Text Here
NU offers a generous transfer credit policy: Up to 75% of the credits for a bachelor's degree and up to 80% of the credits for an associate degree!
Nationally and regionally accredited coursework is assessed for transfer credit. International college transcripts are only required if they are being assessed for transfer credit. You can submit transcripts for transfer credit up through your first 90-days as there is a 90-day grace period for official transcript submission.
Get started today! Connect with an Enrollment Advisor today at 1-855-456-9286, and they will work with you to have your current credits assessed for possible transfer into your program of interest.
What career support resources will I have as a Career Choice student?


Sub Header Text Here
At National University, you'll get the career support needed to succeed in your field, including access to job fairs and job listings, interview preparation, career counseling and placement support, workshops, resume and cover letter reviews, and more.
Can my partner or dependent enroll at NU with a discount?


Sub Header Text Here
NU is pleased to offer a scholarship to Amazon employees' spouses and dependents, and Amazon employees that are ineligible for the Career Choice program. NU offers:
25% tuition reduction scholarships for Amazon associates who wish to pursue a master's or doctoral degree. Contact an advisor about your options.
40% tuition discount on undergraduate degrees and 25% discounts on graduate degrees for spouses and dependents of Amazon employees