Master in Criminal Justice Leadership

Master in Criminal Justice Leadership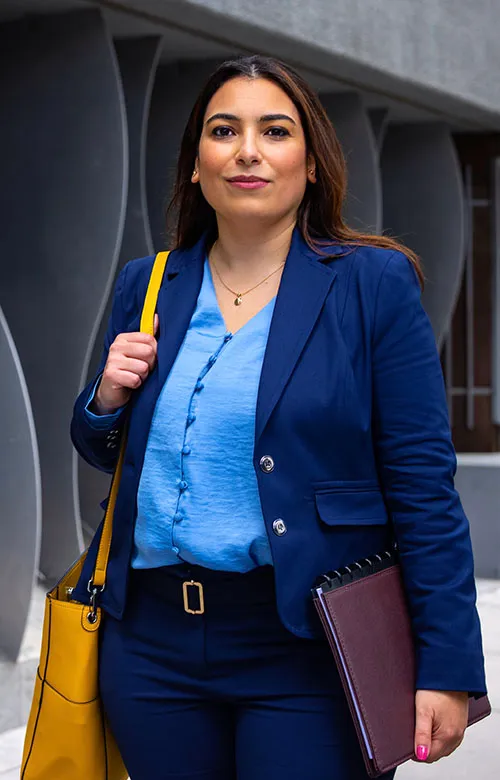 Take Command of Your Law Enforcement Career
Today's multifaceted criminal justice system demands ethical leaders who possess the critical thinking and problem-solving skills to address the complex issues and challenges of criminal justice in the 21st century. National University's Master of Criminal Justice Leadership is designed to prepare you for in-demand careers in government at the local state, and federal levels.
In as few as 12 months, you can earn your Master's in Criminal Justice Leadership and be ready to confidently pursue high-level positions in law enforcement management, correctional administration, security administration, criminal justice research, and teaching or training assignments.
NU's flexible, online learning format is designed to accommodate the demanding schedules of adult learners. Our four-week courses allow you to focus on a single topic and conveniently fit learning into your busy lifestyle. If you're ready to become a leader in criminal justice, NU is ready to prepare you with the industry-current credentials to achieve your career goals.
Become a leader in 21st-century law enforcement with National University's accredited Master of Criminal Justice Leadership program. Learn more & apply online today.
Program Learning Outcomes
As a graduate of National University's Master's in Criminal Justice Leadership program, you'll have knowledge, skills, and capacities in the following areas:
Evaluate the managerial practices that have shaped the criminal justice professions
Analyze court decisions involving police or criminal justice agencies in terms of criminal sanctions
Analyze issues of police morale, motivation, retention, selection, and recruitment
Evaluate and determine what should be the consequences of unethical conduct by police officers
Evaluate and compare the American criminal justice system with other criminal justice systems
Evaluate disciplinary, theoretical, criminological, and philosophical foundations in the management of criminal justice
Develop oral, written, and technological communication for criminal justice professionals
Utilize critical thinking and problem-solving skills to identify quality scholarship and research in the field of criminal justice
Click here for program-specific course information.
Contact Us
Take the first step by starting your application online today.
To speak to an enrollment advisor about this program, please email [email protected].
Why Choose National University?
We're proud to be a veteran-founded, San Diego-based nonprofit. Since 1971, our mission has been to provide accessible, achievable higher education to adult learners. Today, we educate students from across the U.S. and around the globe, with over 185,000 alumni worldwide.
Program Disclosure
Successful completion and attainment of National University degrees do not lead to automatic or immediate licensure, employment, or certification in any state/country. The University cannot guarantee that any professional organization or business will accept a graduate's application to sit for any certification, licensure, or related exam for the purpose of professional certification.
Program availability varies by state. Many disciplines, professions, and jobs require disclosure of an individual's criminal history, and a variety of states require background checks to apply to, or be eligible for, certain certificates, registrations, and licenses. Existence of a criminal history may also subject an individual to denial of an initial application for a certificate, registration, or license and/or result in the revocation or suspension of an existing certificate, registration, or license. Requirements can vary by state, occupation, and/or licensing authority.
NU graduates will be subject to additional requirements in a program, certification/licensure, employment, and state-by-state basis that can include one or more of the following items: internships, practicum experience, additional coursework, exams, tests, drug testing, earning an additional degree, and/or other training/education requirements.
All prospective students are advised to review employment, certification, and/or licensure requirements in their state, and to contact the certification/licensing body of the state and/or country where they intend to obtain certification/licensure to verify that these courses/programs qualify in that state/country, prior to enrolling. Prospective students are also advised to regularly review the state's/country's policies and procedures relating to certification/licensure, as those policies are subject to change.
*Positions may require additional experience, training and other factors beyond successfully completing this degree program. Depending on where you reside, many positions may also require state licensure, and it is the responsibility of the student to ensure that all licensure requirements are met. We encourage you to also review program specific requirements. Any data provided on this page is for informational purposes only and does not guarantee that completion of any degree program will achieve the underlying occupation or commensurate salary.