Bachelor of Science in Criminal Justice Administration

Bachelor of Science in Criminal Justice Administration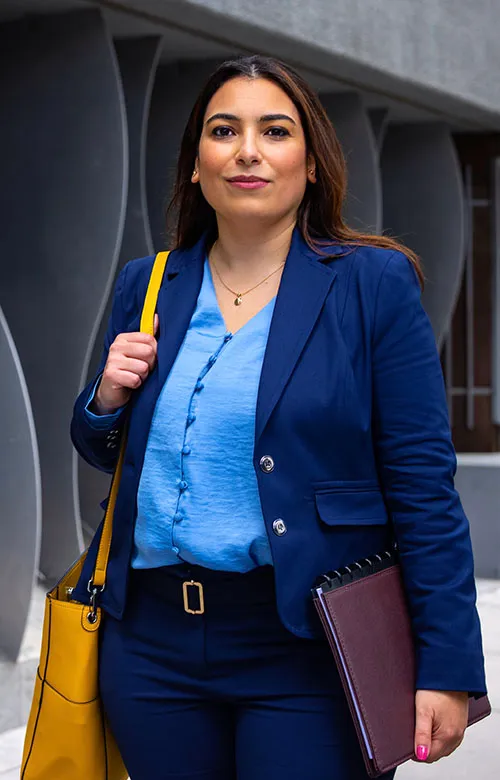 Investigate a Rewarding Career in the Justice System
Are you passionate about advocating for justice at the local, state, and federal levels? With the Bachelor of Science in Criminal Justice Administration, you can make a difference and be prepared for a variety of career options.
National University's Bachelor of Science in Criminal Justice Administration program is designed to meet the educational and professional needs of individuals interested in law enforcement who are interested in professional development or career advancement. The program also prepares individuals for other employment opportunities like teaching, training assignments, private security employment, research, or employment as consultants within the field.
Our program is diverse, with topics of study including forensic science, research methods, juvenile justice, corrections, and more. The program concludes with a senior project supervised by full-time, associate, and select core adjunct faculty.
Program Learning Outcomes
Apply biological, psychological, sociological, and economic explanations for criminal behavior from a variety of disciplines.
Identify the causes and patterns of juvenile delinquency.
Distinguish the leadership and management styles commonly employed in the criminal justice system.
Demonstrate the criminal investigation process to include preliminary investigation, evidence collection and preservation, submission, and testimony in a courtroom.
Explain the role of criminal sanctions concerning victims and offenders.
Examine the importance of ethics when applied to all three branches of the criminal justice system.
Why NU's Bachelor of Science in Criminal Justice Administration Program?
Public Safety Promise: Public safety professionals can receive a 25% tuition discount.
Help the Public: A criminal justice degree sets you on a path toward a career that helps individuals and the community you serve.
Faculty Support: Program faculty are readily available for support. During their senior year, students complete projects with hands-on supervision from full-time, associate, and select core adjunct faculty with real-world experience.
Online or On-site: Complete your program with online or on-site class formats and achieve a balance between your education and personal life.
Relevancy: The Bachelor of Science in Criminal Justice program examines the issues facing public safety today to prepare you for tomorrow.

Dennis Reyes
Class of 2021
"My favorite part of the program was the staff and students. The staff was professional and had previous experience working in some aspect of criminal justice, not just teaching about it. The students were also professional and most had full time jobs. They were in class with the goal of graduating and not just filling a seat."
Contact Us
Take the first step by starting your application online today.
To speak to an enrollment advisor about this program, please email [email protected].
Why Choose National University?
We're proud to be a veteran-founded, San Diego-based nonprofit. Since 1971, our mission has been to provide accessible, achievable higher education to adult learners. Today, we educate students from across the U.S. and around the globe, with over 180,000 alumni worldwide.
BS in Criminal Justice FAQs
Program Disclosure
Successful completion and attainment of National University degrees do not lead to automatic or immediate licensure, employment, or certification in any state/country. The University cannot guarantee that any professional organization or business will accept a graduate's application to sit for any certification, licensure, or related exam for professional certification.
Program availability varies by state. Many disciplines, professions, and jobs require disclosure of an individual's criminal history, and a variety of states require background checks to apply to, or be eligible for, certain certificates, registrations, and licenses. Existence of a criminal history may also subject an individual to denial of an initial application for a certificate, registration, or license and result in the revocation or suspension of an existing certificate, registration, or license. Requirements can vary by state, occupation, and licensing authority.
NU graduates will be subject to additional requirements in a program, certification/licensure, employment, and state-by-state basis that can include one or more of the following items: internships, practicum experience, additional coursework, exams, tests, drug testing, earning an additional degree, and other training/education requirements.
All prospective students are advised to review employment, certification, and licensure requirements in their state, and to contact the certification/licensing body of the state or country where they intend to obtain certification/licensure to verify that these courses/programs qualify in that state/country, prior to enrolling. Prospective students are also advised to regularly review the state's/country's policies and procedures relating to certification/licensure, as those policies are subject to change.
*Positions may require additional experience, training, and other factors beyond successfully completing this degree program. Depending on where you reside, many positions may also require state licensure, and it is the responsibility of the student to ensure that all licensure requirements are met. We encourage you to also review program-specific requirements. Any data provided on this page is for informational purposes only and does not guarantee that completion of any degree program will achieve the underlying occupation or commensurate salary.
Useful Links