A bachelor's in criminal justice is one of those degrees: it teaches skills that are applicable and valuable to many jobs, but then again, not many job postings actually ask for it.
You may be drawn to the study of criminal justice if you're fascinated by such topics as why crime happens and how it can be deterred, how criminals can rehabilitate, how clues are pieced together at a crime scene, or the details of constitutional law and the concept of due process. But where does this study lead in practical terms? In reality, to a lot of possibilities.
A criminal justice degree, including an online criminal justice degree, can lead, either directly or in combination with other steps, to rewarding careers in federal, state, or municipal organizations within any of the three branches of criminal justice: law enforcement, the court system, and the corrections system. You might establish your career primarily in one of these branches, or you might find your place in a role where you encounter all three branches daily. The skills a criminal justice degree provides — analytical thinking, problem-solving, leadership, management, diplomacy, understanding of psychology, a strong grounding in law — could serve you well in almost any field, but it's a good idea to consider what occupations most directly rely on these skills, so that at the end of your degree you don't find yourself thinking, "I have a bachelor's degree in criminal justice, now what?"
Many positions that end up being held by criminal justice graduates do require a bachelor's degree, but they don't specify what kind of bachelor's degree. It could be English, it could be science, it could be something else; the employer just wants to know you have the commitment and brains to finish a degree. So if those are the jobs that criminal justice grads get, why major in criminal justice?
Exposure to Expertise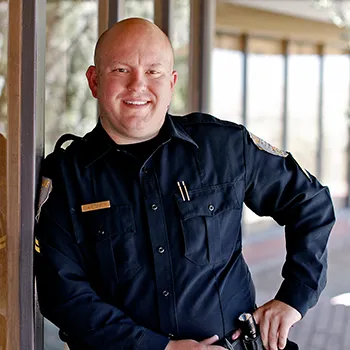 One reason is that if you truly want to spend your career in law enforcement, courts, or corrections, getting a criminal justice degree will put you in contact with the right people. This is true of traditional degrees and online degrees alike.
Jason Saenz, a federal police officer at Fort Carson Army Base in Colorado who earned his bachelor's in criminal justice from National University, emphasizes the importance of learning from teachers with real-world expertise. "One of my professors, Julie Chang, has 20-plus-years as a criminal analyst with several different police departments. She's not only very good at that job, but she's also a very good teacher," says Saenz. "She goes the extra mile to ensure that subjects are understood and relatable."
National University's criminal justice faculty includes a combination of full-time, associate, and adjunct instructors with diverse experience within criminal justice fields. They bring their expertise into the classroom (sometimes on-campus classrooms, sometimes virtual) so students are exposed to perspectives that wouldn't be available in other majors. These perspectives help paint a picture of what real-world employment is like.
"Some of the students in these classes have no law enforcement experience, and it helps them see if they really want to become police officers," Saenz explains. "It allows students to say 'Okay, I understand the role of a police officer, but now I also understand the bigger picture of crime — how crime happens, how crime is deterred, and the more in-depth aspects of analyzing data and seeing why things happen and what we can do to prevent them.'"
Knowledge Is Not a Piece of Paper
Some students seeking bachelor's degrees in criminal justice are current police officers seeking promotions, especially promotions to detective. (There's more information about the difference later in this article.) Some departments require a bachelor's in criminal justice; others don't require it but like to see it. Either way, getting the degree is a way to "check the box." However, a bachelor's in criminal justice is much more than a check in a box.
As Saenz points out, "The purpose behind a degree is learning. It's all about how you carry yourself, how you deal with situations. The education is an asset because you're confident in your ability to make decisions and your knowledge of criminology, the way the court system works, juvenile delinquency, and constitutional law. I think having those classes and becoming familiar with those subjects has helped me a ton."
Another point Saenz makes is that people enroll in online criminal justice degrees for the simple reason that they're interesting. "People are inclined to take them because they're exciting. You get to do a lot of case studies related to current events." And this helps a lot when it comes to actually getting the coursework done, he adds. "It's easy to do something you're interested in, right?"
Online Degrees: Career Boosters or Launch Pads
National University's bachelor's in criminal justice is designed both to meet the needs of working officers seeking promotions and students wanting to launch into any of the various career paths opened up by an in-depth knowledge of criminal justice topics.
In some locations, in-person classes are offered, but full online degrees can be earned with schedule flexibility and a quicker timeline. Because of National's unique one-month class format, a lot of topics can be covered in quick succession without sacrificing quality or depth.
"If you're working in a law enforcement capacity at a lower level, and you need that degree to move up, I think this is a really good school to do that because you can keep working while you take courses," says Saenz. "I flew through classes and learned to love the accelerated work pace."
Working police officers are not the only adults who can give their career profile a boost with an online criminal justice degree. National's bachelor's of criminal justice provides a well-rounded educational experience that includes electives in psychology and sociology, making it an asset to professionals working in social work, counseling, child protection, public policy, and any number of occupations that focus on helping their communities. Those working in judicial or legal settings can also benefit from learning the subjects included in an online criminal justice degree. For example, a legal secretary might become a paralegal based on the knowledge gained from an online degree. Or, if a career in law is the goal, an online bachelor's in criminal justice can be a logical first step before applying to law school.
Continuing with Further Studies
A criminal justice degree can also serve as a springboard to a master's degree that opens doors to options other careers, such as forensics. The bachelor's in criminal justice at National University is designed to transition to three of National University's master's programs:
For students planning to transition, some courses can double as electives for the bachelor's and as required courses for the master's degree.
National's Master of Criminal Justice combines practice and theory and prepares students, in as little as 12 months, for challenging careers in law enforcement management, as well as security administration, correctional administration, and criminal justice research.
Students are immersed in a range of complex topics, including the theoretical and philosophical underpinnings of justice, comparison of the American system with other criminal justice systems, the challenge of dealing with unethical police conduct, and methods to recruit, motivate, and retain an effective police force.
The Master of Forensic Sciences Program is designed for professionals in legal and law enforcement fields seeking to advance in their careers, as well as for students planning to enter these fields. The program focuses on the scientific practices used to investigate crime scenes, catch criminals, and defend or prosecute people accused of crimes. The Master of Forensic Science Program has two specializations: investigations and criminalistics. The investigations specialization prepares students for careers investigating and documenting crime scenes. The criminalistics specialization prepares students to work in a laboratory setting analyzing crime scene materials, and requires applicants to have an undergraduate degree in chemistry, biology, or a related field, or permission of the faculty.
The Master of Public Administration Program provides a grounding for students to obtain high-level management positions in federal, state, local, and government organizations.
Possibilities Await
The breadth of knowledge conferred by a degree in criminal justice opens up a world of career possibilities. Here's a brief description of just a few of these possibilities, along with salary and job growth information from the Bureau of Labor Statistics:
Police Officers
To become a police officer, a candidate must attend a police academy but need not have a bachelor's degree. However, a criminal justice degree can help candidates stand out because it prepares them with an understanding of the bigger picture of society, crime, and the law.
The protection police officers provide residents is as fundamental a community services as can be found in any career. Though very demanding, the career can provide the ongoing emotional reward of being a friend to neighbors and a foe to crime. Officers not only apprehend and deter criminals, they get to know their community and implement strategies to enhance lives and safety.
The national average (mean) salary for police officers is $64,490, and the California mean is $100,090. Job growth for officers is about the same as the national average for all occupations and is predicted to remain steady.
Security in the Private Sector
Many private organizations, including banks, shopping areas, museums, office and residential complexes, and many more employ private security personnel to protect both people and property. Private security officers often work in tandem with local police and other emergency responders and need the same skills, judgment, and knowledge.
According to Saenz, who has worked as a private security officer for a financial institution, private employers can provide a rewarding workplace culture. After serving in the Marines and working for the National Background Investigations Bureau, Saenz wanted to sample work in the private sector. "I wanted to try my hand in a civilian capacity because I think there's a stigma that once you do law enforcement or the military, you can't do anything else. It's not true and the private job was the best work environment with the best amenities in my opinion, but it was not my passion occupation."
The national median salary for private security guards is $33,260 and job opportunities are expected to increase at an average rate in coming years.
Detectives, Agents, or Investigators
A next step for many police officers is to become a detective, sometimes called an investigator or agent. Many criminal justice bachelor's degrees are earned for the purpose of attaining this career promotion. Detectives prepare reports and help solve crimes by collecting and analyzing evidence and interviewing witnesses and suspects.
According to PayScale, promotion to detective raises pay above officer pay by about 15%. Job growth is expected to remain steady at about the national average rate.
Crime Scene Investigators and Homicide Investigators
These are typically higher-paid detectives with higher levels of specialization. There is a saying in these professions that investigators have an opportunity to speak for the dead. For this reason, the job offers tremendous personal satisfaction, as long as the investigator can also tolerate the tragic details of crime and the reality that not every case is solved.
Crime scene investigators collect samples and fingerprints at crime scenes, and they often document the scenes through photos, videos, and notes (In some cases, crime scene photographers are separate professionals). Strict chain-of-custody protocols must be followed in transferring evidence to laboratories for analysis.
Crime scene and homicide investigators nationally earn an average salary of $83,320. Increasing interest in these positions is making them competitive and many agencies require a bachelor's degree in criminal justice or in a laboratory science.
Read more about the details of the profession and learn how National University's graduate certificate in forensic and crime scene investigations and its master of forensic sciences can help launch careers in these challenging and rewarding fields.
Forensic Science Technicians
Working primarily in laboratories, forensic science technicians analyze evidence collected by investigators. They may test and examine weapons, or run tests on tissue, hair, and other materials found at crime sites. The field is quickly evolving and new technology is allowing a greater level of accuracy. A degree in a laboratory science such as biology or chemistry, or a degree in forensics, is usually required.
The field is projected to grow by 17% in the next 10 years, which is much faster than the national average, but it is a highly specialized and competitive field. The national average yearly salary is $61,220 and in California, it is $82,650.
A faster-growing, related specialization to consider is the emerging field of computer forensics, also known as digital forensics or information security analysis. Instead of examining tissue and materials from crime scenes, these investigators follow the trail of clues left digitally — on computers, personal devices, in video and audio recordings, and in electronic communications. These professionals also work to secure sensitive information from hackers and cyberterrorists.
The field has a national mean salary of $96,620 yearly and is a booming field, with an expected growth rate of 28% by 2026. The increased threat posed by hackers is largely fueling the need for computer forensic investigators.
In addition to a forensics background, employers may look for a degree in computer science.
Fraud Investigators
This fields spans the public and private sector and involves surveying, monitoring, preventing, and solving crimes involving financial transactions, especially in the electronic realm. They are distinct from forensic accountants, who are required to be certified public accountants. Fraud investigators usually need a bachelor's in accounting or a law-enforcement degree, such as a bachelor's in criminal justice. With so many organizations requiring online transactions of private and sensitive information, fraud investigation skills are valuable. Certification is available from The Association of Certified Fraud Examiners and can boost pay grades.
A related profession is that of a claims adjustor, who investigates insurance claims to determine whether the insurance company actually needs to pay or whether the claim was filed fraudulently.
Nationally the mean salary for fraud investigators and claims adjusters is $66,340.
Private Detectives
Like the investigators described above, private detectives (also called private investigators) need a comprehensive knowledge of how to uncover information about crimes, how to interview involved parties, and how to collect and handle evidence that will be admissible in court. Their cases don't necessarily involve crimes, but they require investigative and forensic skills as well as knowledge of laws and courts. They may conduct background checks, uncover information pertaining to civil matters such as divorces, or help locate missing persons. Private investigators may work for agencies or independently. Most states don't have specific educational requirements but do require licensing. Though they do not have the authority of police officers, private investigators routinely deal with law enforcement agencies and courts, so a bachelor's in criminal justice would provide a good knowledge base for this career.
Job demand in this field is rising faster than most fields, with 11% growth expected in coming years, owing to a rise in lawsuits, fraud, and civil disputes. The mean national yearly wage is $55,080.
Criminal Law Paralegal
Paralegals assist attorneys, often in law firms but in government and corporate legal departments as well. They may have a high level of responsibility in performing tasks such as writing, collecting information on criminal cases, researching relevant laws, preparing cases, filing motions with courts, and interviewing witnesses. A bachelor's degree is often needed but not necessarily in a specified area. A degree in criminal justice is one of the most well-suited degrees for paralegal careers in criminal law settings because criminal law paralegals regularly encounter all three aspects of criminal justice — law enforcement, courts, and corrections.
The paralegal profession is growing substantially faster than average, with a projected job availability increase of 15% over the next several years. This is in part because of a trend to reduce legal costs for clients by delegating a larger portion of work to professional staff other than lawyers. The national mean salary for paralegals is $53,910.
Parole Officers
Also known as probation officers, parole officers help convicted criminals get their lives back on track after release from incarceration. They not only ensure that former offenders are complying with the conditions of their release, but they also assist and support them by coordinating vocational services, counseling, substance abuse recovery, or other services if needed. Parole officers serve the community by protecting it from repeat crimes, and they serve past offenders by helping them reintegrate as law-abiding contributors to the community.
A bachelor's degree is usually needed, and it can be in criminal justice or another area. The average salary nationally is $56,630 and job growth is roughly average.
Correctional Officers
Prisons and jails at the federal, state, and municipal levels employ officers to oversee inmates and ensure their safety and their compliance with rules. Though no specific degree is required for these positions, the current trend toward prison reform may shift these jobs toward an increasingly rehabilitative role. Such roles will be best filled by candidates with the overview of criminology, sociology, and psychology that a criminal justice degree provides.
The mean national salary is $47,600 and average growth is predicted for this profession.
A Career Is a Process
Most of us don't simply become what we were "going to be when we grow up" at some particular point. A fulfilling career is a long series of steps. Once adult responsibilities like bills and family set in, it can be difficult to take the educational steps needed to keep growing professionally and personally, but online degrees provide an effective solution for building an education while working. This might lead to a brand new career, a career pivot, or an important advancement within an existing career.