Master of Science in Cybersecurity

Master of Science in Cybersecurity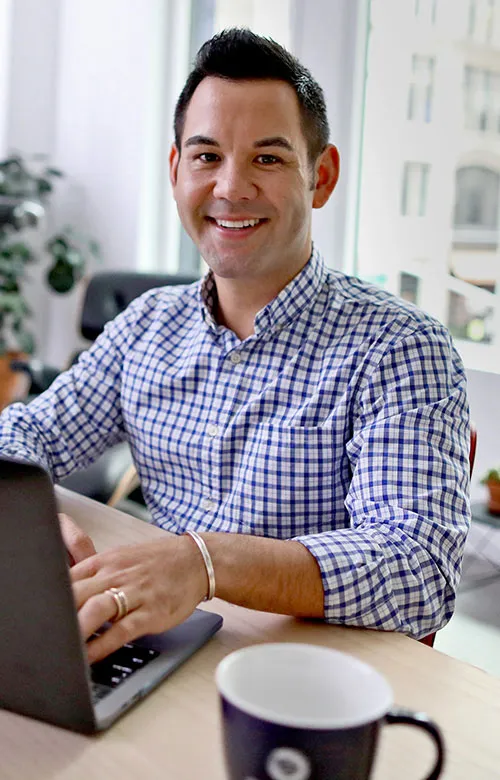 Help Protect the World's Computing and Information Systems
If you can envision yourself helping to ensure the security, confidentiality, integrity, authenticity, control, availability, and utility of the world's computing and information systems infrastructure, National University's MS in Cybersecurity program will give you the technical and managerial skills you need to achieve your career aspirations.
In this rigorous online curriculum, we challenge our students to design, build and implement the computing and systems that address the major issues our society is wrestling with. It's a professionally focused degree for those who endeavor to help secure the world's computer and information systems infrastructure.
In this industry-current program, you'll have a choice of two specializations – Ethical Hacking and Pen Testing or Information Assurance and Security Policy. Whichever path you choose, NU's MS in Cybersecurity is designed to address the pressing need for open jobs worldwide.
Watch our video to learn more about the MS in Cybersecurity from Dept. of Engineering and Computing Chair, Dr. Ronald Uhlig.
Program Learning Outcomes
Upon successful completion of National University's master's in cybersecurity program, graduates will be able to:
Devise a mitigation plan against both external and internal vulnerabilities to enterprise computer infrastructures and sensitive digital assets
Analyze and evaluate multiple risk assessment methods and strategies
Compare and contrast the legal and ethical aspects of cybersecurity at the federal, state, and international level
Assess and summarize the legal and ethical requirements of a cybersecurity professional
Integrate project management skills to produce a cybersecurity solution
Evaluate the results of a security assessment to assess the security status of a network or computer system
Conduct in-depth research into a specific CSIA topic, including finding and integrating relevant research results of others
Integrate systems-level infrastructure thinking into CSIA problem identification and resolution and effectively communicate the solution
Our four-week courses and online options work with your schedule to get the most out of our MS in Cybersecurity program. You could start as early as next month!
A master's in cybersecurity degree opens doors in a variety of industries, including finance and insurance, manufacturing, information services, health care, administrative support services, and scientific and technical services. Whether you're looking to change your career path or start your career in IT, the skills you gain in National University's Master of Science in Cybersecurity can give you the edge you need to stand out in the job market.
Cybersecurity is a field that's rapidly expanding and in need of professionals with up-to-date knowledge and skills. For example, employment of information security analysts is projected to grow 33 percent from 2020 to 2030, which is dramatically faster than the average for all occupations, according to the Bureau of Labor Statistics. It can also be a lucrative career move, with a median annual wage of $102,600 and the top 10 percent earning more than $165,920.*
Employers in the cybersecurity field are looking for workers with skills in communications, management, operations, leadership, infrastructure, information technology, innovation, integration, and research. With this master's degree from National University, you'll be prepared to seek a variety of roles in cybersecurity, including:**
Information Systems Security Manager
Director of Information Security
Network Engineer
Systems Administrator
Systems Engineer
Cybersecurity Engineer
Cybersecurity Analyst
Cybersecurity Consultant
Penetration & Vulnerability Tester
IT Auditor
Cybersecurity Architect
To learn more about career opportunities in the field of cybersecurity, read our post: Is a Cybersecurity Degree Worth It?
*SOURCE: https://www.bls.gov/ooh/computer-and-information-technology/information-security-analysts.htm
**SOURCE: Emsi Labor Analyst- Report. Emsi research company homepage at https://www.economicmodeling.com/company/ (Report viewed: May 3, 2022). DISCLAIMER: The data provided is for Informational purposes only. Emsi data and analysis utilizes government sources to provide insights on industries, demographics, employers, in-demand skills, and more to align academic programs with labor market opportunities. Cited projections may not reflect local or short-term economic or job conditions and do not guarantee actual job growth. Current and prospective students should use this data with other available economic data to inform their educational decisions.
The field of cybersecurity is robust and offers numerous pathways to difference-making careers. To provide the industry with highly skilled professionals on the cutting edge of the market's current and expected needs, National University's MS in Cybersecurity offers two career-focused specializations:
Ethical Hacking and Pen Testing – In this specialization, you'll focus on ethical hacking and penetration (Pen) testing where you will probe network and information system security components by conducting simulated attacks on systems. It's designed to provide you with the unique applications involved in Cybersecurity and Information Assurance (CSIA). You'll also learn how to develop rules of engagement, prepare a toolkit, discover and exploit system vulnerabilities, ethically conduct a penetration test, and prepare penetration test documentation.
Information Assurance and Security Policy – In this specialization, you'll develop knowledge and skills in the professional domain of cybersecurity and information assurance, focusing on the organizational and informational portion of the field. This arena particularly involves larger organizations, often in government, that have codified standards, policies, and practices for this field.
For degree and specialization requirements, please visit our course catalog.
All students who seek to enroll in the MS Cybersecurity Information Assurance (MS-CSIA) program must interview with the Faculty Advisor prior to enrolling in the first course of the program.
To obtain the Master of Science in Cybersecurity, students must complete 58.5 graduate units. A total of 13.5 quarter units of graduate credit may be granted for equivalent graduate work completed at another regionally accredited institution, as it applies to this degree, and provided the units were not used in earning another advanced degree. All students must complete the nine core requirements and choose an area of specialization.
Please refer to the graduate admissions requirements for specific information regarding application and evaluation. Reach out today to speak to an admissions counselor directly or download the Course Catalog for additional course requirements and elective options.
Introducing the Opportunity Scholarship
In honor of our students, and in celebration of our 50th anniversary, National University is investing $30 million in new student scholarships. To learn more about the Opportunity Scholarship, how you can apply, and how much you can save, inquire today.

Christopher Simpson
Academic Program Director, Master of Science in Cybersecurity
"The MS Cybersecurity provides a challenging, hands-on learning experience that gives students the knowledge and skills to succeed in the cybersecurity field."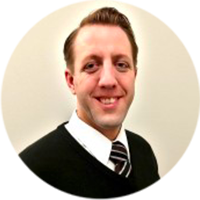 Jonathan Race
Class of 2018
"The MS Cybersecurity program was an awesome technical experience! It was great to get actual real-world experience for the skills you are learning, as well as the key business components that relate to the such as project management, presentation, and teamwork."
Contact Us
To speak to an enrollment advisor about this program, please email [email protected].
Why Choose National University?
We're a veteran-founded, San Diego-based nonprofit. Since 1971, our mission has been to provide accessible, achievable higher education to adult learners. Today, we educate students from across the U.S. and around the globe, with over 185,000+ alumni worldwide.
Program Disclosure
Successful completion and attainment of National University degrees do not lead to automatic or immediate licensure, employment, or certification in any state/country. The University cannot guarantee that any professional organization or business will accept a graduate's application to sit for any certification, licensure, or related exam for the purpose of professional certification.
Program availability varies by state. Many disciplines, professions, and jobs require disclosure of an individual's criminal history, and a variety of states require background checks to apply to, or be eligible for, certain certificates, registrations, and licenses. Existence of a criminal history may also subject an individual to denial of an initial application for a certificate, registration, or license and/or result in the revocation or suspension of an existing certificate, registration, or license. Requirements can vary by state, occupation, and/or licensing authority.
NU graduates will be subject to additional requirements in a program, certification/licensure, employment, and state-by-state basis that can include one or more of the following items: internships, practicum experience, additional coursework, exams, tests, drug testing, earning an additional degree, and/or other training/education requirements.
All prospective students are advised to review employment, certification, and/or licensure requirements in their state, and to contact the certification/licensing body of the state and/or country where they intend to obtain certification/licensure to verify that these courses/programs qualify in that state/country, prior to enrolling. Prospective students are also advised to regularly review the state's/country's policies and procedures relating to certification/licensure, as those policies are subject to change.
**Positions may require additional experience, training, and other factors beyond successfully completing this degree program. Depending on where you reside, many positions may also require state licensure, and it is the responsibility of the student to ensure that all licensure requirements are met. We encourage you to also review program-specific requirements. Any data provided on this page is for informational purposes only and does not guarantee that completion of any degree program will achieve the underlying occupation or commensurate salary.
Terms & Conditions
By checking this box as my electronic signature and submitting this form by clicking the Request Info button above, I provide my express written consent to representatives of National University and National University System affiliates (City University of Seattle, Northcentral University and National University Virtual High School) to contact me about educational opportunities, and to send phone calls, and/or SMS/Text Messages – using automated technology, including automatic dialing system and pre-recorded and artificial voice messages – to the phone numbers (including cellular) and e-mail address(es) I have provided. I confirm that the information provided on this form is accurate and complete. I also understand that certain degree programs may not be available in all states. Message and data rates may apply. I understand that consent is not a condition to purchase any goods, services or property, and that I may withdraw my consent at any time by sending an email to [email protected].
I understand that if I am submitting my personal data from outside of the United States, I am consenting to the transfer of my personal data to, and its storage in, the United States, and I understand that my personal data will be subject to processing in accordance with U.S. laws, unless stated otherwise in our privacy policy. Please review our privacy policy for more details or contact us at [email protected].