Bangalore Radhakrishnan
Starting from March 2010, Ben D Radhakrishnan, has been a full time teaching Faculty at National University. He is currently active teaching two programs – MS Sustainability Management and BS Computer Science. He develops and teaches both graduate and undergraduate courses including capstone courses. He was the Academic Program Director for MS Sustainability Management program. In the recent past, he had the pleasure of being a nominee for NU's Distinguished Teaching Award.
He is active in research areas relating sustainability and is focused on data center energy efficiency and the use of modern technology tools such as, Blockchain technology and Tableau for sustainability. He is a remote Affiliate Researcher for Lawrence Berkeley Laboratories (Berkeley, CA) and is on the board of energy efficiency tool development for data center IT equipment. He did is sabbatical research on data center energy efficiency. Other research topics include student centric teaching and learning, globalization and Leadership. He has participated and presented research papers in conferences in the US, Japan, UK, India, Brazil, India and Dubai.
Prior to coming to National University, Ben was in private industry for over thirty years focused internationally on telecommunication software development. He was the Technology Program Director in Qualcomm and a senior R&D Manager in Lucent Technologies.
His educational background includes three master's Degrees (including MBA) and a Certification on Sustainable Business Practices.
His hobbies include Photography, international traveling and hiking.
Publications
Radhakrishnan, B. (2016). Facilitating Game Design – Chapter in the book `Increasing Productivity and Efficiency in Online Teaching. IGI Global publisher..
Radhakrishnan, B. (2016). `Sustainability and Energy`Encyclopedia of Energy Engineering & Technology. Taylor & Francis publisher..
Radhakrishnan, B. D.. (n.d.). Asian Journal of Education and e-Learning. 4: .
Radhakrishnan, B. D.. (n.d.). Data Center Energy Assessment Tools Evaluation. report generated at Lawrence Berkeley National Lab,
Radhakrishnan, B. D.. (n.d.). Asian Journal of Education and e-Learning. 4(5): .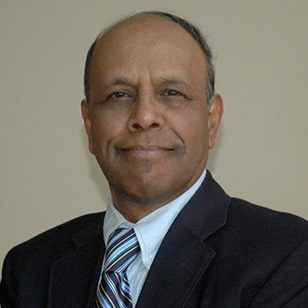 Contact Information
Bangalore Radhakrishnan
College: College of Professional Studies
Department: Engineering and Computing
Academic Program Director: Master of Science in Engineering Management
Education
University of Phoenix - MBA - Business Administration