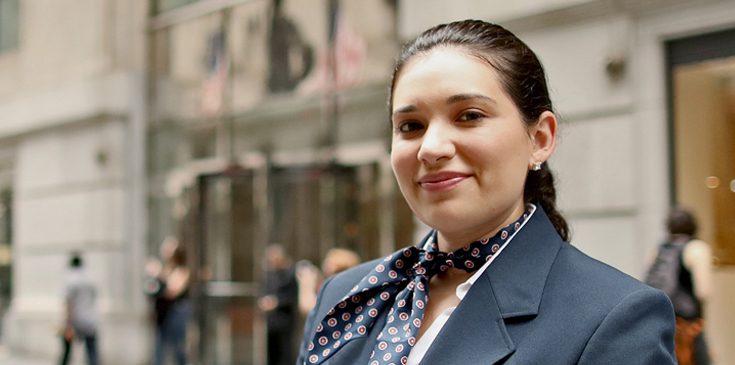 Ethical. Empathetic. Adaptable. These are just a few of the traits of an effective, change-oriented leader. A graduate degree in organizational leadership prepares professionals to lead, develop, and motivate individuals and teams in a diverse and evolving business landscape.
As you search for an online master's in organizational leadership program that fits your needs, develop a checklist of the things most important to you. These deciding factors will differ from person to person, but your criteria might include:
Quality of school, programs, and classes.
Courses that fit your end goals.
Class schedule and completion time.
Faculty knowledge and expertise.
Online learning experience.
Once you determine what matters the most, develop a few questions to guide your research and help you check off items on your list like. Here are a few to get you started:
What is the reputation of the school?
There are more options for online learning than ever before. This means doing your due diligence in comparing institutions. One good place to start is finding out about the school's accreditation and any other recognition from professional organizations. Earning regional accreditation, for example, means a school meets certain standards of education and service. National University, a private, nonprofit school, is accredited by the WASC Senior College and University Commission.
What about a school's name recognition? Will current and future employers be familiar with it? How about colleagues? With locations across California, National University has a physical presence in many communities statewide. To go along with the idea of recognition — as well as reach — consider the size of a school's alumni network (National has more than 150,000 across the globe).
You can learn more about why accreditation matters in this post.
Will the program fit my lifestyle and timeline?
While it may seem like a given that any online degree program should be geared toward working professionals or students with other full-time commitments, you should dig deeper into the specifics. While online degrees are associated with the notion of 24/7 access and working when and where it suits you best, take a closer look at the requirements and demands of the program. What is the workload like and how often are assignments due? Will any of the organizational leadership courses require group work or live lectures or discussions at specific times? Do you have to visit campus at any point during the program? And, what does the overall schedule look like — and more importantly, can it fit into your schedule.?
The timeline for completion might also be important to you, so you should consider how long it might take to earn an online master's in organizational leadership at each school you're considering. At National, full-time students can typically complete the program in 12 to 14 months.
Some schools, National included, may allow you to earn credits for your past educational or professional experiences. This could reduce your time in the classroom and lower your overall cost. Also, ask about the availability of courses and the flexibility of the overall program. For example, if you find you need to take a break from school for a term or two, how easy is it to transition back to class or how long must you wait until a required course is offered again? Some programs are built with instances like this in mind. For example, National's online degree courses are four-weeks each, and monthly-start classes are offered year-round. This arrangement gives you the leniency to start and stop as needed.
How much of the program focuses on organizational leadership theory?
Understanding the foundations of your career field is crucial to your success. In the case of organizational leadership, this means an ideal program will examine the historical context of leadership studies and explore classic frameworks.
Organizational leadership theory is prominent In National University's program. In Classic Studies of Leadership, you'll look at areas like emotional intelligence, trait theories, personality studies, and authority and influence. In Ethics and Classic Theories, you'll dive deeper into the frameworks and ethics of leadership practice. You will also have the opportunity to identify and analyze your own leadership philosophy.
Courses with "theory" in their name aren't the only instances of where you'll cover these topics. Throughout the entire program, you'll begin to apply organizational leadership theory to everything else you're learning — and even immediately to your current profession, if applicable.
What other online master's in organizational leadership courses will I take?
Aside from theory-based classes, students in a graduate organizational leadership program should learn the practical aspects of leading, developing, and motivating a team. National University, for example, offers course titles such as:
Developing Groups and Teams.
Leadership in the 21st Century.
Conflict and Power Dynamics.
Word View and Adult Development.
Analysis and Decision Making.
A good online master's in organizational leadership program will also introduce you to research methods as well as give you a chance to bring everything you've learned together in a final project or presentation — many schools refer to this as a "capstone."
Who teaches the online master's in organizational leadership courses?
If you're looking to grow as a leader, it's extremely beneficial to learn from people who are successful leaders themselves; instructors who have experience in the field can share real-world experiences. Likewise, when it comes to your theory classes, consider the scholarly activity of your professors. Are they publishing their research in journals? Are they active in their industry organizations?
For instance, f you were to browse the faculty profiles at National University's School of Business, you will find people like Dr. Steven Walker, who is widely published in leadership journals. Walker's area of research interests includes leadership for sustainability, adaptive leadership, and crisis leadership.
To find out if National University's online master's in organizational leadership program fulfills your personal checklist of must-haves, visit our Master of Science in Organizational Leadership program page.