When evaluating post-secondary educational options, you've probably looked at academic programs, cost, campus life, career opportunities, student support services, and faculty reputation. These are certainly important considerations in determining the school best suited for you and your goals. Looking more broadly, however, there's a specific factor you'll also want to consider: Is the institution accredited and, if so, by whom?
Accreditation takes all of the criteria mentioned above — and more — into account when evaluating the quality and effectiveness of a school. But what is an accredited university and what does it mean to students at all stages of the educational process?
What Is an Accredited University?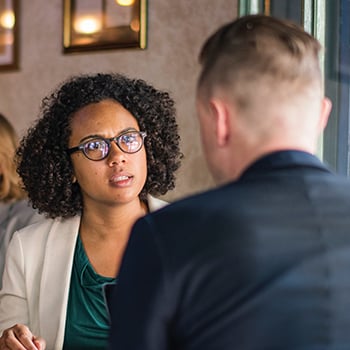 According to the Council for Higher Education Accreditation (CHEA), "Accreditation is a review of the quality of higher education institutions and programs." This can entail an institution as a whole or a specific academic program.
Dr. Joseph Hoey, Vice Provost of Academic Services at National University, adds, "Accreditation is multifaceted. At its most basic, it functions for students, their families, state and federal government, and other stakeholders to show [the school] is following its mission and providing a quality education."
CHEA states that there are 19 approved accrediting bodies in the United States. Each of these independent organizations is responsible for evaluating its member schools; and, for checks and balances, the accrediting bodies are overseen by government agencies. For example, National University is accredited by WASC Senior College and University Commission (WSCUC).
Hoey explains that accreditation agencies originally formed to ensure transferability of credits between institutions. For example, a student attending a community college that grants associate degrees would be eligible to transfer those earned credits to another school to work towards a bachelor's degree. In this instance, the accreditation demonstrates that the community college's education was solid enough for the second institution to trust the academic experience a student had there.
Accreditation is still very much about transferability of credits, but its use has expanded and evolved over the years. According to Hoey, there are "many subparts" to accreditation as it affects various aspects of an institution and a student's academic journey.
"What is the academic rigor? What are the outcomes of students?" are some of the questions he suggests prospective students may have. "If I go to this college what are my odds of making it all the way through, and after, what will my job prospects be like?"
Let's take a closer look at how and why university accreditation for both on-campus and online degrees matters.
Why Attending an Accredited University Matters
There are many reasons why a university's accreditation status matters, from eligibility for financial aid to finding employment opportunities after graduation. Here are some important considerations:
Financial Aid Eligibility
We're putting this one at the top because for most students, it is a critical consideration. For many people looking to attend or return to school, receiving some type of financial aid is one of the most important determining factors in whether or not they can pursue an education. According to CHEA, all schools seeking to offer federal financial aid (such as Pell grants or federal student loans) must be accredited. The same goes for schools looking to offer state-funded financial aid, such as grants or loan programs.
If a school is not accredited, students will have to look for other ways to finance their education, whether it is seeking a personal loan or private education loan — or paying out of pocket.
Looking at financial aid from another perspective, institutions themselves can often receive funding from the federal or state government, such as grants for campus infrastructure projects. These types of programs are usually only reserved for accredited schools.
The quality of an education is likely at the top of the list of reasons to attend a particular school. After all, you want to leave with the tools and knowledge to pursue or advance in the job or career you choose. You want credentials that make an impact on your resume and in the eyes of your potential employers. Hoey suggests that it's not just the knowledge-based academics that matter in accreditation, but also the operational and practical aspects. A degree should be achievable, but that shouldn't necessarily mean "easy." An external curriculum review ensures the academic requirements and course content of a school meet certain set criteria.
Up-to-Date Knowledge and Skills
With accreditation, it's not just the quality of education that matters, but also the relevancy and currency of what is taught. This is becoming increasingly important as technology, globalization, and other factors are changing many fields and industries at a faster rate than ever. This means academic programming — and the tools and resources like the software students use — must be up to date with industry standards and best practices. It also means the skills of the faculty teaching within the programs must be current in their field of instruction.
Faculty Reputation and Experience
Accreditation helps determine the positive reputation of an institution and this includes the experience of its faculty members. Measuring the strength of a faculty member includes looking at their publication and presentation history — factors that demonstrate expertise in their field and among peers. In the case of practitioners, their type and years of experience in the field may bring specific value.  For instance, says Hoey, in National's cybersecurity courses, "You'd expect the faculty members in this program to have certain experience as applied experts in the field."
Positive Outcomes: Retention, Progression, and Graduation
Hoey explains that accreditation looks at more than what happens on campus and during classes. It also focuses on how students progress in their programs and if and when they graduate.
Accreditation takes into consideration retention or the percentage of students enrolled who actually stay in the program after a certain amount of time. At traditional four-year colleges, for example, the freshman retention rate is often a key indicator.
"The Department of Education is really looking closely at these metrics," he says. "Retention, progression, graduation and, if a career-related program, placement."
Looking at these numbers holistically, an accrediting body can get an idea of student and alumni success at various stages. If there are gaps in certain areas, it could indicate that students aren't receiving the quality instruction or the support they need.
In other cases, not hitting the right numbers could mean students aren't getting enough return on their educational investment. One outcome accrediting bodies look out for is the default rate, meaning students who are unable to or having difficulty paying back their student loans. This could mean the school isn't providing a good value — simply put, the tuition is too high, even for a successful student's means. This could also indicate the school is preparing students for jobs that either may not be in demand in the region or ones that do not typically pay a living wage.
Hoey points out that these outcomes, from retention to default rate, are also broken down by various demographics. Looking more closely at the numbers can show how a certain population fares at a specific school. For example, what are the outcomes for adult students? Veterans? Students of a particular background? For example, National University, where Hoey works, serves a large Veteran and Latino population. Students, whatever their background, should be able to know ahead of time how welcoming and accommodating an institution or program is to their specific needs and whether the institution is setting them to succeed if they choose to attend.
Many employers require graduates to have attended an accredited school or program. And, even if it is not required, having an accredited school listed on a resume could be a distinguishing factor among candidates.
Hoey says that accreditation sends a certain signal to employers: "They'll be able to ascertain if [the applicant] received a quality education."
In the most competitive of fields, this could make a difference in the caliber of job offers you receive or if you are granted an interview. Quality matters — both during school and after.
Industry-Specific Qualifications
Many industries require certain certifications or a state licensure. To be eligible to take these exams or complete additional application requirements, accreditation — and type of accreditation — can make a difference.
For example, someone with a degree in accounting may wish to sit for the CPA (certified public accountant) exam, but to be eligible to take the test, the student must have completed a certain number and type of courses, preferably from an accredited college or university. Qualifications vary from state to state for the CPA exam and accreditation matters. For instance, in California, the accounting program you attend must be through an institution accredited by any one of the national or regional accrediting agencies listed in the U.S. Department of Education Database of Accredited Postsecondary Institutions and Programs. In other states, like Washington state, for instance, if you do not have a degree from an accredited program, you are required to have your education evaluated by an evaluation service recognized by the state board.
When choosing a professional educational program, it's important to understand future licensing requirements ahead of time so you can plan accordingly.
Student Services and Support
Along with the outcomes discussed earlier, the support available to students also matters to accrediting bodies. Having access to library and other student resources is often required.
In recent years, we've seen numerous post-secondary educational institutions close their doors. While this could be for a number of reasons, keeping up with accreditation helps ensure a school is doing its job of providing a quality education with positive student outcomes. Doing so leads to longevity.
"Increasingly, there's the notion of making sure the college or university is financially viable," explains Hoey. "This is a quality assurance piece."
He goes on to say that this part of accreditation may answer the question: "Will the school still be there when I graduate?"
Many other accreditation criteria can also contribute to an institution's financial viability, including a low default rate and alumni success.
Regional Versus National Accreditation: There's a Difference
There's often a question regarding regional vs. national accreditation. Does it matter? In a word, yes. There's a difference between the two types, and the difference is especially important when it comes to transferring credits.
"Regional accreditation is the gold standard in accreditation," says Hoey.
Regional accreditation typically applies to an academically oriented, nonprofit or state-owned institutions, while national accreditation usually covers for-profit career-, technical-, and vocational-oriented programs. Credits earned at regionally accredited schools are more widely accepted by other institutions. And, since regional accreditation has been around much longer, it's considered more prestigious.
Your long-term plans may depend on understanding the difference between regional and national accreditation. If you're considering attending one school, with plans to further your education later (for instance, going from a diploma or associate degree to a bachelor's or master's degree) or plans to sit for an industry certification exam, it's crucial to check with schools to see what will or won't transfer. That answer is often determined by the school's accreditation type.
Can Individual Programs or Majors Be Accredited?
Institutions themselves can be accredited, but so can individual programs. According to CHEA, there are more than 60 programmatic accrediting bodies. You'll see these often in medical, financial, and scientific fields, for example.
"This is really important," says Hoey. "Is this program of rigor? Does it map the needs of the profession?"
One of the notable program accrediting bodies is ABET or the Accreditation Board of Engineering and Technology. According to the ABET website:
"ABET accreditation is proof that a collegiate program has met standards essential to produce graduates ready to enter the critical fields of STEM education. Graduates from an ABET-accredited program have a solid educational foundation and are capable of leading the way in innovation, emerging technologies, and in anticipating the welfare and safety needs of the public."
"ABET is a major piece for engineering," says Hoey, adding that after a few years of practice, engineers may sit for a professional engineering exam. This credential is important for career growth and qualifying to take the test usually involves having a degree from an ABET-accredited program.
"[ABET accreditation] shows that students attended a school with a rigorous curriculum, so, to employers, it's a huge sign of the quality of preparation of students," he says, adding that earning ABET accreditation is a lengthy process. "They don't just give it out, and that's entirely as it should be." National's Bachelor of Science in Computer Science Degree program has achieved this important designation from ABET.
Nursing is another field that requires licensure in the state in which the student intends to practice. As Hoey explains, there's a standard of assessment and problem-solving that is necessary in the profession, and accreditation helps ensure those standards are unified across schools and within the nursing field.
What About Accredited Online Degrees?
In today's post-secondary education landscape, online degrees can be accredited just as their on-campus counterparts. In a good online degree program, the graduation requirements are usually the same, meaning students would take the same amount of credits and the same type of coursework as if they were attending classes on campus. So while the delivery and communication methods may differ, the education is in fact comparable.
And it's not just what is studied, it's also the quality of instruction that sets a good online program apart. At reputable institutions, the academic rigor and quality of faculty in an online course should match an equivalent on-campus offering. In addition, when it comes to assessing the standards of an online degree program, Hoey explains that one area to look at is technology.
"A big piece of quality assurance for an online degree is the student experience," he says. For example, online students should have access to the same or similar resources as on-campus students, such as the library or tech support or tutoring. The online learning management system should be user-friendly for students of all backgrounds and abilities.
With the proliferation of online schools and programs, it's especially important to carefully assess your options. Making sure you pursue an accredited online degree should be at the top of your agenda.
What If a School Is Not Accredited?
While some extremely niche institutions or job-training programs may not need to seek regional accreditation, for the most part, it's likely a red flag if a degree-granting college or university is not accredited. You can always ask about a school's accreditation status or look on its website for accreditation information; however, here are a few signs that a school you're looking at may not be accredited:
It does not offer federal or state financial aid.
It has a vague credit transfer policy.
The listed accrediting body is not on the CHEA website or approved by the U.S. Department of Education.
The school does not provide details of student services or resources (ex: library).
The school does not list information about its faculty.
It does not have a physical address listed on its website.
If you do attend a school that is not accredited or properly accredited, here is a reminder of some potential consequences:
You may not be eligible for federal or state financial assistance.
You may not be eligible for certain private scholarships.
You may have difficulty finding employment.
You may be ineligible to sit for licensing or certification exams.
You may not be able to transfer credits to another school.
You risk the school closing before your completion date.
Education is an investment and it is up to you to make certain you are making a wise one. When it comes to accreditation, "let the buyer beware" holds true.
More About the Accreditation Process
For a school or program, the accreditation process is often lengthy and costly, but when so much is at stake, the recognition is well worth the investment in time and money.
Hoey explains that, in a way, the accreditation process allows the education sector to self-police, meaning that much of the work is done by other educators and administrators. Hoey not only serves as a vice provost for academics at National, but he's also served as a peer reviewer for decades. This means he has first-hand experience of both going through the accreditation process as a school, and in reviewing accreditation materials and criteria for other peer institutions.
"We volunteer our time to read and evaluate institutional documents against a set of criteria," he explains, adding this process often also entails gathering qualitative data — visiting a campus and talking to a school's students, faculty and staff members, the board of trustees, and alumni. This gives us a holistic picture of where the institution is," Hoey says. "We then report back to the accreditation agency and render a collective professional judgment on whether the school upholds [the standards]."
Once a school is accredited, it must work to maintain that status. In fact, many larger institutions have a position dedicated to compliance; the person in this role continually monitors the important metrics and keeps track of changing industry standards and government policies.
The length of time between review of a school or program depends on the specific accreditation body and the institution, but most schools will have to reaffirm they're still adhering to standards after a fixed period of time, such as five or seven years. However, accrediting bodies accept complaints from stakeholders on an ongoing basis. This means if enough concerns are raised, an institution may have to undergo a special review.
***
So what is an accredited university? In the end, it comes down to consumer protection. Accrediting bodies act as watchdogs for institutions and hold schools accountable for the information they share with prospective students. It's up to students to use the available information to make the best decision for their educational needs.
"For a consumer," says Hoey, "it's important to know [they] can look up a school like National and be assured they have a strong curriculum and current standards in place."
National University has been accredited since 1977 by WASC, the Western Association of Schools and Colleges. To learn more about the regionally accredited National University and the affiliations and memberships that strengthen the quality of our on-campus and online degree programs, please visit the accreditation page of our website.