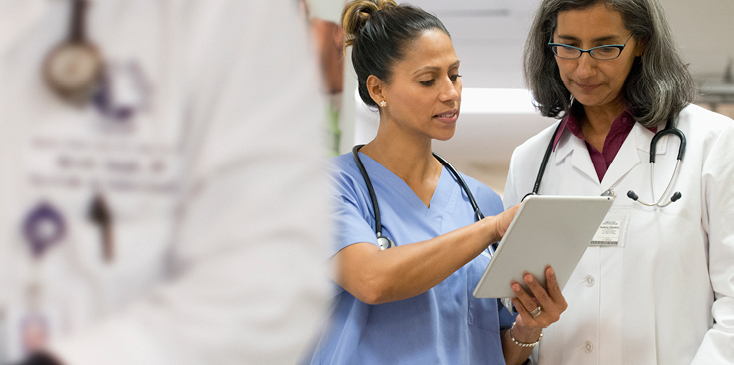 Finishing your nursing education and training can lead to a long and rewarding career. You can impact people's lives, offering the first line of treatment when they are ill or injured and easing their fears with your compassion and guidance. In addition to making a difference for others, a career in nursing also offers you the opportunity to make a comfortable living. Job opportunities are plentiful, and wages are often above average.
To become a registered nurse, or RN, you need to complete an associate degree and to pass the NCLEX, or the National Council Licensure Examination. However, if you complete a bachelor of science in nursing or a BSN, you can open up more career opportunities and increase your earning potential. A master of science in nursing, or an MSN, can open up even more career options with the most earning potential.
Nursing Leadership: The RN to MSN Option
Many of us are working more and have less disposable time. That means that, even if you want to advance your career, you may feel like you don't have the time to get the continuing education that you need. Fortunately, there are flexible educational options that allow you to fit advanced training into your busy schedule.
An RN to MSN program lets you complete your bachelor's and master's degree courses simultaneously. The course of study typically includes the same material that you would learn in a bachelor's curriculum, yet you don't have to repeat some of the extracurricular courses that you would have if you had completed a BSN and MSN separately. Other programs allow you to complete the bachelor's degree along the way so that you don't have to graduate and then apply for the master's program separately.
What an RN-MSN Program Can Do for You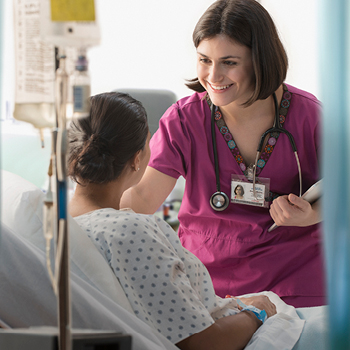 You know that an RN to MSN program can open up more career opportunities for you, but what kind, exactly? What can you do with a master's in nursing?
Dr. Hope Farquharson, the chair of the department of nursing at National University, says getting an MSN degree primarily opens up opportunities for positions in nursing leadership and management.
She says that those with an associate's degree or a diploma are considered "bedside nurses," but if they want to advance their careers or take on leadership positions, they don't have as many options with those degrees. They need to get additional education.
These nursing leadership and management positions come with more pay. But even if you want to continue as an RN, you can expect to be offered greater compensation if you have more education.
The U.S. Bureau of Labor Statistics reports that registered nurses make a median annual wage of $71,730 per year, or about $34.48 per hour. Your geographic location, the type of facility where you are employed, and the amount of education and experience you have will all have an impact on your salary level. Nevertheless, earning an MSN degree will likely earn you higher wages than an RN, no matter where you work.
Farquharson notes that another benefit of an RN to MSN program is that it helps you to achieve your goals and advance your career more quickly by bypassing the traditional BSN program. You can cut your time in half — or even more, depending on the programs you are comparing. At National, you could earn your master's degree in as little as 18 months, even if you don't already have your bachelor's degree. That's less time than most MSN degrees take to finish.
Top Qualities of a Good Nursing Leadership Program
You have a lot of options for bridge RN-MSN programs, so you should do your research to make sure you're spending your time and money on the right program, with the most benefits. Here are some things you should look for in the top programs:
Most people looking at RN to MSN programs are already working nurses. With the demand for nurses and the typical hours nurses work, most RNs don't have much free time, and they would find it difficult to commit to completing an MSN degree. They either can't afford to take time off work to dedicate to their studies, or they can't manage their work schedule around classes at a local campus.
The best options for working professionals offer flexibility. In most cases, this means looking at online RN to MSN programs like the one offered at National University.
Farquharson explains that NU's program allows students to take all of their coursework completely online, and then they visit the Costa Mesa, California campus to engage in hands-on work.
She says that all the instructional courses can be taken online, and then students "go to campus four times during the last four quarters to do simulated activities working with real-life patients and invasive procedures."
Advisers let students know about this requirement at the start of the studies, so they have plenty of time to make accommodations to be on campus for this work, Farquharson said.
You can't become a leader in health care delivery yourself if you don't have guidance and training from the best. You need instructors who have plenty of experience and education and professionals who are interested in promoting transformational leadership in nursing.
That's what students get at National University.
"The professors are mostly doctorally prepared with research experience and real-life practice," Farquharson says, noting that many are active practicing clinicians.
Faculty members are able to share their own experiences to give students better insights into the challenges they may face in the field and how to rise above them successfully. They can also share the latest trends in research and practice to enhance the students' education.
You can read every textbook or watch every video on nursing, but you just can't learn how to do some things without practicing them yourself. For example, there's no replacement for learning how to draw blood — you need to learn by actually drawing blood on a patient. The best RN to MSN programs are those that offer students plenty of opportunities to learn through doing. One of the drawbacks of many online degree programs is that they are only offered online — which means that all learning is done through readings and videos. National University distinguishes itself by offering plenty of in-person training in addition to the online component.
Farquharson says that students spend more than 500 hours working with professionals in their area of focus, such as in nursing leadership, family practice, or psychiatric nursing, giving them an edge over graduates of other programs. The hands-on experiences give students the chance to hone practical skills they need to succeed in the field, as well as to work side-by-side with top nursing professionals and glean valuable insights from them.
"It's going to help them to become better leaders and nurses," Farquharson says. "It will help them to be more prepared to be an advanced practitioner."
She notes that the on-site training also teaches practical business skills, such as managing insurance reimbursement or navigating health care policy.
Different Program Options
Not all people searching for online RN to MSN programs are interested in the same career track. Some might want to pursue nursing leadership and management, while others are considering niche practices like psychiatric care. A good RN to MSN program will offer different options to meet the needs of many students.
Farquharson says National University offers four tracks in its bridge RN-MSN program. An MSN in nurse administration takes one year to complete, as does an MSN in nursing informatics. Those interested in becoming a family nurse practitioner or a psych mental health nurse practitioner can complete their programs in as few as 18 months.
These programs are kept short by consolidating the coursework from a BSN and an MSN curriculum. For example, students first take a few foundational courses geared toward BSN students, and then they move into the more advanced, masters-level courses. They complete their degrees efficiently so they can move their careers forward quickly.
Financial Aid
You may find an attractive MSN program known for producing the best nursing leaders, but if you can't afford the program, all its other qualities won't matter. Instead, you'll want to look for a school that offers financial aid opportunities to help you offset the cost of your education. National University offers federal financial aid to those who qualify — a mix of grants and student loans. Financial aid counselors will help students find and maximize all the resources available to them.
Farquharson also notes the possibility of student loan forgiveness for nurses, through programs offered by the Health Resources and Services Administration, or HRSA, Nurse Corps, and other organizations.
Of course, since students can finish all their coursework online, they can also help finance their education through work. If they work in the nursing field, they can use their work and their studies to complement one another.
Student Support
One of the most important qualities of any academic program should be an abundance of student support. Whether you're attending National directly from high school or an associate degree program, or you are thinking about returning to college after a long absence, you are likely going to experience the occasional struggle, either with the content, finances, or other aspects of your everyday life. A good bridge program will provide plenty of student support to ensure that you are successful in your education and maintain a healthy work-school-life balance.
Farquharson says National University's faculty staff is supportive of its students in many ways.
"We work closely with our students," she says. "We are just a phone call away. We try to navigate them through. We have been there, and we know what it's like to go to school and work through it."
Faculty members are known to provide one-on-one support through email, Skype conferences, or online group meetings. They'll also work with students to create a learning support plan where needed.
Farquharson adds that students who are struggling with an area of their personal lives can find support at National's student wellness center. A licensed psychologist runs the center and is able to provide guidance or offer students referrals for additional assistance.
The Program at National University
Nursing is an in-demand profession. Farquharson warns, "We are going to definitely have a shortage soon. We're trying to improve the number of nurses in the workforce so that we have enough when that crisis hits."
She says National University is offering a pipeline for the next generation of nursing leadership, and the shorter program length is helping to create leaders of consequence on a timeline that meets our society's current growing needs.
Anyone with an associate or bachelor's degree in nursing is eligible to apply for the flexible, online RN to MSN program at National University. Each of the classes lasts only four weeks, allowing students to finish the program quickly or take breaks when needed.
Some of the outcomes that National University identifies for the coursework include students having the knowledge and skills to determine fiscally appropriate health care delivery systems, the ability to make decisions about policy and finances that impact nursing practice and health care delivery, the skill to evaluate and implement strategies to improve nursing practice, and the vision to create a lifelong learning environment for patients and health care providers.
If you're ready to take your nursing career to the next level, visit our program page to learn more about the fast-paced RN to MSN degree at National University. You'll find answers to many of your questions, including an overview of the courses offered, profiles of the faculty members who teach them, and the financial aid opportunities available.