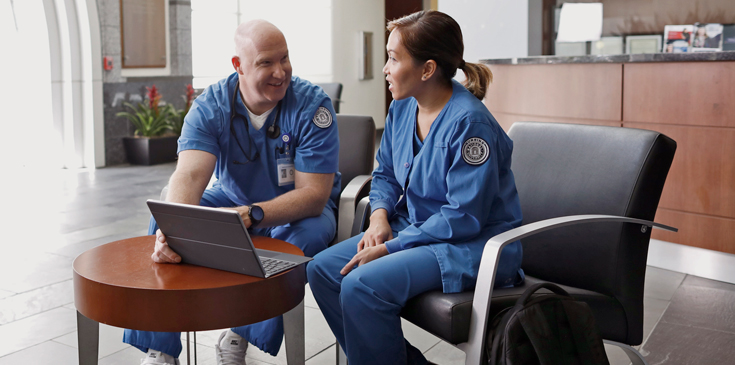 For nearly two centuries, anesthesia has been used to increase the safety and comfort of patients during a wide variety of medical procedures. With the demand for healthcare services on the rise, this aspect of patient care is more critical than ever before.
To meet this growing need, an increasing number of nurses are pursuing the additional education and training necessary to administer anesthesia. If you are interested in providing patient care in this important area, consider launching a career as a Certified Registered Nurse Anesthetist.
What Is a Certified Nurse Anesthetist?
Nurse anesthetists are advanced practice nurses who are responsible for providing anesthesia during a variety of procedures, including those in surgical, diagnostic, obstetrical, and therapeutic practice. They generally also provide related care before and after these procedures, though exact responsibilities differ by health care organization and specific position.
Nurse anesthetists typically enjoy greater levels of independence in health care environments than their registered nurse counterparts. According to the American Association of Nurse Anesthetists, CRNAs are the primary anesthesia providers in the U.S. Armed Forces, as well as the sole providers of anesthesia in almost all rural hospitals.
As health care needs grow across the country, demand for advanced practice nurses — including CRNAs — is on the rise. The U.S. Bureau of Labor Statistics reported that these roles are expected to increase by about 31% between 2016 and 2026 — a much faster than average rate — adding 64,200 new positions to the market. As of 2018, the median annual salary of these roles was $113,930.
How to Become a Certified Nurse Anesthetist
When it comes to becoming a nurse anesthetist, there are three major requirements:
1. Become a registered nurse
Before stepping into an advanced practice role, you must first become a registered nurse. This involves graduating from an approved nursing program and passing the National Council Licensure Examination.
While you can meet RN academic requirements by completing an associate degree in nursing or graduating from certain nursing certificate programs, earning a Bachelor of Science in Nursing degree — either on-campus or online — is increasingly becoming the preferred route.
After earning RN certification, nurses typically choose to gain hands-on experience working in the field before attempting to qualify as a CRNA.
2. Complete a CRNA program
To work as an advanced practice nurse in any specialty — including certified nurse anesthetist — you will also need to complete a higher degree. To enroll in a nurse anesthetist program, you generally must already hold a bachelor's degree in nursing. However, some schools offer options for nurses with an associate degree in nursing or a bachelor's degree in a non-nursing health science subject.
While a master's degree is usually the minimum requirement to work in advanced practice nursing — and often pursued through a nurse practitioner program — many professionals choose to go a step further and earn a Doctor of Nurse Anesthesia Practice degree. In addition to setting you apart from the competition when applying for jobs, the DNAP is an opportunity to dive deeper into important nursing topics, such as policy and organizational analysis, quality improvement and assessment, and evidence-based practice initiatives — providing knowledge and strategies that will empower you to pursue a leadership role after graduation.
3. Earn CRNA certification
After finishing a nurse anesthetist program, your final step is to complete national certification. Nurse anesthetists qualify for practice through the National Board of Certification and Recertification for Nurse Anesthetists.
Launch your certified nurse anesthetist career
Ready to launch your career as a certified nurse anesthetist? Consider enrolling in National University's Doctor of Nurse Anesthesia Practice program. Our DNAP's evidence-based curriculum is specifically designed to prepare you for the National Certification Exam — and a career providing high-quality care to patients.
In the program's second phase, you will put your knowledge into practice by completing clinical courses at an affiliate hospital. During this period, you will gain hands-on experience by administering anesthesia to patients under the direct supervision of a CRNA or anesthesiologist mentor.
Want to learn more about launching your career as a certified nurse anesthetist at National University? Contact one of our admissions advisors to discuss how National can help you meet — and exceed — your nursing goals.