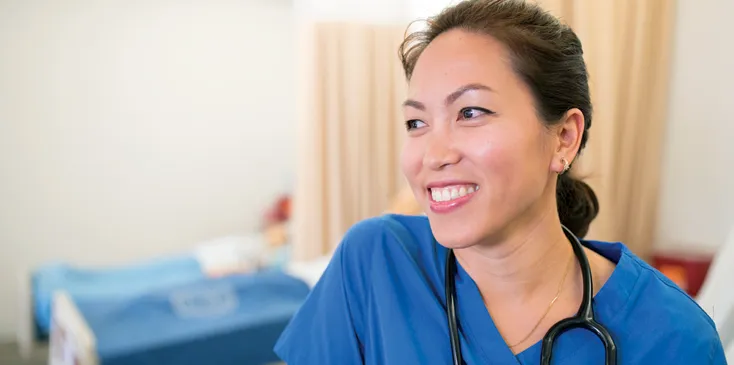 Have you always known that you wanted to become a registered nurse (RN)? Or, perhaps you decided to become a nurse after pursuing another career? The question of how to become an RN in California can be complex, as there are many paths and degree options available to you. It's important to understand the various educational and career options open to you so that you can choose a nursing education program that will help you achieve your goals.
National University offers several degree programs and certificates, as well as graduate programs in nursing. Since many nursing students already have busy personal and professional lives, the nursing education programs at National University are designed to offer flexible options and the kind of high-quality training and education that will help you reach your nursing career goals on a schedule that meets your needs. Lori Mattingly Boyd, Nursing Program Coordinator for the RN to BSN program at National University, says, "National University offers asynchronous learning formats," a student-centered teaching method that uses various electronic resources and capabilities to make learning as flexible as possible. "This works well with people who are already working full-time and who may also have family responsibilities."
Good News: The Job Outlook for RNs in California is Great
The first step in making a well-informed decision about your nursing career options is to learn about the occupational outlook and salary for RNs in California. For many reasons, both positive and negative, there has never been a better time to become an RN. According to the Occupational Outlook Handbook of the Bureau of Labor Statistics (BLS), "Employment of registered nurses is projected to grow 15 percent from 2016 to 2026, much faster than the average for all occupations. Growth will occur for a number of reasons, including an increased emphasis on preventive care; growing rates of chronic conditions, such as diabetes and obesity; and demand for healthcare services from the baby-boom population, as they live longer and more active lives."
When broken down by state, the employment outlook for registered nurses in California looks even better. For RNs who have completed a Bachelor of Science in Nursing (BSN) degree, job growth in California during that same time period (2016-2026) is projected to be 17%. This reflects the continued effect of the factors stated above, along with the nurse shortage in California.
What is the Average RN Salary in California?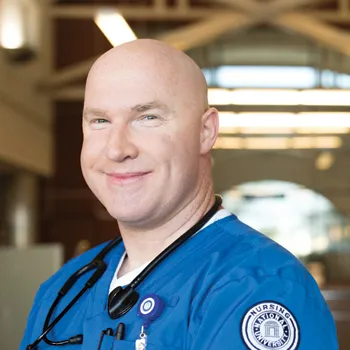 Nursing is a profession that requires physical endurance, emotional stability, empathy, and strict attention to detail — as well as high levels of communication, interpersonal, and problem-solving skills. Most people who choose to become registered nurses do not make the decision lightly or based simply on money.
However, many find that nursing can be both a satisfying and economically rewarding profession. According to the BLS, the average annual salary for RNs across the US in 2016 was approximately $70,000. By comparison, the average annual wage for registered nurses in California was almost a third more: $100,730. The majority of RNs earning this salary start their career with a bachelor's degree in nursing.
The salary levels currently earned by registered nurses, combined with a positive job outlook, makes nursing one of the more reliable career choices available.
The Basics: Steps to Becoming an RN in California
The California Board of Registered Nursing (BRN) details how to become an RN in California in a series of steps. These steps include choosing the best type of nursing school and program to fit your needs, selecting a college and applying for admission, applying for financial aid, and obtaining your RN license.
Nursing education: which type of school and program is best for me?
Because there are various paths to fulfilling California's requirements, you need to determine how to become an RN in California in the way that best fits in with your personal goals. Key to this is choosing a school that offers an appropriate program. National University offers several program options to choose from. NU's flexible programs are geared specifically for busy adults. In addition, National University is a military-friendly college and a Yellow Ribbon school. You will be able to earn your degree on campus, at home, on base, or abroad.
Applying for admission
Once you have decided on a goal for your nursing education, your next step is to apply for admission. On National University's website, you will find out about admission requirements and programs, and you will find contact information for speaking to an advisor.
Get some help: applying for financial aid
As a nursing student, you can apply for multiple nursing scholarships, grants, loans, and loan forgiveness programs. National University lists many options, including links to financial aid and scholarships, the federal work-study program, and the Cal Grant Transfer Entitlement Award. In addition, BRN's financial aid information page has helpful information for you. There you will also find many links, including those to necessary forms and publications, aid for military personnel and families, and frequently asked questions. When applying for financial aid, remember: You don't need to limit yourself to just one source of funding. You can creatively combine loans, grants, and scholarships to save you many thousands of dollars.
The final milestone: obtaining your RN license
To practice as an RN in California, you must be licensed by the BRN. You must meet educational requirements, pass a criminal background check, and pass the national licensing examination. The National Council Licensing Examination (NCLEX) is computerized and given continuously six days a week. (New graduates are advised to take the exam soon after graduation because research has shown that there is a higher success rate for early test-takers compared with those who wait several months.) You can find out more about licensure requirements on the BRN website.
How Important is it to Earn a BSN Degree?
As you begin your investigation into how to become an RN in California, or even if you are already an RN, you will find that earning your BSN in Nursing will make you more highly employable as a registered nurse. An American Association of Colleges of Nursing (AACN) report, "The Impact of Education on Nursing Practice," found that registered nurses who have at least a BSN degree are much better prepared on many levels than those who have only an associate's degree. They demonstrate stronger communication and problem-solving skills, as well as higher proficiency in their ability to make nursing diagnoses and evaluate nursing interventions. These skills have profound effects on their day-to-day interactions with their patients. Nurses who have this training also demonstrate stronger professional-level skills such as leadership, professional integration, and research and evaluation.
The impact of this extra level of education and the acquisition of this higher set of skills is more easily understood when we examine how it affects the nurses' most vulnerable patients. According to the AACN report, "Data show that health care facilities with higher percentages of BSN nurses enjoy better patient outcomes and significantly lower mortality rates." The report refers to an article published in the March 2013 issue of Health Affairs in which nurse researcher Ann Kutney-Lee and colleagues discovered some sobering findings: a 10-point increase in the percentage of nurses holding a BSN within a hospital was associated with an average reduction of 2.12 deaths for every 1,000 patients — and, for a subset of patients with complications, an average reduction of 7.47 deaths per 1,000 patients.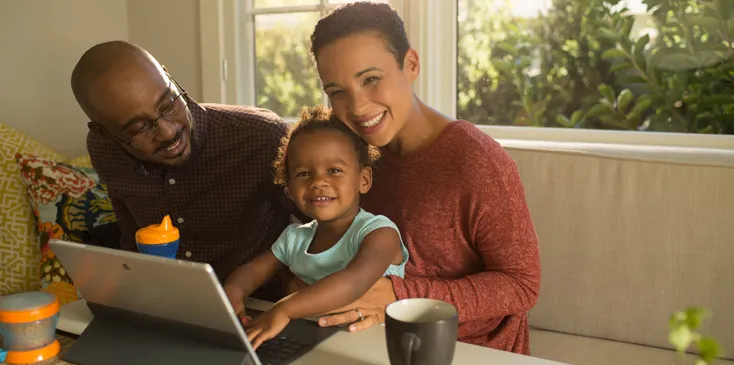 Since training nurses at the BSN level makes such a marked positive difference in patient outcomes — even significantly lowering mortality rates — it's no wonder that the demand for nurses with this degree is growing. This trend has intensified in the last few years as facilities strive to meet new recommendations. In 2010, the Institute of Medicine released a groundbreaking report, The Future of Nursing: Leading Change and Advancing Health. One of the report's recommendations was to increase the proportion of nurses with a baccalaureate degree to 80% by 2020 and to double the number of nurses with a doctorate by 2020.
Since this report was released, the number of registered nurses with BSN and Master of Science in Nursing (MSN) degrees has increased markedly, and the demand for them in the workplace is intensifying.
How Can National University Help You Meet Your Nursing Goals?
Whether you have just begun exploring how to become an RN in California or you are already a licensed vocational nurse, you can earn a nursing degree and become a registered nurse through National University's Bachelor of Science in Nursing program. Kajal Shelat, Assistant Director of Enrollment and Student Support Services at NU, says that the BSN program "suits students with the motivation to advance their education in order to enter a nursing career path as soon as possible. We foster nurse leaders who are empowered to be courageous, explore, and apply nursing knowledge for the ever-changing health care environments." And if you are already an RN who understands the advantages of acquiring your BSN degree, NU offers a specialized, quick, and efficient program for you as well.
Overview of NU's Nursing Degree Programs
There are a number of options to choose from at National University, and our advisors will be happy to work with you to choose the right one. Here are just some of the options:
Bachelor of Science in Nursing (BSN)—RN Completion (RN to BSN)
Are you already a registered nurse? If so, you can earn your bachelor's degree through the RN completion program in just 11 months, completely online. Dr. Rebecca Dahlen, Professor in the RN to BSN program, talks about the practicality of this program for NU's busy students. "The coursework is meaningful and pertinent" to the students, says Dr. Dahlen. "They're not taking courses that they're not going to need, that they're not going to use."When you graduate as an RN with a BSN degree, you will not only gain a competitive edge, but more career advancement options will be available to you. You will be able to pursue nursing career paths — including advanced education, administration, and teaching — that are not open to nurses without a bachelor's degree. Click here to watch a brief, comprehensive overview of National University's RN to BSN program, featuring Lori Mattingly Boyd.
Bachelor of Science in Nursing (BSN) Post-Bachelor Degree (California)
Do you already have a bachelor's degree (BA or BS) but now want to prepare for licensure as a registered nurse while simultaneously earning a BSN degree? The BSN Post-Bachelor Degree program is for you. This program can be completed in 22 months.
Bachelor of Science in Nursing – Generic EntryThis is the program for those near the beginning of their college career. The program prepares degree candidates to develop critical thinking, communication, and therapeutic nursing skills within the framework of transcultural nursing. As Ms. Shelat explains, "National University trains students to become nurses from the beginning. Prospective students can take our accelerated prerequisite courses that will set the foundation of the much harder nursing courses." Graduates of this nursing program in California are qualified to manage the nursing care of culturally diverse clients in a variety of settings. The length of the program is also 22 months.
Graduate Nursing Programs Offered by National University
Once you've attained your BSN, you may decide to go still further in your nursing career. With your degree in hand, you will be able to take advantage of one of NU's two Master of Science in Nursing programs (Master of Science in Nursing and RN-Master of Science in Nursing Pathway).
Nursing Certificates
There are also a number of certificates offered by the School of Health and Human Services at National:
Family Nurse Practitioner Certificate
This program is designed for nurses who hold an MSN degree, a Doctor of Nursing Practice (DNP), or Doctor of Philosophy (Ph.D.) and wish to advance their knowledge, education, and skills to practice in an advanced practice role as a Family Nurse Practitioner (FNP). The job outlook for FNPs is excellent. While the average growth rate for all occupations from 2016-2026 is 7%, according to the BLS Occupational Job Outlook the estimated growth rate for nurse practitioners is 31%. Growth will occur primarily because of an increased emphasis on preventive care and demand for healthcare services from an aging population. According to the BLS, the median annual income in the United States for nurse practitioners is $103,880. In California, the median income for nurse practitioners increases to $122,840.
Psychiatric Mental Health Nurse Practitioner Certificate
This program is designed for nurses who hold an MSN, a DNP, or a Ph.D. in Nursing who wish to practice in an advanced practice role as a PMHNP. The PMHNP melds the art and science of professional nursing and skillfully manages the acute and enduring issues posed by people with behavioral health issues across the lifespan. Graduates of this postgraduate PMHNP certificate program are eligible to sit for the American Nurses Credentialing Center (ANCC) Psychiatric-Mental Health Nurse Practitioner (Lifespan; formerly known as Family Psychiatric-Mental Health Nurse Practitioner) competency-based examination.
The nursing programs at National University are unique. Ms. Shelat notes that NU is the first higher education institution to acquire Planetree Designation. "This honorary designation allows students to learn in a person-centered care environment and then be able to foster that knowledge into the community. Our students have quality understanding, enhanced skill sets, and a holistic approach to patients and their families."
Whatever program you decide will best answer the question of how to become an RN in California, National University will help you meet your goals quickly and efficiently. Best of all, students can expect support every step of the way. Dr. Dahlen says, "Our faculty is dedicated to seeing every student who begins our program graduate."
So, whether you were "born knowing" that you were meant to be a registered nurse or your life journey has taken some surprising turns and only recently led you to pursue or further your nursing education, National University has an option to fit your needs.
For more information about all our nursing programs, please visit the program page on our website.