Bachelor of Arts in Psychology
Bachelor of Arts in Psychology
Online & In-Person Program Options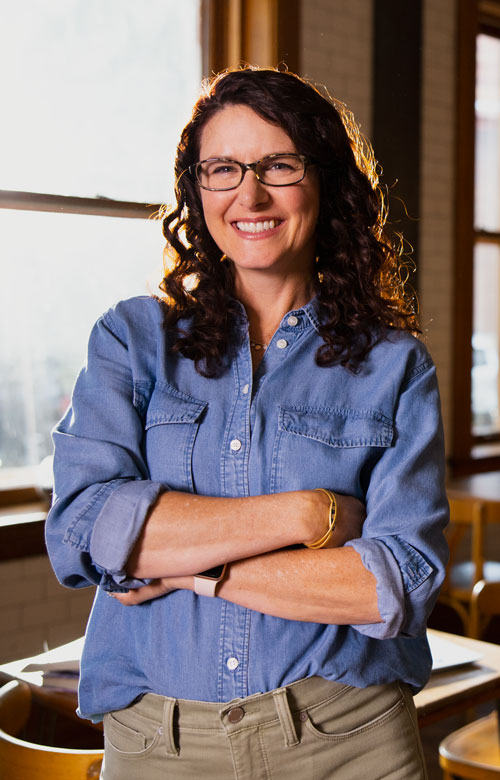 QUICK FACTS
Balance work, life, and school with four-week classes
Be part of a tight-knit community for individualized learning
BA in Psychology students graduate in 16 months on average
Understand the Power of the Mind with a Bachelor of Arts in Psychology
If helping people is your passion, the Bachelor of Arts in Psychology program will provide you with a comprehensive introduction to the contemporary discipline of psychology. The program will cover a wide variety of topics like biological psychology, developmental psychology, psychopathology, social psychology, personality theory and much more. Gain an in-depth understanding of human behavior while gaining valuable critical-thinking skills that will challenge your perspectives on social change, culture, diversity and the many factors that impact our lives.
Upon graduation, you should be prepared for a variety of entry-level roles in administration, business or social services. This program will also help prepare the many students who seek admission to psychology graduate programs at the master's or doctoral level.
At NU, we're proud to deliver an educational experience that helps prepare you for your chosen career path. In order to fit school into your busy schedule, we offer online and asynchronous formats, as well as 4-week classes. In addition, the Bachelor's in Psychology class sizes are kept small for better interaction with teachers, and our curriculum is 100% compliant with APA standards.
BA in Psychology Program Highlights
Students complete psychology program in 16 months on average
Take classes 100% online, on site, or in hybrid formats
Fully compliant to American Psychological Association (APA) standards
Year-round application review and acceptance by our admissions team
Courses taught by a faculty of experienced educators and expert practitioners
Take classes online, on campus, or in hybrid formats
Over $30 million available in scholarships for NU students
Program Learning Outcomes
As a graduate of National University's BA in Psychology program, students will be able to:
Articulate major theories, concepts, and historical trends in psychology.
Explain behavior, cognition, and emotion from multiple schools of thought and multicultural perspectives.
Identify a problem in psychology, examine available evidence, analyze assumptions, and apply research methods to solve the problem. This includes the ability to interpret numbers and apply basic statistical procedures.
Perform information searches relevant to psychology and organize and evaluate the soundness of the information.
Use current technologies in both research and communication.
Write papers in psychology using different literary formats, e.g., narrative, exposition, critical analysis, and APA format.
Use current technologies in both research and communication.
Take the first step in pursuing a fulfilling degree and career by starting your application today.
Request Info
Career Options and Job Opportunities with a Bachelor's in Psychology
Your desire to help people with their mental health can also open up a variety of career opportunities. There are a wide variety of career options for students graduating with a degree in psychology. Upon earning your Bachelor of Arts in Psychology, continue your psychology education with the Master of Arts in Psychology and Doctor of Psychology (PsyD) programs right here at National University. You may also pursue career opportunities in numerous fields, including psychology, mental health, education, business, health care, social services, human services, public administration, sales, and many others.
Psychology majors can be found in many different professions within the public, private, and non-profit sectors. A few examples include:
Entry-level counseling in government-funded agencies and hospitals
Academic counselors within educational facilities
Career counselors
Counselors for at-risk youth
Sales and marketing
Please note that many positions require additional training, education, certification, and/or licensing in order to gain employment. National University (NU) degrees does not guarantee employment or salary of any kind. Prospective students are strongly encouraged to review desired job positions to review degrees, education, and/or training required to apply for desired positions. Prospective students should monitor these positions as requirements, salary, and other relevant factors can change over time.
To learn more about career opportunities and benefits of a bachelor's in psychology, read our post on What Can I Do With A Bachelor's in Psychology? Many professional positions within this field require a master's or doctoral degree, along with licensure for practitioners.
Degree and Course Requirements
To receive a Bachelor of Arts in Psychology degree, students must complete at least 180 quarter units. Of those 180 quarter units, 76.5 units must be completed at the upper division level, 45 units must be completed in residence at National University, and a minimum of 70.5 units must be completed of the University General Education requirements.
In the absence of transfer credit, students may need to take additional general electives to satisfy the total units for the degree. Students should refer to the section on undergraduate admission procedures for specific information on admission and evaluation.
Program Disclosure:
Successful completion and attainment of National University degrees do not lead to automatic or immediate licensure, employment, or certification in any state/country. The University cannot guarantee that that any professional organization or business will accept a graduate's application to sit for any certification, licensure, or related exam for the purpose of professional certification.
Program availability varies by state. Many disciplines, professions, and jobs require disclosure of an individual's criminal history, and a variety of states require background checks to apply to, or be eligible for, certain certificates, registrations, and licenses. Existence of a criminal history may also subject an individual to denial of an initial application for a certificate, registration, or license and/or result in the revocation or suspension of an existing certificate, registration, or license. Requirements can vary by state, occupation, and/or licensing authority.
NU graduates will be subject to additional requirements on a program, certification/licensure, employment, and state-by-state basis that can include one or more of the following items: internships, practicum experience, additional coursework, exams, tests, drug testing, earning an additional degree, and/or other training/education requirements.
All prospective students are advised to review employment, certification and/or licensure requirements in their state, and to contact the certification/licensing body of the state and/or country where they intend to obtain certification/licensure to verify that these courses/program qualify in that state/country, prior to enrolling. Prospective students are also advised to regularly review the state's/country's policies and procedures relating to certification/licensure as those policies are subject to change.
Why Choose National University?
We're proud to be a veteran-founded, San Diego-based nonprofit. Since 1971, our mission has been to provide accessible, achievable higher education to adult learners. Today, we educate students from across the U.S. and around the globe, with over 180,000 alumni worldwide.
Four-Week Classes
Focus on one subject at a time — one month at a time — and finish your degree faster.
75+ Degree Programs
Choose from associate, bachelor's, and master's degrees, plus credentials and certificates.
On Campus or Online
Study when and where it's convenient for you with evening, weekend, and 100% online classes.
Year-Round Enrollment
Apply or transfer any time. Classes start monthly, and applications are accepted year round.
20+ Locations
Attend class and learn onsite at one of over 20 locations in California.
Military Friendly
As a Yellow Ribbon school, we offer tuition discounts to servicemembers and dependents.
College of Letters and Sciences
"Our faculty are established scholars and creators in their own fields. They are dedicated to making your entry into their disciplines a successful one, preparing you for your career as well as graduate study."
College of Letters and Sciences