Bachelor of Arts in Psychology

Bachelor of Arts in Psychology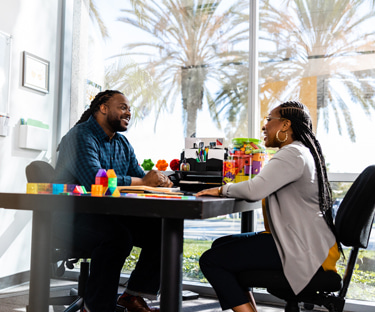 Understand the Power of the Mind to Help Others
If helping people is your passion, the Bachelor of Arts in Psychology program will provide you with a comprehensive introduction to the contemporary discipline of psychology. The online psychology degree program will cover a wide variety of topics like biological psychology, developmental psychology, psychopathology, social psychology, personality theory, and much more. Gain an in-depth understanding of human behavior and valuable critical thinking skills that will challenge your perspectives on social change, culture, diversity, and the many factors that impact our lives.
Upon graduation, you will be well-prepared for a variety of entry-level roles in administration, business, or social services. This program will also help prepare you to enter a psychology graduate program.
Watch this video to hear Dr. Brian Tilley from the Psychology Department discuss the BA in Psychology program and what to expect.
Program Learning Outcomes
As a graduate of National University's BA in Psychology program, you will be able to:
Articulate major theories, concepts, and historical trends in psychology
Explain behavior, cognition, and emotion from multiple schools of thought and multicultural perspectives
Identify a problem in psychology, examine available evidence, analyze assumptions, and apply research methods to solve the problem. This includes the ability to interpret numbers and apply basic statistical procedures
Perform information searches relevant to psychology and organize and evaluate the soundness of the information
Use current technologies in both research and communication
Write papers in psychology using different literary formats, e.g., narrative, exposition, critical analysis, and APA format

Dr. Brian Tilley
PhD, Associate Professor, Program Director,
MA in Counseling
"A student is a good fit for this program when the student comes in just wanting to know more about life. How does it make sense? And takes it beyond that philosophical point of view, to studying that and applying the philosophy to everyday life. That's really what psychology is."
Contact Us
Take the first step by starting your application online today.
To speak to an enrollment advisor about this program, please email [email protected].
Why Choose National University?
At NU, we are proud to be a veteran-founded, San Diego-based nonprofit. Since 1971, our mission has been to provide accessible, achievable higher education to adult learners. Today, we educate students from across the U.S. and around the globe, with over 180,000 alumni worldwide.
Program Disclosure
Successful completion and attainment of National University degrees do not lead to automatic or immediate licensure, employment, or certification in any state/country. The University cannot guarantee that any professional organization or business will accept a graduate's application to sit for any certification, licensure, or related exam for the purpose of professional certification.
Program availability varies by state. Many disciplines, professions, and jobs require disclosure of an individual's criminal history, and a variety of states require background checks to apply to, or be eligible for, certain certificates, registrations, and licenses. Existence of a criminal history may also subject an individual to denial of an initial application for a certificate, registration, or license and/or result in the revocation or suspension of an existing certificate, registration, or license. Requirements can vary by state, occupation, and/or licensing authority.
NU graduates will be subject to additional requirements on a program, certification/licensure, employment, and state-by-state basis that can include one or more of the following items: internships, practicum experience, additional coursework, exams, tests, drug testing, earning an additional degree, and/or other training/education requirements.
All prospective students are advised to review employment, certification, and/or licensure requirements in their state, and to contact the certification/licensing body of the state and/or country where they intend to obtain certification/licensure to verify that these courses/programs qualify in that state/country, prior to enrolling. Prospective students are also advised to regularly review the state's/country's policies and procedures relating to certification/licensure, as those policies are subject to change.
National University degrees do not guarantee employment or salary of any kind. Prospective students are strongly encouraged to review desired job positions to review degrees, education, and/or training required to apply for desired positions. Prospective students should monitor these positions as requirements, salary, and other relevant factors can change over time.
Useful Links