Bachelor of Science Degree (BS) in Paralegal Studies

Bachelor of Science Degree (BS) in Paralegal Studies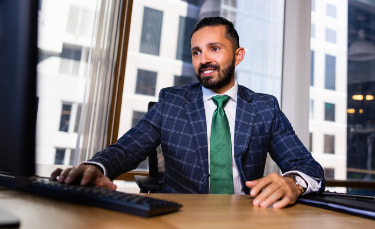 Make Your Case for a Rewarding Career As a Paralegal
There's a lot of work that goes into assisting lawyers as they prepare for hearings, trials, and other court-related processes. Many of these responsibilities aren't handled by attorneys themselves, but by highly trained legal assistants who've earned a paralegal degree and possess the knowledge and requisite skills to conduct legal research, draft documents, and keep complex files organized.
National University's Bachelor of Science in Paralegal Studies program is designed to prepare you to develop into an indispensable member of a legal team. Our skilled faculty will help you become proficient in understanding legal terminology, identifying legal issues, applying basic legal analysis, and conducting legal research using traditional and online methods.
Our ABA-approved paralegal program combines a comprehensive academic curriculum with practical education to prepare you for the role of the paralegal in a legal environment. Earn your BS in Paralegal Studies and prepare for a fast-paced, dynamic career in the legal field.
Program Learning Outcomes
As a graduate of National University's Bachelor of Paralegal Studies program, you will develop the following skill sets:
Describe the American legal system and major areas of the law, such as Torts, Contracts, Property, and others, and understand the legal terminology in those areas.
Identify and apply proper legal remedies in the context of a legal problem.
Demonstrate effective communication skills and the ability to convey relevant information to attorneys, clients, witnesses, and other persons.
Demonstrate the ability to assist with preparing legal documents and handling pretrial and trial preparation tasks.
Perform paralegal tasks competently in a law office, corporate law department, governmental agency, judicial setting, or other comparable legal environment.
Articulate applicable ethics laws and codes of ethical conduct.
Click here for program-specific course information.
Paralegals may not provide legal services directly to the public, except as permitted by law. Students must take at least nine semester credits or the equivalent of legal specialty courses through synchronous instruction.
Contact Us
Take the first step by starting your application online today.
To speak to an enrollment advisor about this program, please email [email protected].
Why Choose National University?
We're a veteran-founded, San Diego-based nonprofit. Since 1971, our mission has been to provide accessible, achievable higher education to adult learners. Today, we educate students from across the U.S. and around the globe, with over 185,000 alumni worldwide.
Program Disclosure
Successful completion and attainment of National University degrees do not lead to automatic or immediate licensure, employment, or certification in any state/country. The University cannot guarantee that any professional organization or business will accept a graduate's application to sit for any certification, licensure, or related exam for the purpose of professional certification.
Program availability varies by state. Many disciplines, professions, and jobs require disclosure of an individual's criminal history, and a variety of states require background checks to apply to, or be eligible for, certain certificates, registrations, and licenses. Existence of a criminal history may also subject an individual to denial of an initial application for a certificate, registration, or license and/or result in the revocation or suspension of an existing certificate, registration, or license. Requirements can vary by state, occupation, and/or licensing authority.
NU graduates will be subject to additional requirements in a program, certification/licensure, employment, and state-by-state basis that can include one or more of the following items: internships, practicum experience, additional coursework, exams, tests, drug testing, earning an additional degree, and/or other training/education requirements.
All prospective students are advised to review employment, certification, and/or licensure requirements in their state, and to contact the certification/licensing body of the state and/or country where they intend to obtain certification/licensure to verify that these courses/programs qualify in that state/country, prior to enrolling. Prospective students are also advised to regularly review the state's/country's policies and procedures relating to certification/licensure, as those policies are subject to change.
*Positions may require additional experience, training, and other factors beyond successfully completing this degree program. Depending on where you reside, many positions may also require state licensure, and it is the responsibility of the student to ensure that all licensure requirements are met. We encourage you to also review program-specific requirements. Any data provided on this page is for informational purposes only and does not guarantee that completion of any degree program will achieve the underlying occupation or commensurate salary.