Bachelor of Science in Computer Science

Bachelor of Science in Computer Science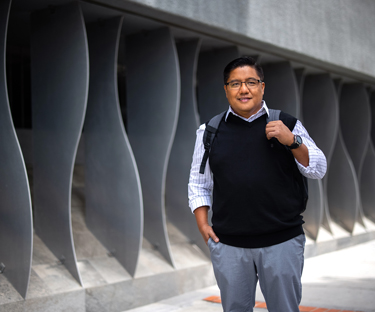 Prepare for a bright future in our tech-dependent society
Considering the high-tech world we live in, it's no surprise computer science professionals are in demand across all industries. The job market is filled with opportunities for future-focused workers with the knowledge and skills to design innovative uses for new and existing computing technology.
National University's Bachelor of Science in Computer Science (BSCS) degree program balances a strong academic foundation, realistic design, and implementation projects to prepare you for an exciting career in this fast-paced industry. It's one of only two such programs in the United States accredited for online delivery.
NU's BSCS curriculum is designed to ensure you acquire the technical and design experience you need to succeed in the growing field of software engineering. You'll study everything from design and implementations to management and security while you build industry-relevant expertise in data structures and algorithms, efficient, object-oriented programming and application of database systems, computer communication networks, and computer architecture. The field of computer science is evolving fast. If you want to see and be a part of what's coming next, NU's BS in Computer Science can show you the way.
Watch our video to learn more about the BS in Computer Science program from Dr. Ronald Uhlig, Program Chair, Department of Engineering & Computing.
Program Learning Outcomes
As a graduate of National University's Bachelor of Science in Computer Science, you will be able to:
Analyze a complex computing problem and to apply principles of computing and other relevant disciplines to identify solutions
Design, implement, and evaluate a computing-based solution to meet a given set of computing requirements in the context of the program's discipline
Communicate effectively in a variety of professional contexts
Recognize professional responsibilities and make informed judgments in computing practice based on legal and ethical principles
Function effectively as a member or leader of a team engaged in activities appropriate to the program's discipline
Apply computer science theory and software development fundamentals to produce computing-based solutions
A Bachelor of Science in Computer Science degree opens doors in a variety of industries, including professional, scientific and technical services, manufacturing, finance and insurance, information services, administrative support services, and consulting. Computer skills are also needed in large numbers in many other industries from retail, healthcare, education, local, state and federal government agencies, transportation, and others.
NU's computer science degree is designed to put you on the path to a successful, in-demand career. According to the Bureau of Labor Statistics,* employment of computer and information research scientists is projected to grow 22 percent from 2020 to 2030, much faster than the average for all occupations. Furthermore, the BLS notes that the median annual wage for computer and information research scientists was $131,490 in May 2021.
Employers in this field are looking for skills in communications, management, leadership,
information technology, operations, infrastructure, problem-solving, integration, troubleshooting, innovation, planning, research, mentorship, consulting, customer service, and Microsoft Office proficiency.
Graduates of NU's Bachelor of Science in Computer Science degree program can pursue a wide range of careers,** including:
Software Engineers
Systems Engineers
Software Developers
DevOps Engineers
Project Managers
Network Engineers
Solutions Architects
Java Developers
Learn more about the career opportunities and benefits from earning your degree in computer science by reading NU's article: Which Computer Science Career is Right for Me?
*SOURCE: https://www.bls.gov/ooh/computer-and-information-technology/computer-and-information-research-scientists.htm
**SOURCE: Emsi Labor Analyst- Report. Emsi research company homepage at https://www.economicmodeling.com/company/ (Report viewed: April 21, 2022). DISCLAIMER: The data provided is for Informational purposes only. Emsi data and analysis utilizes government sources to provide insights on industries, demographics, employers, in-demand skills, and more to align academic programs with labor market opportunities. Cited projections may not reflect local or short-term economic or job conditions and do not guarantee actual job growth. Current and prospective students should use this data with other available economic data to inform their educational decisions.

To receive a Bachelor of Science in Computer Science, students must complete at least 180 quarter units, including a minimum of 70.5 units of the University General Education requirements; 76.5 quarter units must be completed at the upper-division level, and 45, including the senior project courses (CSC 480A, CSC 480B, and CSC 480C), must be taken in residence at National University.
In the absence of transfer credit, students may need to take additional general electives to satisfy the total units for the degree. Students should refer to the section on undergraduate admission procedures for specific information on admission and evaluation.
While a bachelor's degree in computer science is an excellent way to gain a solid foundation in the field, a master's degree can lead to greater career potential and higher-paying careers. Many students who enter the bachelor's program continue their studies into NU's
Master of Science in Computer Science
program, and this is why we offer a bachelor's to master's degree transition program.
The goal is to make the transition to the master's program seamless and efficient, so you waste no time in between programs. The number of courses required to earn an MSCS degree for transition program students is reduced from 12 to as few as 10 courses, so you can finish your master's degree faster.
Students must complete graduate-level coursework taken as part of the BSCS degree with a grade of "B" or better. This coursework, which counts as electives, will not transfer as graduate-level credit to National University or any other institution, as it is part of an undergraduate degree program.
Grades earned in graduate-level courses will be calculated as part of the student's undergraduate grade-point average. Students must be within completing their last six courses in their undergraduate program and have a cumulative GPA of at least a 3.0 to be eligible.
Lastly, students must apply for and begin the MSCS program within six months of completing their final BSCS course. Students must complete their MSCS program within four years, with no break exceeding 12 months. Students in the BSCS transition program may take up to two MSCS classes as electives during the BSCS. Students may choose from the following courses: CSC 603, CSC 605, CSC 675, CSC606, and CSC607.
Introducing the Opportunity Scholarship
In honor of our students, and in celebration of our 50th anniversary, National University is investing $30 million in new student scholarships. To learn more about the Opportunity Scholarship, how you can apply, and how much you can save, inquire today.

Ali Farahani, Ph.D.
Program Director, Computer Science
"A flexible ABET-accredited program that prepares graduates for employment in the computer industry as well as for advanced studies in computer science."

Anh T. Nguyen
Class of 2018
"The computer science program at NU is designed with relevant knowledge and skills for a student can take on a real tasks in the computer industry."
Contact Us
Take the first step by starting your application online today.
To speak to an enrollment advisor about this program, please email [email protected].
Why Choose National University?
We're a veteran-founded, San Diego-based nonprofit. Since 1971, our mission has been to provide accessible, achievable higher education to adult learners. Today, we educate students from across the U.S. and around the globe, with over 185,000 alumni worldwide.
Program Disclosure
Successful completion and attainment of National University degrees do not lead to automatic or immediate licensure, employment, or certification in any state/country. The University cannot guarantee that any professional organization or business will accept a graduate's application to sit for any certification, licensure, or related exam for the purpose of professional certification.
Program availability varies by state. Many disciplines, professions, and jobs require disclosure of an individual's criminal history, and a variety of states require background checks to apply to, or be eligible for, certain certificates, registrations, and licenses. Existence of a criminal history may also subject an individual to denial of an initial application for a certificate, registration, or license and/or result in the revocation or suspension of an existing certificate, registration, or license. Requirements can vary by state, occupation, and/or licensing authority.
NU graduates will be subject to additional requirements in a program, certification/licensure, employment, and state-by-state basis that can include one or more of the following items: internships, practicum experience, additional coursework, exams, tests, drug testing, earning an additional degree, and/or other training/education requirements.
All prospective students are advised to review employment, certification, and/or licensure requirements in their state, and to contact the certification/licensing body of the state and/or country where they intend to obtain certification/licensure to verify that these courses/programs qualify in that state/country, prior to enrolling. Prospective students are also advised to regularly review the state's/country's policies and procedures relating to certification/licensure, as those policies are subject to change.
*Positions may require additional experience, training, and other factors beyond successfully completing this degree program. Depending on where you reside, many positions may also require state licensure, and it is the responsibility of the student to ensure that all licensure requirements are met. We encourage you to also review program-specific requirements. Any data provided on this page is for informational purposes only and does not guarantee that completion of any degree program will achieve the underlying occupation or commensurate salary.