Bachelor of Science Degree
in Computer Science

Bachelor of Science Degree
in Computer Science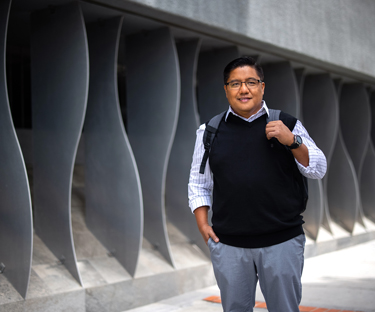 Gain Practical Software Engineering Skills With an ABET-Accredited Bachelor's in Computer Science
Gain the technical and design skills you need to succeed in the growing field of software engineering with the Bachelor of Science in Computer Science. The online computer science degree program balances a strong academic foundation, realistic design, and implementation projects.
The Bachelor's in Computer Science degree program includes a broad coverage of variety of topics in software engineering, from design and implementations to management and security. You'll learn to analyze problems and design appropriate computer solutions through selection of appropriate data structures and algorithms, efficient, object-oriented programming, and application of database systems, computer communication networks, and computer architecture. This is all done while utilizing current tools, technologies, and development frameworks.
Why National University's Online Computer Science Degree?
Learn to Solve Business Challenges with Software. This program is designed to give you the most up-to-date knowledge for a rapidly evolving field. The program features a rigorous academic foundation that is complemented by realistic programming assignments, giving you in-demand, applicable skills that can be put to use immediately.
Career-Focused, ABET-Accredited Program. This program is accredited by the Accreditation Board of Engineering and Technology and meets the quality standards expected of computer science graduates. Upon completion of the program, you will be well-prepared for immediate employment in either the computer industry or many other businesses that increasingly rely on computer science.
Ideal Online Experience Designed for Working Professionals. With online classes, you can continue working in your current job while balancing school. You can work toward your degree when and where it's convenient for you.
Faculty Mentorship and Program Support. Even with online classes, you're never alone. Faculty advisors are available to offer support and guidance throughout the program and even after you graduate as you enter or advance in the job market.
Prepare for Software Engineering Success With a Fully Online Computer Science Degree
There's no need to put your life on hold to earn your bachelor's degree in computer science. National University offers online classes, so you can continue working and complete coursework on your own time. You will continue to engage with faculty and classmates through discussion boards, and watch video lectures and presentations, listen to audio recordings, and take all quizzes and exams online – when it fits into your schedule.
You may also participate in weekly chat sessions and live classes, which are optional. Live classes are also recorded, so you can watch the recording afterward at any time. You can also request 1:1 help from an instructor for any guidance throughout the program so you're never alone in your studies.
The program is rigorous, fast-paced, hands-on, and prepares you for a career in computer programming. Most classes are four weeks, but the first three programming classes have the option of an eight-week format for your ease and convenience.
At the end of the program, you will participate in a capstone project that allows you to design and develop a new system using the knowledge gained from many areas in computer science. The capstone project is a team effort where teams produce a software product and demonstrate their work.
Watch our video to learn more about the BS in Computer Science program from Dr. Ronald Uhlig, Program Chair, Department of Engineering & Computing.
Program Learning Outcomes
Analyze a complex computing problem and to apply principles of computing and other relevant disciplines to identify solutions.
Design, implement, and evaluate a computing-based solution to meet a given set of computing requirements in the context of the program's discipline.
Communicate effectively in a variety of professional contexts.
Recognize professional responsibilities and make informed judgments in computing practice based on legal and ethical principles.
Function effectively as a member or leader of a team engaged in activities appropriate to the program's discipline.
Apply computer science theory and software development fundamentals to produce computing-based solutions.
Ali Farahani, PhD
Program Director, Computer Science
"A flexible ABET accredited program that prepares graduates for employment in the computer industry as well as advanced studies in computer science."
Contact Us
Take the first step by starting your application online today.
To speak to an enrollment advisor about this program, please email [email protected].
Why Choose National University?
We're proud to be a veteran-founded, San Diego-based nonprofit. Since 1971, our mission has been to provide accessible, achievable higher education to adult learners. Today, we educate students from across the U.S. and around the globe, with over 180,000 alumni worldwide.
Program Disclosure
Successful completion and attainment of National University degrees do not lead to automatic or immediate licensure, employment, or certification in any state/country. The University cannot guarantee that any professional organization or business will accept a graduate's application to sit for any certification, licensure, or related exam for the purpose of professional certification.
Program availability varies by state. Many disciplines, professions, and jobs require disclosure of an individual's criminal history, and a variety of states require background checks to apply to, or be eligible for, certain certificates, registrations, and licenses. Existence of a criminal history may also subject an individual to denial of an initial application for a certificate, registration, or license or result in the revocation or suspension of an existing certificate, registration, or license. Requirements can vary by state, occupation, and licensing authority.
NU graduates will be subject to additional requirements on a program, certification/licensure, employment, and state-by-state basis that can include one or more of the following items: internships, practicum experience, additional coursework, exams, tests, drug testing, earning an additional degree, or other training/education requirements.
All prospective students are advised to review employment, certification, and licensure requirements in their state, and to contact the certification/licensing body of the state or country where they intend to obtain certification/licensure to verify that these courses/programs qualify in that state/country, prior to enrolling. Prospective students are also advised to regularly review the state's/country's policies and procedures relating to certification/licensure, as those policies are subject to change.
National University degrees do not guarantee employment or salary of any kind. Prospective students are strongly encouraged to review desired job positions to review degrees, education, and/or training required to apply for desired positions. Prospective students should monitor these positions as requirements, salary, and other relevant factors can change over time.