Bachelor of Science in
Healthcare Administration

Bachelor of Science in
Healthcare Administration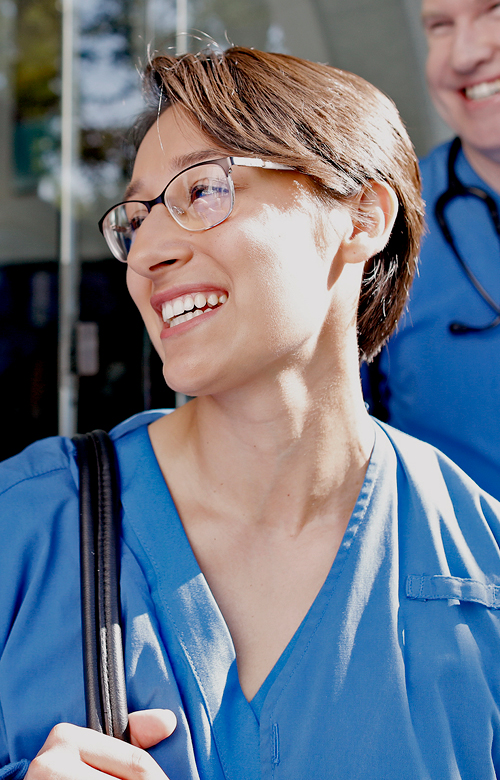 Develop In-Demand Skills for Healthcare Management
The Bachelor of Science in Healthcare Administration degree at National University is designed to equip you with the leadership and practical management skills needed to lead organizations and teams in diverse health care settings. Skilled, caring health care workers are more in demand than ever with the recent pandemic affecting communities around the world. Health care administrators are essential leaders on the front lines who make critical decisions that impact the lives of employees, patients, and the community every day.
In this health care administration degree program, you'll have access to cutting-edge coursework and faculty who are subject matter experts currently working in the field. This will give you a deeper understanding of how health care leaders have had to step up, make in-the-moment decisions, and transition rapidly to a hybrid or telemedicine model.
Every student in the program is required to participate in an eight-week capstone, giving you unsurpassed hands-on experience to prepare you for a leadership role within this field.
Watch our video to learn more about the Bachelor of Science in Healthcare Administration program from Dr. Tyler Smith, Program Director for Public Health.
Program Learning Outcomes
As a graduate of National University's BS in Healthcare Administration program, students will be able to:
Differentiate the roles and perspectives of clinical practitioners, nonclinical staff, supervisors, and managers within health care organizations.
Describe the management, leadership, and health care theories and components of the health care delivery system in the United States.
Evaluate the impact of factors that affect the policies, management, and operation of health care organizations.
Analyze quantitative and qualitative health care data and information for effective decision making.
Explain the legal and ethical principles and responsibilities of health care organizations to individual patient and community health care needs.
Explain strategic and marketing priorities of health care organizations in relationship to the needs and values of a community.
Dr. Tyler Smith
Program Director, Public Health
"The goals of the program are to bring you from someone who is just entering the disciple to someone who can lead teams and manage large organizations in the healthcare setting."
Useful Links
Contact Us
Take the first step by starting your application online today.
To speak to an enrollment advisor about this program, please email [email protected].
FAQs
Why Choose National University?
We're proud to be a veteran-founded, San Diego-based nonprofit. Since 1971, our mission has been to provide accessible, achievable higher education to adult learners. Today, we educate students from across the U.S. and around the globe, with over 180,000 alumni worldwide.
Program Disclosure
Successful completion and attainment of National University degrees do not lead to automatic or immediate licensure, employment, or certification in any state/country. The University cannot guarantee that any professional organization or business will accept a graduate's application to sit for any certification, licensure, or related exam for the purpose of professional certification.
Program availability varies by state. Many disciplines, professions, and jobs require disclosure of an individual's criminal history, and a variety of states require background checks to apply to, or be eligible for, certain certificates, registrations, and licenses. Existence of a criminal history may also subject an individual to denial of an initial application for a certificate, registration, or license and/or result in the revocation or suspension of an existing certificate, registration, or license. Requirements can vary by state, occupation, and/or licensing authority.
NU graduates will be subject to additional requirements on a program, certification/licensure, employment, and state-by-state basis that can include one or more of the following items: capstones, practicum experience, additional coursework, exams, tests, drug testing, earning an additional degree, and/or other training/education requirements.
All prospective students are advised to review employment, certification, and/or licensure requirements in their state, and to contact the certification/licensing body of the state and/or country where they intend to obtain certification/licensure to verify that these courses/programs qualify in that state/country, prior to enrolling. Prospective students are also advised to regularly review the state's/country's policies and procedures relating to certification/licensure, as those policies are subject to change.
National University degrees do not guarantee employment or salary of any kind. Prospective students are strongly encouraged to review desired job positions to review degrees, education, and/or training required to apply for desired positions. Prospective students should monitor these positions as requirements, salary, and other relevant factors can change over time.