Bachelor of Science in Nursing – BSN completion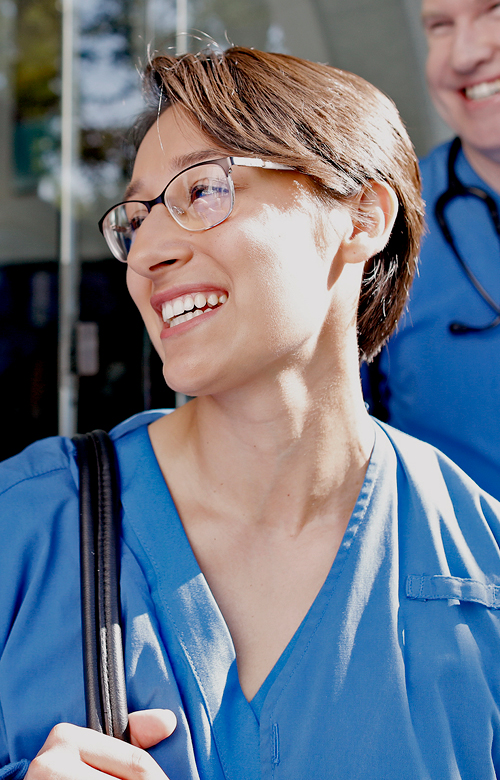 QUICK FACTS
Become a part of NU's global alumni community.
The RN to BSN Completion program includes four-week courses.
National University is San Diego's largest private nonprofit university.
Increase your knowledge of nursing and expand your career options with our RN to BSN (Bachelor of Science in Nursing completion program). Candidates who hold an active and unencumbered RN license are eligible for the RN to BSN completion program. Nurses who earn a BSN are also able to pursue other nursing career paths, including advanced education, administration, and teaching, that are not available to nurses without a bachelor's degree.
The RN to BSN program offers four- and eight-week courses 100% online. You'll gain a foundation for professional nursing practice at the baccalaureate level to expand your clinical knowledge and further develop your critical-thinking, communication, and therapeutic skills.
The Bachelor of Science in Nursing, Master of Science in Nursing, and post-graduate APRN certificate are American Association of Colleges of Nursing AACN accredited programs.
The baccalaureate degree program in nursing, master's degree program in nursing, and post-graduate APRN certificate programs at National University is accredited by the Commission on Collegiate Nursing Education, 655 K Street NW, Suite 750, Washington, DC 20001, 202-887-6791.
Program Learning Outcomes
Develop caring, therapeutic nursing relationships with individuals, families, groups and populations.
Provide safe, high-quality, culturally competent, patient-centered nursing care for individuals across the life span in a variety of settings.
Participate in the continuous improvement of nursing care quality and safety.
Use nursing judgment to manage, prioritize and delegate patient care in a variety of healthcare settings.
Effectively communicate and collaborate with patients and the interdisciplinary team.
Demonstrate professional identity by incorporating established standards of practice within the legal and ethical framework of nursing.
Apply best, current evidence into nursing practice to achieve desired outcomes.
Program Highlights
Students who pass the NCLEX-RN exam receive 31.5 upper division quarter unit credits
100% online program
Degree can be completed in as little as 11 months
Four- and eight-week classes
Focus on one subject per month while maintaining full-time status
Start the program any month during the year
Eligible Transfer to Success Scholarship applicants receive up to $4,800
Earn a California Public Health Nurse Certificate
No prerequisite courses required
Hands-on experience working with leaders and community partners
Preparation for Major
(1 course; 4.5 quarter units)
SOC 350 Cultural Diversity

Prerequisite: ENG 100, and ENG 101
* May be used to meet the upper-division General Education requirement.
Nursing Core Courses
(10 courses; 43.5 quarter units)
HTM 310 Health Informatics
NSG 303 Professional Issues for RNs
BST 322 Intro to Biomedical Statistics
NSG 443 Evidence Based Practice
NSG 442 NSG Leadership and Management
NSG 442A NSG LDRSHP & Mgmt. Practicum (3 quarter units)
NSG 444 Community Population NSG (6 quarter units)
NSG 444A Comm Pop NSG Practicum (3 quarter units)
NSG 447 Qual Improvement

Prerequisite: BST 322, Corequisite: NSG 447A

NSG 447A Qual Improvement Practicum

Prerequisite: NSG 443, Corequisite: NSG 447
Upper-Division Electives
(7 courses; 31.5 quarter units)
In the absence of upper-division transfer units, additional quarter units of upper-division coursework may be needed to meet the minimum upper-division requirement of 76.5 quarter units. Electives should be chosen in consultation with the faculty and/or admission advisor.
Students should choose from the following upper-division electives:
HSC 330 Health Education & Promotion
HSC 310 Issues & Trends in Healthcare
HSC 300 Legal/Ethical Issues & Hlth. Pr.
SPN 340A Spanish for the Work Place
SPN 341 Cross-Cultural Communication
PHL 337 Ethics

Prerequisite: ENG 100 and ENG 101

GER 310 Healthy Aging
Program Requirements
To receive a Bachelor of Science in Nursing (BSN), students must complete 180 quarter units as articulated in the general catalog, 45 of which must be completed at National University, 76.5 of which must be completed at the upper-division level, and a minimum 70.5 quarter units of the University General Education requirements must be fulfilled by the program. In absence of transfer credit, students may need to take additional general electives to satisfy the total units for the degree. Remedial courses accepted for the ASN degree may not transfer. Students should refer to the section on undergraduate admission procedures for specific information on admission and evaluation. All students receiving an undergraduate degree in Nevada are required by state law to complete a course in Nevada Constitution.
A maximum of 45 quarter units (30 semester units) of lower division credit may be allowed for clinical courses for a registered nurse who is a graduate of a three-year hospital nursing school. Up to 22.5 quarter units (15 semester units) of additional lower-division credit may be granted for academically equivalent coursework. Students should refer to the section on undergraduate admission procedures for specific information on admission and evaluation. A maximum of 31.5 quarter units may apply toward the baccalaureate nursing (RN to BSN) degree if a student has passed the NCLEX-RN examination.
Meet Our Faculty
Why Choose National University?
We're proud to be a veteran-founded, San Diego-based nonprofit. Since 1971, our mission has been to provide accessible, achievable higher education to adult learners. Today, we educate students from across the U.S. and around the globe, with over 185,000 alumni worldwide.
Four-Week Courses
Focus on one subject at a time — one month at a time — and finish your degree faster.
75+ Degree Programs
Choose from associate, bachelor's, and master's degrees, plus credentials and certificates.
On Campus or Online
Study when and where it's convenient for you with evening, weekend, and 100% online classes.
Year-Round Enrollment
Apply or transfer any time. Classes start monthly, and applications are accepted year round.
20+ Locations
Attend class and learn onsite at one of over 20 locations in California.
Military Friendly
As a Yellow Ribbon school, we offer tuition discounts to servicemembers and dependents.