Bachelor of Science in Electrical and Computer Engineering

Bachelor of Science in Electrical and Computer Engineering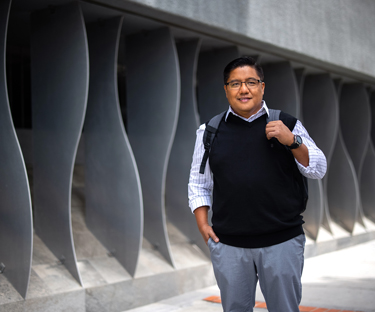 Explore the link between scientific discoveries and the commercial applications that make our lives better.
Engineers have completely changed the way we live; the work they do is the link between scientific breakthroughs and the commercial applications that make our lives better. From creating better ways to communicate to using new discoveries to treat disease, it's an exciting field that presents you with the opportunity to solve real-world problems.
National University's BS in Electrical and Computer Engineering degree program is designed to prepare you for a cutting-edge profession in inventing, designing, developing, manufacturing, and marketing new devices, like smart homes, cell phones, artificial intelligence, robotics, and more. You'll study the design and development of both digital hardware systems and the software that enables that hardware — and how both users and other hardware interact with those systems.
If you're ready to build a solid foundation of mathematics and engineering and use your knowledge to create new and exciting things, earning your BS in Electrical and Computer Engineering is an excellent place to start.
Watch our video to learn more about the Bachelor of Science in Electrical & Computer Engineering program from Dr. Ronald Uhlig, Program Chair, Department of Engineering & Computing.
Program Learning Outcomes
As a graduate of National University's Bachelor of Science in Electrical and Computer Engineering program, you will be able to:
Identify, formulate, and solve complex engineering problems by applying principles of engineering, science, and mathematics
Apply engineering design to produce solutions that meet specified needs with consideration of public health, safety, and welfare, as well as global, cultural, social, environmental, and economic factors
Communicate effectively with a range of audiences
Recognize ethical and professional responsibilities in engineering situations and make informed judgments, which must consider the impact of engineering solutions in global, economic, environmental, and societal contexts
Function effectively on a team whose members provide leadership, create a collaborative and inclusive environment, establish goals, plan tasks, and meet objectives
Develop and conduct appropriate experimentation, analyze and interpret data, and use engineering judgment to draw conclusions
Acquire and apply new knowledge as needed, using appropriate learning strategies
Introducing the Opportunity Scholarship
In honor of our students, and in celebration of our 50th anniversary, National University is investing $30 million in new student scholarships. To learn more about the Opportunity Scholarship, how you can apply, and how much you can save, inquire today.

Peilin Fu, Ph.D.
Program Director, Electrical and Computer Engineering
"We're going to teach you how to protect the intellectual property you develop using patents, trade secrets, and cybersecurity. We're going to teach you property management skills that are used throughout our whole process of new project development."

Marc Lessard
Class of 2022
"My favorite part of the program would be all the lab classes. I am more of a kinesthetic learner, and doing things "hands-on" or practical application really helps me learn. I enjoyed being able to write code in C++, MATLAB, and HDL, along with building real circuits with components at home and on MultiSIM digitally."
Contact Us
Take the first step by starting your application online today.
To speak to an enrollment advisor about this program, please email [email protected].
Electrical and Computer Engineering Degree FAQs
Why Choose National University?
We're a veteran-founded, San Diego-based nonprofit. Since 1971, our mission has been to provide accessible, achievable higher education to adult learners. Today, we educate students from across the U.S. and around the globe, with over 185,000+ alumni worldwide.
Program Disclosure
Successful completion and attainment of National University degrees do not lead to automatic or immediate licensure, employment, or certification in any state/country. The University cannot guarantee that any professional organization or business will accept a graduate's application to sit for any certification, licensure, or related exam for the purpose of professional certification.
Program availability varies by state. Many disciplines, professions, and jobs require disclosure of an individual's criminal history, and a variety of states require background checks to apply to, or be eligible for, certain certificates, registrations, and licenses. Existence of a criminal history may also subject an individual to denial of an initial application for a certificate, registration, or license and/or result in the revocation or suspension of an existing certificate, registration, or license. Requirements can vary by state, occupation, and/or licensing authority.
NU graduates will be subject to additional requirements in a program, certification/licensure, employment, and state-by-state basis that can include one or more of the following items: internships, practicum experience, additional coursework, exams, tests, drug testing, earning an additional degree, and/or other training/education requirements.
All prospective students are advised to review employment, certification, and/or licensure requirements in their state, and to contact the certification/licensing body of the state and/or country where they intend to obtain certification/licensure to verify that these courses/programs qualify in that state/country, prior to enrolling. Prospective students are also advised to regularly review the state's/country's policies and procedures relating to certification/licensure, as those policies are subject to change.
*Positions may require additional experience, training, and other factors beyond successfully completing this degree program. Depending on where you reside, many positions may also require state licensure, and it is the responsibility of the student to ensure that all licensure requirements are met. We encourage you to also review program-specific rrequirements. Any data provided on this page is for informational purposes only and does not guarantee that completion of any degree program will achieve the underlying occupation or commensurate salary.