Introducing a New Way To Celebrate Your Graduation
If you're getting close to graduating, you now have an exciting new option to celebrate your special day: the NU Grad Walk. This special commencement event offers a more intimate, memorable experience that shines a bigger spotlight on you, your family and guests, and the significance of this momentous achievement in your life.
A Bigger Spotlight on You and Your Guests
At NU Grad Walk, your family and friends will enjoy a special reserved viewing area where they can look on, cheer, and offer their enthusiastic support throughout your ceremony. As your name is announced, you'll walk across National University's commencement stage in full regalia, posing for photos, and accepting your diploma and congratulations from NU leaders.
After receiving your degree or certificate, you can commemorate your achievement in our Celebration Room by meeting with NU faculty and Alumni members and capturing more moments in pictures. Our mascot Navi and a variety of photo stations will be ready to help you and your guests snap photos and selfies to document and share the occasion.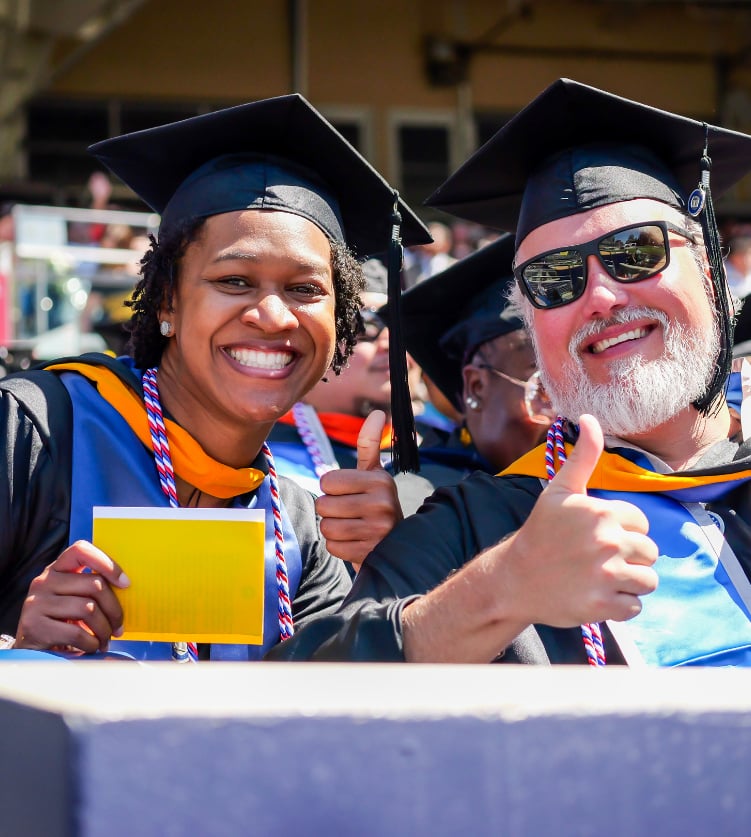 Our first NU Grad Walk event will take place January 27 & 28, 2024 in San Diego at:

Sharp Prebys Innovation and Education Center
8695 Spectrum Center Blvd., San Diego, CA 92123

Students that conferred their degree between April 2023 and October 2023 are eligible to participate. You will receive an email with information on how to register, order your ceremony regalia, and other details.
Register as soon as possible to reserve your preferred date and time.
You may bring up to six guests to help celebrate your achievement.
A cap and gown are required for participation. Your RSVP confirmation email for NU Grad Walk 2024 will contain a link to order your regalia. The deadline to order is December 20, 2023.
Complimentary parking is available. Look for on-site signs and staff members for guidance. Carpooling is strongly encouraged.
Your complete NU Grad Walk experience will run approximately one hour and will include check-in, your big on-stage commencement moment, and congratulations and photos in the Celebration Room. Light refreshments will be provided.
Questions? Email NU's Commencement Team anytime at

[email protected]

.
Step 1 – Arrival
Wear your regalia and plan to arrive with your guests. Carpooling is strongly recommended.
Please arrive at your confirmed appointment time.
Be sure you meet up with your entire party before you enter the welcome area. You'll then be directed to check-in. You and your guests will remain together throughout the entire NU Grad Walk experience.
Step 2 – Check In and Join Fellow Graduates in Line
When you arrive at check-in, you will receive your name card.
You and your guests will then be directed to the waiting area for the commencement stage.
Step 3 – Enjoy Your Big Moment
You will hand your name card to the on-stage guide and be cued to walk to the center of the stage as your name is announced.
You will receive an NU diploma folder as you cross the stage, then be congratulated by NU leaders.
Our professional photographer will capture your special moment. Your guests will be positioned in a reserved viewing area.
After you cross the stage, you'll proceed to the final professional photography station for one more photo of you holding your diploma folder.
Step 4 – Visit the Alumni Celebration Room
You and your group will continue your NU Grad Walk experience in the Celebration Room.
Take photos and selfies at NU's designated photo stations and share them on social media with #NUGrad2024!
Light refreshments will be provided.
Plan Your Visit – Nearby Hotel Information
Courtyard by Marriott
8651 Spectrum Center Blvd.
San Diego, CA 92123
(858) 573-0700
National University Graduation special rate is $159 per night.
Start Date: Friday, January 26, 2024
End Date: Sunday, January 28, 2024
Last Day to Book: January 5, 2024
Book your group rate for National University Graduation
TownePlace Suites by Marriott San Diego Central
8650 Tech Way, San Diego, CA 92123
858-737-9500