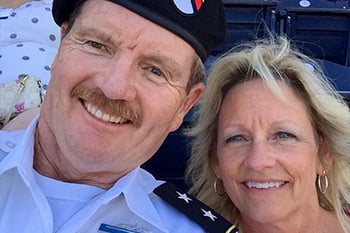 Occasionally, students at National University gain more than a degree. Sometimes, as an added bonus, they also find romance and love in the classroom. Robert and Cindy Hipwell, both graduates of the University's School of Business and Management, are one such lucky couple.
Robert earned his associate's degree, a Bachelor of Business Administration and a Master of Business Administration (Class of '85) at National University. He met Cindy while she was also pursuing her MBA at National University (Class of '89). One might say it was love at first sight: "I saw her in an elevator one night before class," said the retired Army Brigadier General and former Green Beret. "We ended up having coffee together, and before you know it, we were married."
This winter marks the couple's 26th wedding anniversary. Over the years, the couple raised nine children–including one adopted son–and now they jointly blend their passion for helping Veterans with the foundational business skills they acquired from their studies through National University. Also, just as the University offers special services to support the military and Veteran community, their Hipwell Real Estate Group includes a special focus in helping Veterans.
"I'm fortunate to be married to an amazing man who shares my values of serving others," said Cindy. "We make a great team both in life and in our passion to serve others."
As a reservist later in his career, Robert had tours of duty in Korea, Operation Desert Storm, Operation Iraqi Freedom and Operation Enduring Freedom in Afghanistan.
When the Iraq war began in 2003, Brig. Gen. Hipwell deployed to Baghdad where he became "the top cop" in the entire country. His mission was to train police there, maintain law and order amid the chaos of war and keep peace and order on the streets of Baghdad – a city of six million people. The most notorious fugitive in his custody during that time: Saddam Hussein.
Later, the Granite Bay, California resident was reassigned to Afghanistan, spending almost all of 2004 working with the minister of defense in Kabul. He retired from Army Reserves in 2010 when he reached his 60th birthday. Re-inventing himself as a civilian, Robert joined Cindy as a professional.
"My wife was already in real estate, and she suggested that I jump into business with her. So, that's what I did," he said. "We started working as a team."
The Hipwells both currently work for the Hipwell Real Estate Group through the Fusion Real Estate Network, serving the Sacramento area, with a special focus on helping Veterans buy a home.
Robert became a chapter president of the Veterans Association of Real Estate Professionals, and with Cindy, helps Veterans, "get into homes and live the American dream." They have also hosted events together to promote and support Veterans and build awareness among the public for Veteran programs. Additionally, the alumni couple helps Veterans to succeed as real estate agents, brokers and lenders.