In the past few decades, globalization and technology have affected businesses of all kinds. Outcomes of this shift have included automation of many tasks, more efficient ways of accounting and bookkeeping, a move toward electronic communication, and an increased remote employee base. Along with this workplace evolution, the human resources department has changed as well. Earning a master of human resources degree, one designed for the 21st century, will advance your skill set, increase your knowledge, and provide opportunities for career growth.
What is a Master of Human Resource Management?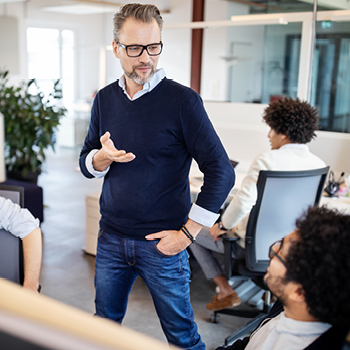 A graduate-level human resources degree program typically covers a range of HR-related topics, including recruiting and training employees, compensation and benefits, and performance management. You'll find these practical topics alongside bigger-picture classes that explore workplace ethics, leadership, and organizational development. National University, the largest, private nonprofit university in San Diego, offers an online Master of Arts in Human Resource Management that addresses all of this and more.
If you were to look over the required courses for National's online degree in human resource management, you might find classes covering:
Workforce planning and development.
Employee relations.
Workplace safety.
Ethics in the workplace.
Organizational development.
Organizational behavior.
Performance management.
HR technology.
A master of human resources prepares you to manage other people or an entire department, and it also readies you for more specialized, higher-level positions in an HR division.
Should I Get a Master's in Human Resources?
Moving into human resource management is an ideal next step for HR professionals who've had success in their current and previous roles. However, people working in other industries with administrative, interpersonal, supervisory, and communication skills may also find a transition to human resource management rewarding.
As we explore who this degree might be right for, let's look at some entry- and mid-level human resources positions, what they do, and the average pay. You can then compare these numbers to those in the following section.
Human Resources Specialists
While "specialist" is part of this official occupation title, people in this role are more often generalists, meaning they might perform a variety of duties, including recruiting, screening, interviewing, placing, and training employees. Also, they might handle compensation, benefits, and other employee relations.
A projected "Faster than average" career growth rate of 8% between 2021 and 2031, indicates that moving into HR management, proactively, is a good idea. As some of the tasks performed by specialists become outsourced or automated, additional education and specialization can help you remain in human resources, but in a different role.
The U.S. Department of Labor Bureau of Labor Statistics (BLS) says the national average median salary for human resource specialists in May of 2021 is $62,290 per year.
Compensation and Benefits Specialists
HR professionals specializing in compensation, benefits, and job analysis help shape a company's pay structure and policies. Their duties could include researching the marketplace to make sure their organization's pay rates align with industry standards. Benefits specialists manage benefits programs, such as health and life insurance. Part of this role is comparing plans and finding the one that best suits the company.
A projected "As fast as average" career growth rate of 7% between 2021 and 2031, is slightly higher than the average growth rate of 5% for all occupations.
The U.S. Department of Labor Bureau of Labor Statistics (BLS) says the national average median salary for compensation and benefits specialists in May of 2021 is $64,120 per year.
Master of Human Resources: Career Opportunities & Salary
If one of your motivations for advancing your education is to move up the pay scale, a master of human resources is a good choice. Moving from a human resources specialist role into management brings on increased responsibility — and increased pay:
The BLS reports the national average annual salary for human resource managers in May of 2021 is $126,230 per year; and that number in California is significantly more, at $154,430.
For compensation and benefits managers, the national average annual salary in May of 2021 is $127,530 per year; and in California, the occupation's median annual salary is $149,670.
Higher-level HR positions are also in more demand than the specialist roles. According to the BLS, growth for these positions between now and 2028 are:
Human resources managers: 7%, faster than average.
Training and development managers: 7%, faster than average.
Management analysts: 11%, much faster than average.
The BLS's classification of HR occupations (specialist, manager) is quite general, though. Today, you'll find an incredible range of HR specialties and human resource management positions. Many companies have roles that focus on these workplace areas:
Diversity and inclusion.
Information systems.
Employee engagement.
Safety and compliance.
Health and wellness.
The variety of places where you can put your master of human resource management to work is also incredibly broad. This breadth gives you a chance to work on the HR team of a brand you enjoy, in an industry you love, or even a nonprofit organization you admire. A degree like this can also open you to working at career resource centers on college campuses or for talent acquisition firms.
Today's workplace and workforce are evolving. Why not evolve your HR career to keep up? Explore the master of human resources at National University on our program page.