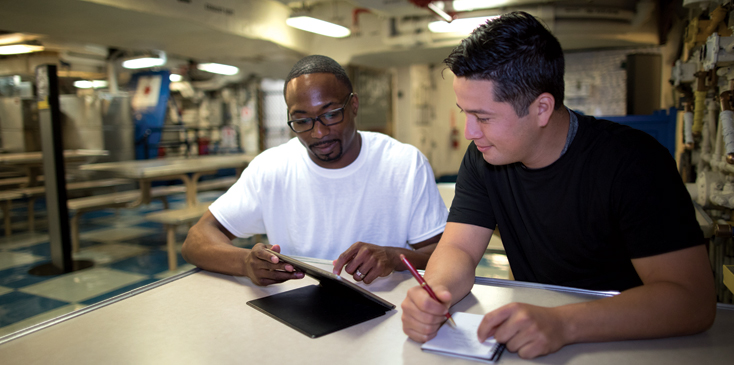 You've served your country. You still may be serving, in fact. And, now, you're ready to begin a new adventure. Whether you're returning to the classroom after many years, or you'll be attending college for the first time, you're no doubt excited about the personal and professional opportunities that come with earning a degree.
As you explore your educational options, there are plenty of factors to consider beyond if a school has a program that fits your interests. That's certainly important, but there's much more to think about. After all, Veterans and current servicemembers have different support needs, special funding opportunities, and unique work and training histories.
Finding the best military-friendly college for you may seem daunting, but asking the right questions and knowing how to find the right information will help you in your search and, ultimately, in making the best decision possible. Here are some important aspects to consider as you explore and compare schools and programs.
Career-Oriented Programs Geared Toward Veterans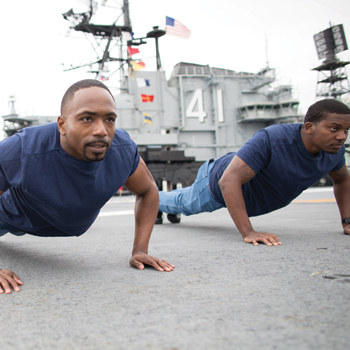 You might already have a specific career goal in mind, or maybe you need a little direction. Either way, once you find a general path, you should be on the lookout for programs that will lead to successful outcomes. For instance, consider a school's graduation or career placement rate. If applicable, check out their passing rate for industry certification exams. In short, how well prepared are graduates?
If you want to start a new career, then you should, of course, look for programs that match your occupational interests. However, you may also want to specifically pursue fields that are known to be in high demand. Exploring the U.S. Department of Labor's Bureau of Labor Statistics as well as looking at your local job market (or the market in areas to which you'd consider moving) will help you discover what industries and therefore, which companies are looking for talent. From there, you can see what the requirements are, how your previous education and experience may help, and what additional credentials will help you reach that end goal; maybe that's a certificate, or perhaps it's a graduate degree.
When it comes to setting students up for success, many military-friendly schools such as National University, focus heavily on programs designed to prepare students for high-demand careers. After all, you're investing valuable time and your hard-earned Veteran's benefits into an education; you want that to pay off. Think about some of the fastest growing fields today: healthcare, engineering, information technology (IT), finance, construction, and cybersecurity. Frequently these industries have more available positions than qualified employees. Consider colleges that are focused in these areas because this shows they're not just concerned about providing an education, but also deliberate in offering degrees that could lead their graduates to a job right away.
It's worth noting that some servicemembers or Veterans may be interested in earning a degree for personal growth or exploring interests that could lead to a future career. Maybe you've always wanted to write a novel or learn more about computers or the human body. You're likely to find a campus or online degree program that fits your passion, whether or not it's also tied to a specific career goal. Many people return to college later in life to tap into something they've always been interested in but never pursued, like creative writing, film, or design. Following a passion could lead to a fruitful second career, or it may simply fulfill a lifelong dream.
Finding Flexibility and Convenience in Courses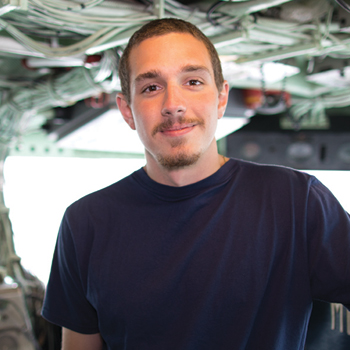 It's more than a school having the right degree programs: An ideal college for active-duty military members or busy Veterans will also offer a variety of course delivery options. Most schools offer day and evening classes, or a mix of both so that students can find a time that fits into their already packed lives.
Colleges and universities also vary in how they arrange their academic calendar; some may run on two semesters, while other offer trimesters. Some may opt for more unique term lengths, such as National University's innovative 4-week, year-round model. Breaking down courses into one-month periods allows for a focused and accelerated approach to learning. Some schools have a few application deadlines each year, while others, such as National, are offer a rolling admissions process.
Aside from when you take courses, there's also the notion of where. If you're interested in attending in-person classes, is there a campus near you? Consider your travel time to and from class, because that's part of your time commitment. Are there options to learn on base? Or from your laptop while overseas or in the field? National University, for example, has quite a big footprint, with undergraduate and graduate courses offered at locations across California and select military bases nationwide — as well as online.
When it comes to finding the most military-friendly college, you'll want to look for flexibility and convenience, which includes deadlines, start dates, class time, term length, and location.
Online Degrees for Active-Duty Military Members
Active duty servicemembers can't always attend class in person. When it comes to being stationed somewhere more remote, such as at sea or abroad, the idea of distance learning can be even more appealing. This option allows students to study from anywhere with a power source and a reliable internet connection, without disrupting their military duties.
But not all virtual classes are created equally. The best online college for active-duty military members will be one that offers comparable programs — and access to the same resources and support — to its on-site options. National University offers online degrees, designed with servicemembers in mind. Like its on-site programs, these courses are geared toward high-demand careers like IT, cybersecurity, health, and education.
Whether you're looking for a 100-percent online degree program or want a blend of in-class and virtual learning, be sure also to choose a school that has a reliable, user-friendly learning management system, the technology that will power your online courses. Also important is access to research, like academic journals: What library resources and databases are available to online students? When you attend a school like National University, one that's been educating military members via online platforms for more than 20 years, you can trust that you'll have a robust and interactive online experience.
Military Discounts and Other Financial Assistance
You've found a school you like with a program that fits your needs. There's one other important question to ask: will it accept the educational benefits the U.S. Department of Veterans Affairs has offered you? What about tuition discounts or special scholarships for current and past members of the armed forces?
Military-friendly colleges are known for their expertise in helping students navigate VA benefits, as well as for offering other financial programs geared toward educating those who served — or are serving — our country. You'll want to look for a school that offers specialized guidance in this area, as well as funding opportunities exclusive to Veterans and servicemembers like you.
National University, for instance, excels at assisting military students. In fact, more than a quarter of its students are either Veterans or active-duty servicemembers. Not only does the school's financial aid team know programs like the Reserve Educational Assistance Program and Montgomery GI Bill inside and out, but it also offers military discounts and scholarships.
Depending on when you served, and for how long, you may also wish to find a military-friendly school that accepts the Post 9/11 GI Bill, an educational assistance program established in 2009. By participating in the Yellow Ribbon Program, private universities like National allow eligible Veterans to take advantage of the Post 9/11 GI Bill, which includes tuition waivers and stipends for housing, books, or supplies. When combined with other benefits, like grants and scholarships, it's possible to have little to no out-of-pocket expenses.
In your search, don't just look at a tuition and fees page and move on. Instead, speak with someone knowledgeable about your situation. Ask questions and get the full picture. You may be surprised at how your VA benefits, coupled with the standard federal financial aid programs and school-based awards, can make your education more financially reachable than you think.
Military Family Discounts and Benefits
The best colleges for military members are also family-friendly. One of the most rewarding aspects of military education benefits is that they can also be shared with certain family members. In addition to helping you maximize your benefits, a military-friendly school may also offer tuition discounts to the spouse and dependents of a service member. So if you've got college-bound children or your husband or wife is looking for a career change, inquire about what schools can offer.
Transition and Academic Support for Servicemember Students
Transitioning from military to civilian or student life comes with its challenges. In your search for the best college for military members, you'll want to look for one that provides specialized support for your unique needs. Will you find staff members who understand the language and complexities of military life — and the VA educational benefits you may be eligible to receive? From admissions and financial aid to academics and career services, Veterans have different needs than traditional students.
National University's Veteran Student Success Center is one example of how a school can support members of the military as they acclimate to — or back to — academic life. This resource provides a range of support services in person and from afar, including mentoring, counseling, and even assigning each student a dedicated military transition coach. Veteran students at National also may participate in a quarterly "welcome aboard" orientation, preparing them for what to expect as they embark on a new educational journey.
As a returning student, it's essential to have a support network, from family and friends to members of your community. However, it's also crucial to have helpful and encouraging people on campus who are ready to address your needs as well. As you consider attending a program on location, on base, or online, be sure you'll have access to the expertise and resources you need, whether by phone, email, or face-to-face.
Culture & Campus Life for Servicemembers
Perhaps one of the most critical aspects of choosing a military-friendly college is feeling like you fit in. What is the campus culture like for adult learners and, more specifically, for those who've served? In what ways does the school engage its Veteran and active-duty students? Is there a special place where these like-minded students can gather?
National University's Veteran Center goes beyond academic and career support by offering a host of events, programs, and even a Veteran Center Lounge. The National University Student Veteran Organization hosts professional development and leadership opportunities. In addition, its Veteran Fellows Programs offers monthly events to mix and mingle with your peers.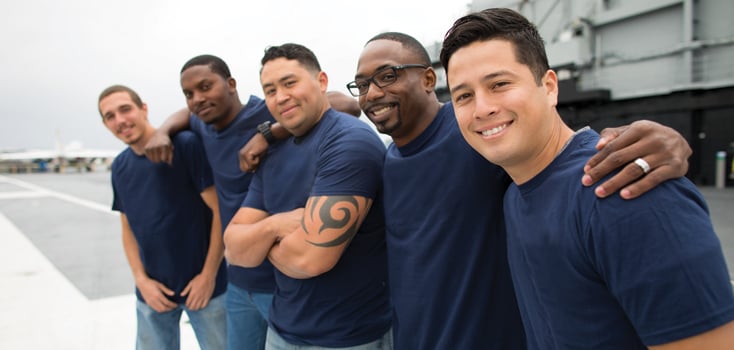 This notion of a welcoming culture extends to online colleges for military students, as well. Vibrant virtual communities can also become a place for bonding. Inquire about how interactive online classes might be. For example, are there live chats or discussion boards that will allow students, no matter where they are, to engage with one another and their instructors?
It's not just about your months or years taking classes. What about after graduation? Consider how a school continues to serve its alumni. For example, are career services still available years later? How can interested alumni give back to future students through mentoring?
When looking into military-friendly schools and programs, don't overlook the campus culture component, and don't underestimate the power of community.
Career Services Assistance for Active-Duty Servicemembers and Veterans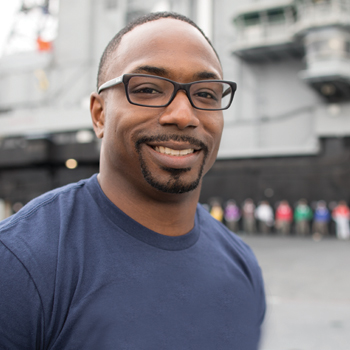 Heading into the workforce after graduating college can in itself be an intimidating experience. Starting a new career after serving in the U.S. Armed Services is perhaps an even more unique transition, as you may be re-entering civilian life and starting a new position all at the same time.
The best colleges for servicemembers know this and will offer specialized career services. Perhaps this could mean hosting recruiting events with companies enthusiastic about hiring Veterans. Or maybe it includes personalized career development sessions to help you find your strengths and ideal direction. At the very least, your ideal school should offer job postings, resume and interview assistance, and career data and resources.
One example is National University's Veteran Center which offers a number of career-related resources and services. These services include mentoring opportunities, interview workshops, networking events, webinars, and even connections to work-study opportunities to help you find a part-time job built around your class schedule. Many of these resources are web-based, allowing online students to access them from wherever they may be taking their courses.
Remember: you're likely looking for a military-friendly school because you see a career change in your future. Be sure to consider how a college or university can help you transition not only from the military to the classroom, but also from the classroom to the workforce.
Military-Friendly Designations and Credentials
A web search for "best colleges for military" or "military-friendly colleges" will likely reveal pages upon pages of results, many pointing to lists and rankings and directories. As you explore those sites, be sure you consider the criteria used to build those lists. A good suggestion would be to look for recommendations or official designations vetted by service- or Veteran-affiliated agencies and organizations.
History and Tradition at Military-Friendly Colleges
While many colleges and universities are military-friendly schools, it's worth noting that some take that dedication a step further—it's deeply ingrained in their culture. For example, National University was founded in 1971 by a U.S. Navy Veteran with the very idea that it would play a role in educating servicemembers, past and present. This was the focus from the beginning, not a response to a growing trend. In fact, Veterans and active-duty servicemembers make up about 25 percent of National's student population. Dig deeper and explore a school's history, mission, and values and see how seamlessly the armed services fit in.
Checklist
As you can see, there's a lot to consider when you are choosing a military-friendly college. It's a good idea to keep this checklist in mind:
Does the college have career-oriented programs?
Does the college have programs to explore your areas of interest or growth goals?
Does the institution have good graduation/career placement rates?
Do they offer flexibility in admission and class schedules?
What academic calendar do they use?
Do they offer extensive online courses?
If you are an online student, will you have access to online research, databases and other academic materials?
Do they offer on-base classes?
Will they accept your VA benefits?
Are there any other special discounts/scholarships for active duty servicemembers or vets?
Is it a Yellow Ribbon school?
Is their financial aid office knowledgeable about Veteran benefits and other financial aid programs you could be eligible for?
Do they offer discounts or assistance to military spouses or dependents?
Do they offer student support services for military members and vets?
Do they offer career services to help military members transition to the workforce?
Is the campus culture military-friendly and welcoming of adults learners?
As you search for a military-friendly school, keep these questions in mind. Look for colleges that offer career-focused programs delivered in formats—and at locations—that make sense to your current, perhaps unpredictable, lifestyle. Seek out institutions that provide support and resources specifically designed for military students and Veterans. Narrow down your options to places that will accept and maximize your VA benefits and, if applicable, will consider giving you credit for your previous military training to help you earn your degree quicker.
Above all, find a school and program that feels right for you, one that will serve you well.
Learn more about National University and its long-standing tradition of helping servicemembers and Veterans pursue higher education.