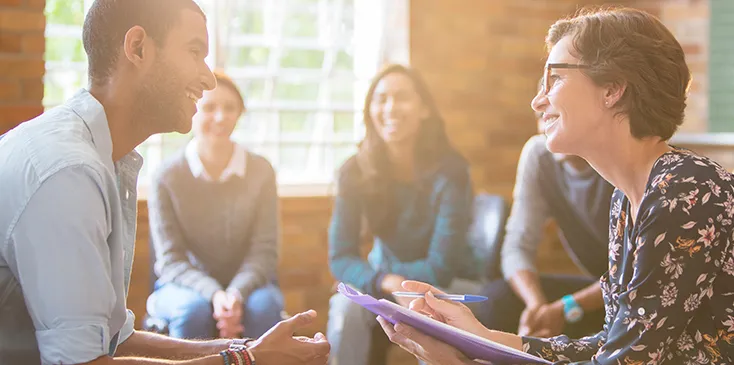 More than 43.8 million adults experience some type of mental health issue each year; that's according to the United States Center for Disease Control. A growing number of people of all ages are seeking care from mental health professionals for conditions ranging from anxiety and depression to stress and substance abuse.
A master's degree in counseling psychology is the foundation for a rewarding career in the mental health field. This graduate-level course of study provides the knowledge, clinical skills, and credentials needed to sit for state certification in California.
In this article, we'll explore why this field is in such demand, how to determine if it's a good career choice for you, where you can work after earning this graduate degree, and what to look for in counseling psychology programs in California.
Mental Health in California and Around the Country
Before we get into details on counseling psychology career opportunities and outlook, it's important to first understand why there's such a need for qualified professionals across the nation.
In November 2017, The Orange County Register (OCR) reported that one in five adults experience a mental health issue at least once per year and that one in 25 people live with a serious mental illness. The article also revealed that 50 percent of chronic mental illnesses begin by age 14.
There are many types of mental illness; some can be temporary and others can be chronic. The November OCR article cited a U.S. Center for Disease Control study that identified, in addition to substance abuse, the top five mental health conditions in the country:
Anxiety
Depression
Eating disorders
Autism spectrum disorders
Alzheimer's
What's more, of the nearly 44 million adults who experience mental health issues, 10.2 million of them have co-occurring mental illness and substance abuse problems.
In line with the national statistics, The Sacramento Bee reported in July 2018 that one in six adults in the state of California has a mental health condition and that one in 20 suffers from a serious mental illness that negatively impacts "their ability to carry out major life activities."
Like other medical specialties, mental health care follows a set of industry best practices, but each state has its own regulatory agency. This means that educational requirements and other qualifications vary from state to state, often taking state laws and other local factors into consideration.
Counseling Psychology Programs in California: Is it a Good Career Fit for You?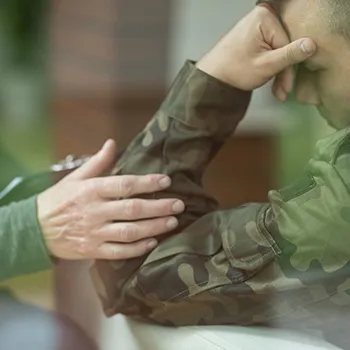 A desire to help people is, no doubt, one of the top reasons people choose to enter any kind of social and human services field. Often, many choose to further their education in psychology so they can make an even bigger difference in people's lives.
Brian Tilley, Ph.D., is director of the counseling psychology program at National University, which offers classes at several of its California campuses. He explains that most of his students are returning to the classroom after at least a few years of working, either in a different or related field.
"Some could be 28, and we have some who are 65," he says. "But I hear so many times [from students] that they all have almost always been interested in helping other people and have always been good at understanding others."
According to Dr. Tilley, many who are drawn to this graduate degree in counseling majored in psychology as undergraduates but went on to other careers.
"It can be tough to get work with only a BA (in psychology) and no license," he says, adding that many of the students he's met had careers in business or real estate before they realized they weren't professionally fulfilled. Others got a little closer, working in what he refers to as "psychology adjacent" positions, like a case manager at a human services agency.
"But they never got in that room to do the therapy themselves," he says. "They find it's a calling, so they wind up coming back (to school)." That master's degree is the missing link they need to do the work they have always wanted to do.
Counseling Psychology Degrees: Areas of Focus
A master's degree in counseling prepares students to provide professional psychotherapy services to a range of clients for a variety of concerns. Some counseling psychology programs in California prepare students for specialization, such as National University's two tracks: Specialization in Marriage and Family Therapy (MFT) and Specialization in Licensed Professional Clinical Counseling (LPCC). Each of these practices requires a distinct license from the Board of Behavioral Sciences in California.
The MFT program is designed for future counselors who wish to provide psychotherapy to individuals, couples, families, children, and adolescents. This includes learning how to assess, diagnose, and treat psychological stress or impairment, mental disorders, or problems that arise in living in diverse couples and families, and how to work in various mental health settings. Only licensed MFTs may provide counseling to families and couples.
The LPCC specialization focuses on individual and group psychotherapy as well as vocational counseling. Many LPCCs find themselves working within school systems or at career centers, helping clients with academic plans and employment issues.
No matter where in California you study counseling psychology, you need to make certain that the program will provide you with both the theory and hands-on clinical experience you need to practice in the state.
"We teach exactly to meet the board standards," says Dr. Tilley about National's offerings. "But we also take [our program] beyond what they ask."
For example, he describes that during a curriculum redesign, he and his colleagues traveled to the state capital to meet with mental health consumers to get a client perspective. Taking this research into consideration, he says, means National University's psychology master's program doesn't just "adhere to the letter of the law, but also the spirit of the law."
What Exactly is State Licensure for California Counselors?
Mental health professionals are required to be licensed by the state in which they practice. For the Golden State, the Board of Behavioral Sciences (BBS) is the regulatory agency responsible for licensing, examination, and enforcement of professional standards for licensed marriage and family therapists and interns; licensed clinical social worker associates; licensed professional clinical counselors and interns; and licensed educational psychologists.
To be eligible to sit for the LMFT or LPCC exams in California, you need to have completed the proper educational requirements as well as a set number of supervised clinical hours; as of September 2018, a minimum of 3,000 hours is needed.
The BBC website outlines the requirements in full and offers a host of other resources for those interested in or already practicing in the field.
Master of Arts in Counseling Psychology: Jobs Are Plentiful in California
The United States Department of Labor reports that many areas of counseling are projected to grow much faster than the average occupation. There are many reasons for this, Dr. Tilley explains. For example, receiving mental health services has lost some of its stigma; national trends show that more people are willing to reach out for help.
"The job outlook has been on the rise for a while," he explains. "And the social acceptance is finally catching up to it."
Dr. Tilley also cites that, while unfortunate, counseling for substance abuse is a focus area that has seen significant growth in recent years. Returning Veterans are also more likely than ever to seek help for mental health issues as they transition back to civilian life. Finally, Dr. Tilley adds that in years past, some people may have only turned to clergy for personal or relationship support; but, today, it's not uncommon for churches to provide referrals to mental health counselors for professional care.
This growth is a national trend, but mental health providers are particularly in demand in California. In July 2018, The Sacramento Bee reported that the state will see a severe shortage of these licensed professionals by 2028. This gap in available care, the paper reports, is not just due to more people requiring services, but also because of an aging workforce mixed with a growing population. Communities outside major metropolitan areas will suffer the largest shortages, according to the Bee.
Further, California's need for more licensed mental health professionals is magnified by the state's growing homeless population; the United States Department of Housing and Urban Development reported in 2017 that, of the nation's chronic homeless population (those classified as living without a home for more than a year and who also suffer from mental illness), a staggering 39 percent are located in California.
There is, no doubt, a rising need for qualified professionals throughout the state; counseling psychology programs in California, such as National University's, are equipping the next generation of mental health providers.
Counseling Careers: A Variety of Options
For those with a master of arts in counseling psychology, jobs come in many shapes and in many settings. Places of employment, areas of focus, and specific job titles vary, but the U.S. Department of Labor's Bureau of Labor Statistics (BLS) generally refers to three main categories of counselors. Here's a look at the career overview and outlook for these areas:
Substance Abuse, Behavioral Disorder, and Mental Health Counselors These professionals work with clients who suffer from alcoholism, drug addiction, eating disorders, or other mental health and behavioral problems. These counselors find work in a variety of settings including mental health centers, residential treatment facilities, prisons, probation or parole agencies, employee assistance programs, or private practice.Other career stats for mental health counselors:

$43,300 – 2017 national median annual wage
23% – projected growth rate through 2026 (much faster than average)
School and Career Counselors School counselors, sometimes called guidance counselors or advisors, help students in elementary school through college develop the academic and social skills they need to succeed as students. These professionals may also help high school and college students prepare for further education or the workforce.Career counselors work with college students and adults on vocation and employment issues, such as helping someone find a job, prepare for an interview, or even explore retraining programs after a layoff.Other career stats for school and career counselors:

$55,140 – 2017 national median annual wage
$68,000 – 2017 annual mean wage in California
13% – projected growth rate through 2026 (faster than average)
Marriage and Family Therapist Marriage and family therapists help individuals, couples, and families manage and overcome problems with family and other relationship or life issues. These could include divorce, financial issues, long-distance relationships, blended families, adoption, caregiving for aging relatives, and more.MFTs work in a range of settings from hospitals and mental health centers to treatment facilities and government agencies.Other career stats for marriage and family therapists:

$48,790 – 2017 national median annual wage
$52,090 – 2017 annual mean wage in California
23% – projected growth rate through 2026 (much faster than average)
Dr. Tilley sees most National University graduates finding work in community mental health or schools; however, some also pursue private practice, usually after they gain experience and build up a clientele.
Community and Culture: Counseling Needs Are Diverse
According to Dr. Tilley, one aspect of the National University psychology master's program that stands out is that it offers regional expertise. The program is available in multiple campuses across the state, so you can earn a masters of psychology in Los Angeles or in San Diego or Fresno. While the curriculum and the quality of instruction don't change from campus to campus, localized expertise does have its benefits.
"Our faculty are community experts in the areas in which they work," he says. "That's unique."
Faculty members at each location offer first-hand perspective of the issues most pressing in their communities. For example, Dr. Tilley explains that San Diego has a large Veteran presence, so counselors in that area may see more post-traumatic stress disorder (PTSD) cases. Counselors from other cities may have more experience with serving a homeless population.
Furthermore, as populations around the state and country become more diverse, a multicultural focus is crucial to providing quality, welcoming care. Dr. Tilley says that while cross-cultural communication has been part of the counseling psychology curriculum for decades, it is more important today than ever before. In fact, he finds that aspects of this are now woven into many courses. For example, he points out how family structure can look very different from one culture to the next.
"We can't assume that there's one template for how family works," Dr. Tilley says, describing National's effort to ensure students have an understanding of both how to work with diverse populations, and the competence to do so.
More diverse clientele also means counselors who are bilingual or trilingual may be in extra high demand, says Dr. Tilley. This, he says, gives future counselors a chance to use their cultural identity as an asset.
Counseling Psychology in California: Next Steps and Other Opportunities for Current Mental Health Professionals
In today's mobile society, it's not uncommon for someone to relocate to a new part of the country, whether for a spouse's new job, health or climate reasons, or just a change in scenery. However, in regulated fields like counseling, career transitions aren't always seamless. If you're already a licensed mental health practitioner in another state but wish to work in California, you'll need to apply for state licensure.
To meet the requirements to take the certification exam in any new state, you may need to take additional coursework. Dr. Tilley says sometimes people new to California and seeking licensure will take the courses they need as continuing education students. For example, he explains that a required law and ethics course would be something considered state-specific to California.
It's also worth pointing out that a master's degree is not always the final goal for some counseling professionals. While Dr. Tilley says that most graduates of the National University Psychology masters program go directly into practice, some do use the degree as a stepping stone to a doctoral program, such as a Psy.D (Doctor of Psychology).
Navigating Counseling Psychology Programs in California: Finding the Best Fit for You
There are many things to keep in mind as you search for the right counseling psychology program; first and foremost, you should verify that it gives you the qualifications you need to become licensed in the state where you want to work.
Another major factor is convenience. As Dr. Tilley notes, most of his students are adult learners, many of whom already have demanding schedules before adding school to the mix. Class meeting times and location will likely play a role in your own selection process. How far of a commute is it to and from class? Can you attend school after work or when the kids are home from school?
National University, with its large footprint in the state, offers some of the convenience graduate counseling students are looking for. Evening classes are offered at campuses throughout California, including:
Carlsbad
Costa Mesa
Fresno
Kearny Mesa
Los Angeles
Bakersfield
Rancho Cordova
Redding
Riverside
Stockton
Another aspect to consider is interaction with classmates and faculty members. For a career based on people, engaging with other professionals over the course of your program can make a big difference to your learning outcomes.
Dr. Tilley explains that National University's counseling psychology program attracts returning students with varying life experiences; this, coupled with small class sizes, makes for dynamic discussions where peers can learn from one another.
Quality of faculty is a key component of a good counseling psychology program, but having close contact with those instructors is equally important. In some graduate programs, such as National's, you'll have the opportunity for one-on-one guidance from a faculty advisor.
"That high level of contact… you don't get that in all programs," says Dr. Tilley, adding that faculty enthusiasm for the work also makes a difference.
"[Our faculty] are all driven and passionate about introducing students to the world of mental health, and to help them pursue their dreams."
If you are interested in pursuing a career in counseling psychology and want to learn more about National University's Master of Arts in Counseling Psychology, please visit our program page.