If you are looking to make an investment in your future, an MBA will help you develop your professional skills and can increase your earning potential. An MBA also opens up new opportunities to work alongside like-minded, ambitious, and highly motivated individuals. It's not just the degree qualification that can expand your horizons, the people you meet while studying for an MBA may also enrich your professional and personal life.
It's often said that a graduate emerges from an MBA program as a different person. An MBA changes the way that graduates view the world around them and, equally importantly, how the world sees them.
Achieving MBA success can open your eyes to a world of options. If your career is stagnating, an MBA can give you the momentum you need to take it to the next level. For the more entrepreneurial-minded, an MBA can help you understand the business processes required to build a successful organization beyond your existing skill set.
However, the route to MBA success is not an easy one. That's one of the reasons that an master of business administration (MBA)  is still a coveted achievement. Dedication, determination, and sheer hard work set an MBA graduate apart in the workplace.
In the not-so-distant past, access to MBA programs was limited to those who could afford to invest the time and had considerable financial resources to enroll in a program. As MBAs were initially only offered by a small number of elite business schools, MBA success came at a cost that priced many potential students out of the market.
We can thank the disruptive nature of internet-based technologies and forward-thinking educational institutions for democratizing MBA programs, taking the education online, and making MBAs available to a wider group of students, regardless of their location, financial situation, and other personal commitments. National University believes that anyone who is capable and willing to dedicate themselves to the hard work involved in completing an MBA program should have the opportunity to succeed in one.
Which is the Best Online MBA for You?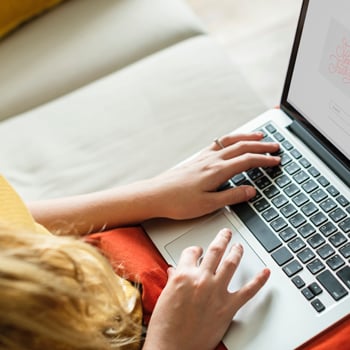 With so many schools now offering online MBA programs, selecting which one is the best program to meet your specific needs can be challenging.
A simple Google search for the phrase "online MBA" returns more than 263 million results, with countless business schools proclaiming to offer the "Best Online MBA."
In an incredibly competitive market, many business schools aggressively advertise their MBA programs with compelling calls-to-action, including flexible enrollment opportunities, short programs, low-cost tuition, financial support, and any number of other incentives designed to attract students. Among these listings, the prospective MBA student will see the names of many schools they recognize, and quite a few they don't. The global appeal of the MBA program combined with the worldwide nature of the internet means that schools offering online MBAs can be based anywhere. Inevitably, not all of these "schools" will deliver the experience many students want or need. Unfortunately, some of these programs will not deliver a quality education. As you are considering your options, there is one very important thing to remember: You should treat enrolling in an online MBA program as you would any other business investment: Before committing to a program, it is vitally important that you do your due diligence first.
In many respects, finding the best online MBA to suit your needs is a question of finding the right fit. Commit to the wrong program, and you will quickly learn that while the road to MBA success may be paved with good intentions, it doesn't always lead to great results.
To help potential students navigate the opportunities and potential pitfalls, we've compiled the following six-point checklist of questions to ask yourself before you commit to investing in an online MBA program:
Finding the Right Fit: The Best Online MBA Program Checklist
Is the Online MBA Program Offering an "Easy" Option?
This should be an immediate warning sign. An "easy MBA" probably isn't worth the paper it is printed on.
National University does not believe an online MBA should be an easy option. In fact, the only thing that should be easy about an online MBA is the ease of access and the flexibility students have to participate in the program. The quality of an online MBA program should always be equal to or surpass programs offered by an on-campus experience.
The fact that an MBA is a challenging and comprehensive educational experience increases its value to employers, and it's that value that brings the potential for higher salaries and better career opportunities. While many MBA students share a number of common attributes, no two MBA students are the same. Therefore, it would be foolish to commit to a "cookie cutter" MBA program designed solely around ease of delivery.
National University recognizes the diverse aspirations of MBA students and offers a number of MBA specializations, including international business, supply chain management, marketing, human resource management, managerial accounting, organizational leadership, and financial management. Because of the diversity in the program, National University online MBA graduates are prepared to achieve success in many different fields, including healthcare, finance, government, the nonprofit sector, education, accounting, retail, and manufacturing.
Dr. Farhang Mossavar-Rahmani, Director of National University's MBA program, believes these specializations make the program more relevant to his students' needs.
"We really believe in the quality of our program. We carefully study the market, look at the needs of graduates and adjust the program based on what is happening, making it relevant and up to date," says Dr. Mossavar-Rahmani. "We do this every year and this really differentiates National University's Online MBA program from other programs out there."
National University has received specialized accreditation for its MBA programs through the International Assembly for Collegiate Business Education (IACBE). It's important to remember, in the highly competitive world of online education, not all providers are fully accredited. It's also important to remember that an expensive "degree" from an unaccredited school may ultimately be worthless.
Is the Online MBA Program Delivered by Experts in Online Education?
National University's academic team and support staff are passionate about delivering the best quality education available anywhere — online and offline.
The successful delivery of an online MBA program requires a specific skill set built around the online educational environment. Simply transferring a traditional on-campus MBA experience to the online setting will not create the supportive and challenging educational environment MBA students require to succeed. You need to make sure that the faculty of whatever program you consider is fully versed in the nuances of online delivery and student support. This is where students benefit from attending a program in a university with a proven record of online education, rather than a program just offered as a "value-added" service to be sold to anyone who cannot attend on-campus classes.
National University's entire faculty is dedicated to delivering a fully immersive and challenging online learning experience where students are valued, supported, and challenged throughout the program.
"Every MBA student is assigned to a mentor who is a full-time faculty member," says Dr. Mossavar-Rahmani. "The mentor's job is to make sure that the student is able to work their way through the process. If they have any problems with the MBA course material or anything else, the mentor will work with them to help them find a solution."
Does the Online MBA Program Balance the Use of Smart Technology with One-to-One Support?
National University has been delivering online education programs for more than 20 years. As innovators in the field of online education, National University has pioneered many of the technologies and teaching practices required to deliver online qualifications successfully.
All of National University's faculty members understand the opportunities and challenges the online environment offers its students and, are experienced in meeting the educational needs of adult learners. And they know that online should not mean impersonal.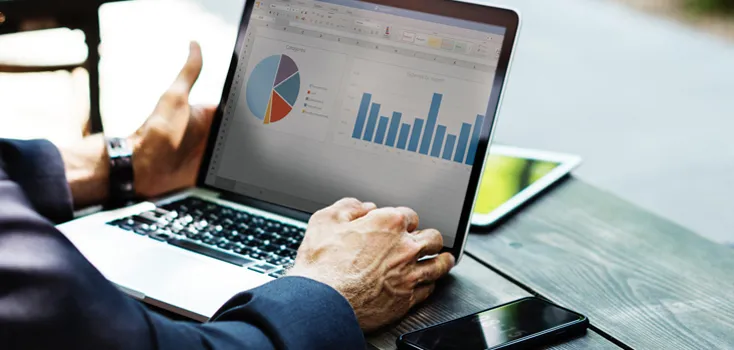 "The course is designed in such a way that the students have access to all of the information they need," says Mossavar-Rahmani. "But if extra help is needed, the faculty is there to offer the support."
"We usually run small classes with a maximum of between 20 and 25 students. The students really have the chance to communicate with the faculty. If they have any problems, thanks to the small class size, we are able to talk with the student on a one-to-one basis and really work through those issues."
Added to this, National University's academic staff is matched in numbers by a highly skilled technical support team that provides assistance to both faculty members and students to ensure the school's learning platforms deliver the optimum learning experience.
Does the Online MBA Program Bring People Together in a Collaborative Environment?
A big plus of being in an on-campus MBA program is the potential for learning not just from your professors, but from your classmates. That plus should also be available to you in a good online program. National University students enjoy a collaborative environment where they can work together, be challenged as a group, and better shape their online MBA experience. The bonds of friendship formed while studying for an MBA can last a lifetime and can translate into valuable professional connections that can shape your future professional and personal life.
Access to these valuable networks shouldn't be restricted just because a person is studying in an online environment. National University online MBA students are encouraged, whenever possible, to connect, collaborate and work together on various projects, as well as meet-up socially and build those real-world networks.
Dr. Mossavar-Rahmani explains that technology really helps bring the students together. "In many ways, the online program makes collaboration between students easier," says Mossavar-Rahmani. "Throughout the program, they all comment on each other's' work and use the learning platform to connect with each other and communicate in real time and via video conferencing and online chat."
The accessibility of National University's Online MBA program enriches the collaborative process by enabling a diverse group of students working together on projects. This creates an opportunity for students from the worlds of business, academia, the military, and many other groups, to build connections with people who would normally be outside of their own circles.
National University students also have the option of attending classes on campus enabling them to further cement collaborative relationships formed online.
Does the Online MBA Offer Flexible Learning Solutions?
The flexibility afforded to students studying for an online MBA in terms of time and scheduling is often a key draw to the program.
For some students, degree completion within a short timeframe is important. For other students, the ability to spread out their studies around family or work commitments is a key component. Regardless of the timeframe in which you want to complete your online MBA, National University's unique format can help you reach your MBA goal.
National University offers year-round enrollment. This means that students don't have to wait for the start of an academic year to begin work on their online MBA program. Like all other online programs offered at National University, individual courses on the online MBA program are taught over a rolling four-week period. This enables the student to fit their study around other commitments, such as work and family. It also allows highly-motivated students to complete their online MBAs in the quickest possible time, uninterrupted by the usual breaks in the academic year in a traditional, on-campus experience.
An online MBA from the National University comprises a total of 12 courses. These include seven core courses, four elective or specialization courses, and one capstone course. Students who already have an undergraduate degree in business can complete the program in one year.
While the online MBA program offered by the National University provides the opportunity to graduate in a shorter period of time than would typically be possible in a traditional on-campus MBA program, this does not diminish the commitment students have to make to the program. In some ways, the very nature of online education demands that students be more disciplined than those in "traditional" on-campus experiences. It takes real commitment to maintain a study schedule and fulfill all class obligations. The four-week courses are intense and require discipline and a student's full attention to complete successfully.
The opportunity of achieving your MBA over a shorter period of time is particularly attractive to students hoping for more rapid career progression, as well as for those whose employers are paying their tuition and hoping for a quicker return-on-investment.
"If a student is really able to apply themselves to the program and dedicate enough time to their study, they can reasonably expect to finish the program within around 12 to 14 months," says Dr. Mossavar-Rahmani.
For students who are not faced with the pressure of completing their degree within a shorter period of time, the flexible nature of National University's online MBA program enables students to balance their study around other commitments they might have. For example, a parent might need to schedule periods of study around their child's school year, taking time off for vacations or holidays. Similarly, someone in full-time employment may need to stagger their periods of study around peak periods at work — enabling them to maintain some work/life balance while also working towards their educational goals.
Is The Online MBA Affordable?
An MBA is an investment and like many other investments in life comes at a significant cost. However, the potential for acquiring valuable skills, advancing in a career and securing higher pay makes enrollment in an online MBA program a good option for many adult learners.
According to the salary research firm PayScale.com, MBA graduates in California typically earn in excess of $33,000 per year more than their peers with only a bachelor's degree.
Taking a leap of faith on the promise of enhanced earnings in your future career is not always the easiest thing to do, particularly if you are planning to fund your MBA yourself. National University understands that having financial worries while studying is not conducive to achieving the best possible education and we advise any potential student who has concerns to contact our team of financial aid advisors. They will help you understand the full cost of studying for an online MBA, advise you on budgeting during periods of study, and explain the availability of any grants, scholarships, and loans that you may be able to access to pay for your education.
With this said, Dr. Mossavar-Rahmani is keen to highlight that National University is committed to finding a good balance between a quality MBA education and an affordable program.
There may also be other routes potential students should explore for funding their MBA studies. Some employers provide tuition benefits in return for a commitment of continued employment where the organization benefits from their employee's enhanced skills as a result of their MBA studies.. Having an employer fully invested in your MBA program might also ensure a degree of greater flexibility to allow you to dedicate appropriate time and efforts to their studies.
National University is also uniquely placed to help military veterans find available funding to help them achieve their educational goals.
National University's Veteran Center should be the first stop for veterans seeking advice on financial aid and other issues relating to their transition from military service into civilian life. This can include assistance with the paperwork to help release funds from programs like the GI Bill which can help pay for tuition and other expenses.
When your financial concerns are carefully considered and planned for, study becomes easier to prioritize and success becomes a more attainable goal.
Invest in Your Future
Finding the best online MBA program for your individual needs can appear to be almost as difficult as achieving the MBA itself. But once you have worked out your priorities and found a balance that suits your work, family and educational goals, selecting the best online MBA becomes a little clearer.
Finding a good balance in quality of education, accreditation, ease of access, program flexibility, and cost should be your goals when you are evaluating any online MBA program.
To learn more about investing in your future with an online Master of Business Administration (MBA), visit National University's program page.