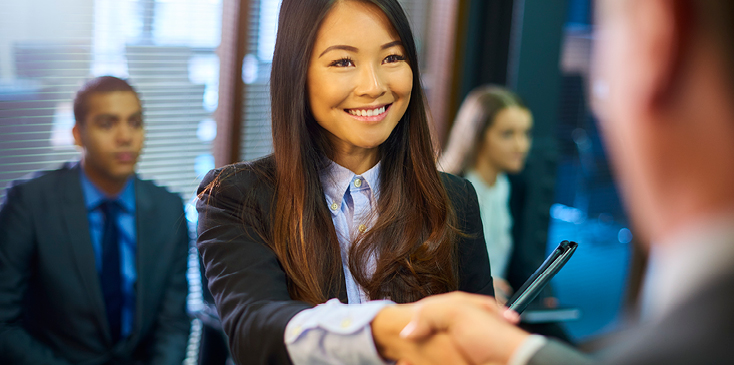 Whether you're already an HR professional or work in another people-oriented career, earning a master of human resource management degree could help you advance into higher-level positions within companies of all sizes. 
Moving Up: Human Resource Management Career Opportunities
The field of human resources is broad. Positions and skills you might find in this space include recruiting, training, handling payroll, managing benefits, and supervising other HR professionals. With this variety also comes a range of growth opportunities.
For example, a payroll coordinator may want to move into a compensation and benefits manager position. An employee trainer might want to accept a new challenge as the director of staff development. A human resources manager at a national firm's branch office might think it's time to move to corporate headquarters. These are just a few of the many possible scenarios for advancing in human resource management.
A master's in human resources isn't just for HR professionals. This degree may also be a fit for someone seeking a new management challenge that still uses use their existing strengths and talents. For example, a health educator or RN might be a fit for leading a new employee wellness initiative. A data analyst could move from the technology team to manage human resources information systems. A paralegal may want to make the jump from a support role at a law firm into an HR compliance position.
While some HR management positions require a minimum of a bachelor's degree and a few years of experience, in today's competitive marketplace a master's in human resources will often set you apart from other candidates. At many companies and organizations, in fact, it's becoming more and more common to seek an advanced degree holder for director-level positions.
An Evolving Field: New(er) Specialties in Human Resource Management
Many companies, especially those of a larger size or reach, have expanded their human resources capabilities and offerings. With these new areas also comes new leadership positions. In a previous National University blog post, we shared a few examples of HR roles that focus on:
Compliance.
Diversity and inclusion.
Human resources information systems.
Operations.
Remote employees.
Retention.
Risk management.
Strategy.
Wellness.
Workforce intelligence.
The Society of Human Resources Management (SHRM) has reported on these new and evolving roles in its magazine and on its blog for some time. The post "New HR Roles Created for the Future Workplace" describes a new position at Kraft Heinz: director of people analytics. This role uses data to predict retention and suggest employees eligible for merit raises or other recognition.
In a similar article about new HR roles, Forbes wrote about SunTrust's vice president of employee wellbeing and benefits. But the wellbeing might be different from what you'd expect: it's not just about physical and mental health, but also about financial health. As a financial services company, SunTrust realized it could use its knowledge to help employees who might be experiencing money-related stress. This new VP oversees an educational program offering training on topics like improving a credit score or how to apply for a mortgage.
As a third example of these new specialty areas, strategic human resources management is playing a larger role. What this means is that HR professionals no longer operate in a silo, but instead, they contribute to a company's overall goals and objectives. Taking a strategic human resources approach involves anticipating and preparing for challenges or creating programs that solve organizational problems.
What do all of these changes and additions to the HR field mean for education? Well, since the field of HR has been evolving, so have master of human resource management programs. If it's been many years since you earned your bachelor's degree, returning to school to earn a graduate degree now could be an effective way to gain knowledge of current human resources theory, practices, and technology. This brushing up of skills extends beyond the books, too. Since you'll be in class with other professionals with varied professional backgrounds, you're likely to learn a lot from your instructor and classmates' real-world experiences.
Exploring Human Resource Management Degree Programs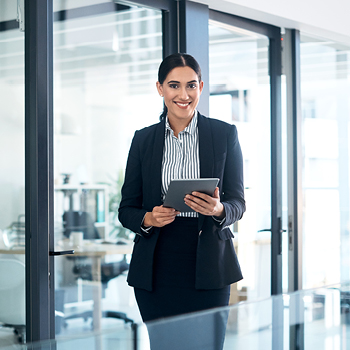 If you're like many people seeking a graduate degree, it's probably safe to say convenience and flexibility are important to you. That's why earning an online human resources degree has become so appealing: You can learn on your time.
National University, a nonprofit, veteran-founded institution based in San Diego, offers more than a hundred on-campus and online degree programs, including several focused on leadership, organizational development, and human resource management.
Among them is our Master of Arts in Human Resource Management, which was designed with working professionals in mind. For example, taking one online course at a time allows you to remain focused on a single topic and to manage your school-work-life balance better. Each class lasts for four weeks, and some you might find on your schedule include:
Legal, Ethical, and Safety Issues.
Workforce Planning and Development.
Compensation and Benefits.
Organizational Development.
Advanced Organizational Behavior.
Performance Management.
Employee Relations.
As we've discussed in this post, HR professionals can have various specialties. In National's master of human resource management degree program, you'll also be able to choose electives from across National's business and leadership offerings that fit your interest, including:
Finance for Non-financial Managers.
The Organizational Consulting Process.
Leadership in the 21st Century.
Developing Groups and Teams.
Conflict and Power Dynamics.
Your online degree program will round out with a capstone project, which allows you to put together everything you've learned into something tangible for your portfolio.
What Else to Look for in an Online Human Resources Degree
HR is getting more high-tech. Many processes that were once manual are now automated. Many tasks completed with pen and paper are now done online. While newspaper classifieds still exist, many people are doing their job searches online. And, online review platforms like Glassdoor, are keeping companies on their toes when it comes to employee satisfaction.
When researching a master of human resource management online degree, be sure to look over course descriptions. Ask questions about the practical aspects of the program, such as which tools and resources you'll be encouraged to use or research. In other words: Make sure the school has kept up with the industry.
For example, National's Compensation and Benefits course probably looks a lot different than what the HR student of 20 years ago saw. This class explores how technology affects and impacts human resources functions and the overall company's internal operations. Other HR-related courses at National cover how cloud-based human resource management systems can integrate processes, such as payroll, benefits management, and time-tracking.
Finally, the social and legal concerns facing the workplace are constantly changing. It's crucial that case studies used in class are current and focus on what matters most to workers today.
After the Masters: Career Outlook and Earnings for HR Professionals
Earlier in this article, we shared how varied roles and responsibilities in human resources can be. For this reason, salary data varies from industry to industry, city to city. The U.S. Department of Labor's Bureau of Labor Statistics (BLS) Occupational Outlook Handbook captures some overall statistics on a few specifically defined occupations within the HR world. Let's take a look:
Human Resources Managers
Median annual wage, national: $113, 300.
Median annual wage, California: $142,870.
Training and Development Managers
Median annual wage, national: $111,340.
Median annual wage, California: $130,910.
Compensation and Benefits Managers
Median annual wage, national: $121,010.
Median annual wage, California: $150,480.
Management Analysts
Median annual wage, national: $83,610.
Median annual wage, California: $95,310.
When it comes to the C-suite — in this case, a role like a chief human relations officer — the BLS doesn't break down by type of senior leader. However, here is a look at chief positions across the board:
Chief Executive
Median annual wage, national: $200,140.
Median annual wage, California: $228,270.
According to the BLS, there's a clear demand for human resource management professionals; several occupations in the field are anticipated to grow between now and 2028. Here's a look at the estimated growth for a few positions:
Human resources managers: 7%, faster than average.
Training and development managers: 8%, faster than average.
Management analysts: 14%, much faster than average.
Training and development specialists: 9%, faster than average.
What Else Can You Do With a Master's in Human Resources?
We already learned that there's an incredible variety in the field, with new roles or initiatives evolving with the times. Still, most of the careers we've mentioned so far in this article are within a company or organization. With the right education and experience, you could also seek out other HR-related opportunities.
Independent Consulting & Training
Instead of working in the human resources division at a company or organization, many HR pros choose to become self-employed. For example, some might use their organizational development skills to consult new or growing companies. Others might create independent training companies that provide on-site programs in a variety of topics to companies of all sizes.
Career Coaching and Counseling
You could take your recruiting and talent acquisition skills to provide private coaching services to individuals looking for a career change or who might be experiencing a life transition. In this same vein, you could perform this type of work for state or local workforce development agencies. Finally, most colleges, universities, and trade schools offer job and internship preparation and placement services to their students. A human resources management master's degree could land you a role as a career services director.
Human Resource Services Companies
Human resource offices today rely on outside vendors and third-party applications for a range of purposes, such as payroll, benefits management, and even recruiting. These companies also need leaders who understand the market they serve: human resource managers and directors. So you could put your online masters in human resources to work at a search firm, payroll processor, benefits administrator, online employment directory, HR-related software company, or temporary staffing agency.
Teaching Human Resources
After you have plenty of experience under your HR belt, you might be inspired to share that knowledge with future leaders. Teaching at the college level typically requires a master's degree or higher. For any given degree program or department, academic institutions often have a mix between full-time faculty members who've earned their Ph.Ds. and adjunct instructors who are current (or sometimes) retired practitioners.
Staying Up-to-date In the Human Resource Management Field
The workplace continues to evolve. Human resources professionals are often in charge of leading employee development. But who provides additional training to the HR team? Oftentimes, in any career, we learn by doing, and by adapting to new norms, challenges, or technology. But, if you're an HR professional looking to keep your skills sharp even after you graduate with your master of human resource management degree, you have options to continue boosting your career:
Join a professional organization.
Membership in a trade organization has many benefits, from training and certification programs to receiving a magazine or exclusive blog content. Depending on your role or interests, one or more of the following might be right for you:
Society for Human Resource Management.
American Society for Training and Development.
Association for Quality and Participation.
International Coach Federation.
International Foundation of Employee Benefit Plans.
Go to at least one conference a year.
You'll find HR-related professional conferences of all sizes and specialties. Which one you choose to attend could coincide with your personal or company goals that year, or you could pick the event based on its proximity to where you live. Here are just a few conferences that several websites and blogs listed as must-attend events from 2019:
SHRM Annual Conference and Exposition.
California HR Conference.
World at Work Rewards and Compensation Conference.
Association for Talent Development Conference and Exposition.
Talent Connect.
Human Capital Institute's Employee Engagement Conference.
Dates and locations of these events change annually, so a quick internet search should provide you the most up-to-date details.
Human resources is certainly a rewarding field and one that is on the rise. If you're looking to boost your career with a master of human resource management degree, consider National University. Explore this opportunity in more depth on our HR program page.