Bachelor of Arts in Interdisciplinary Studies

Bachelor of Arts in Interdisciplinary Studies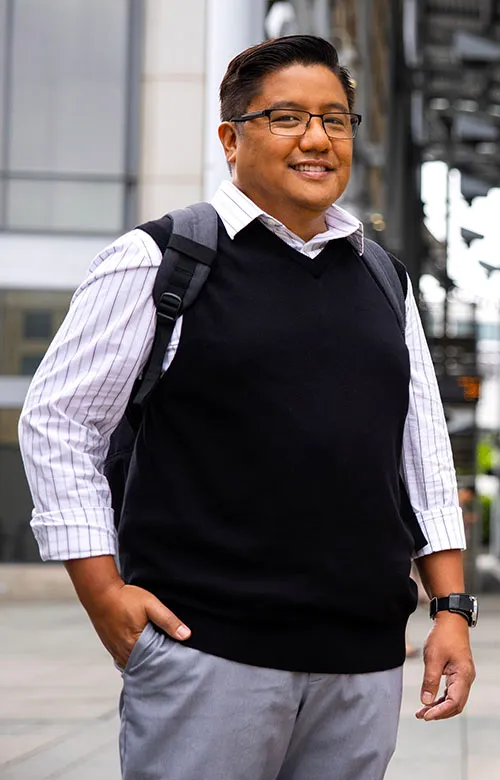 Keep future career options open with a liberal arts degree
Freedom. Flexibility. Possibility. There's something about an online liberal arts degree that allows you to pursue an education based upon your own passions and interests. NU's BA in Interdisciplinary Studies is designed to provide you with a well-rounded education that focuses on reasoning, intellect, and ethical development. With this knowledge, you'll be equipped for a broad range of professional pursuits beyond graduation.
According to the Bureau of Labor Statistics, the average American will change jobs more than 10 times over the course of their career, and those moves don't necessarily happen within the same industry. No matter where your career path takes you, this rich and rigorous curriculum can prepare you for career options in our ever-changing cultural and economic environment. You'll develop a strong background in research and writing and well-rounded critical thinking skills, which are valued by employers in just about any field.
Program Learning Outcomes
As a graduate of National University's Bachelor of Arts in Interdisciplinary Studies program, you'll develop the following skills:
Demonstrate an understanding of interdisciplinary theory and the practice of critical thinking for the collection, validation, analysis, and synthesis of historical data and new information
Explain the integration of knowledge in a global context and engage in collaborative research across disciplines
Identify and appreciate the cultural perspectives of world views
Use information communication technology for knowledge sharing and the interdisciplinary approach
Demonstrate a deep and flexible understanding of subject matter
Click here for program-specific course information.

Jackson M.
Class of 2021, Military Veteran
"NU's faculty are established scholars and creators in their own fields. They're dedicated to making your entry into their disciplines a successful one, preparing you for your career as well as graduate study."
BA Interdisciplinary Studies FAQs
The short answer is … a lot of things. Because you'll be gaining knowledge in several different subject areas and building your critical thinking skills, you'll graduate with the qualifications to pursue jobs in a broad range of fields — everything from healthcare and education to business and finance.
While a traditional, career-specific degree program puts you on a track to enter a particular field, studying liberal arts empowers you to focus your education on more than one area of interest. In this curriculum, you can expect a broad and demanding program that'll introduce you to the humanities, arts and sciences and guide you in discerning the connections across those disciplines.
Why Choose National University?
We're proud to be a veteran-founded, San Diego-based nonprofit. Since 1971, our mission has been to provide accessible, achievable higher education to adult learners. Today, we educate students from across the U.S. and around the globe, with over 185,000 alumni worldwide.
Program Disclosure
Successful completion and attainment of National University degrees do not lead to automatic or immediate licensure, employment, or certification in any state/country. The University cannot guarantee that any professional organization or business will accept a graduate's application to sit for any certification, licensure, or related exam for the purpose of professional certification.
Program availability varies by state. Many disciplines, professions, and jobs require disclosure of an individual's criminal history, and a variety of states require background checks to apply to, or be eligible for, certain certificates, registrations, and licenses. Existence of a criminal history may also subject an individual to denial of an initial application for a certificate, registration, or license and/or result in the revocation or suspension of an existing certificate, registration, or license. Requirements can vary by state, occupation, and/or licensing authority.
NU graduates will be subject to additional requirements in a program, certification/licensure, employment, and state-by-state basis that can include one or more of the following items: internships, practicum experience, additional coursework, exams, tests, drug testing, earning an additional degree, and/or other training/education requirements.
All prospective students are advised to review employment, certification, and/or licensure requirements in their state, and to contact the certification/licensing body of the state and/or country where they intend to obtain certification/licensure to verify that these courses/programs qualify in that state/country, prior to enrolling. Prospective students are also advised to regularly review the state's/country's policies and procedures relating to certification/licensure, as those policies are subject to change.
*Positions may require additional experience, training, and other factors beyond successfully completing this degree program. Depending on where you reside, many positions may also require state licensure, and it is the responsibility of the student to ensure that all licensure requirements are met. We encourage you to also review program-specific requirements. Any data provided on this page is for informational purposes only and does not guarantee that completion of any degree program will achieve the underlying occupation or commensurate salary.
Resource Links