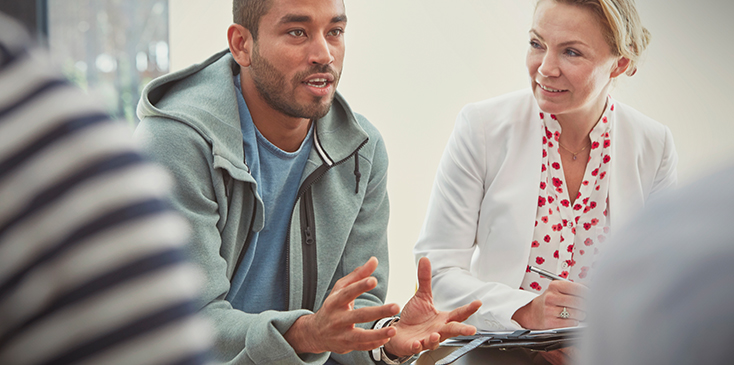 There is growing demand for mental healthservices in the U.S. According to a national survey on drug use and health from the Substance Abuse and Mental Health Services Administration, anestimated 43.4 million adults aged 18 or older were living with a mentalillness in 2015. That number represents nearly 18 percent of all adults in thecountry. The report further found that 9.8 million adults were living with aserious mental illness during the same period.
In line with this growing need, the country isfacing an escalating shortage of psychiatrists and other mental healthproviders, according to the Association of American Medical Colleges.
"We face a broad rangeof mental health issues, including the acute problems of opioid addiction andincreasing rates of depression and suicide," Dr. Darrell Kirch, a psychiatrist and AAMC president and CEOtold the AAMC. "I think one of the great tragedies is that some of the mostseriously mentally ill individuals are homeless or are caught in a revolvingdoor between prison and the street."
As an increasing number of Americans from allbackgrounds seek mental health services, they need qualified providers who arecapable of delivering the specialized type of care to address these challenges.To ensure that people in the U.S. are able to access the services they need tosafeguard their mental and emotional well-being, this shortage of qualifiedprofessionals must be addressed.
While many mental health patients are caredfor by psychologists and psychiatrists, there are a growing number of otherprofessionals who practice in this area of medicine. Among these roles is thatof the psychiatric mentalhealth nurse practitioner (PMHNP). A PMHNP position can be a natural fitfor nurses who are interested in the psychiatric field and want to advancetheir career.
If you are interested in pursuing a career asa PMHNP, a psychiatricnurse practitioner program such as a Master of Science degree in Nursing with Specializationin Psychiatric-Mental Health Nurse Practitioner – Lifespan can help you jumpstart a rewarding career treating patients with mental healthneeds.
What Is a Psychiatric Mental Health Nurse Practitioner?
In the U.S., nurse practitioners are playingan increasingly important role in providing high-quality, cost-effective careto patients in a variety of fields. According to the Bureau of LaborStatistics, demand for NPs is expected to growby 31 percent between 2016 and 2026, adding more than 64,000 new positions tothe job market. This is significantly higher than the average rate of jobgrowth across all fields in the country.
NPs are advanced practice nurses who typicallyhold either a master's or doctorate degree. They can practice as providers in avariety of specialties, including emergency medicine, family medicine, women'shealth, adult gerontology, pediatrics, and psychiatry.
In the field of mental health care, nurse practitioners who work in mental health play an important part in ensuring thatpatients with psychiatric challenges receive the high-quality, coordinated,safe care they need to live a healthy and happy life.
PMHNPs generally work as an independent memberof a healthcare team to provide evidence-based services and therapies topatients with mental health needs. They manage a variety of conditionspresented by individuals with behavioral health issues along all stages of thelifespan. This includes acute, and often lasting, long-term issues. Typicalresponsibilities include evaluating, diagnosing, and creating care plans forpatients who have complex psychiatric and any accompanying medical issues.Treatment may involve prescribing psychopharmacologic agents, and managingtheir use.
Patient advocacy is another important part ofthe PMHNP's role. This often includes engaging with both patients and theirfamilies, particularly through the recovery process, which can often includeensuring that the patient and any family members are actively following up withany care plan or other directives. PMNHPs are frequently additionally involvedin efforts to improve safety and quality at the local, regional, or evennational level.
How to Become a Psychiatric Mental Health Nurse Practitioner
Are you interested in pursuing a career as aPMNHP? If you have not yet qualified as a registered nurse or worked in thehealth care field, you will typically need to start by enrolling in anAssociate's or Bachelor of Science in Nursing degree program and passing thelicensing exam.
If you have already met those requirements,you are well on your way to fulfilling the qualifications and experience youneed. To continue on the path toward a PMHNP career, you will need to fulfillthe academic requirements, gain experience in the field, and completecertification before applying to positions.
Fulfill the academic requirements. Unless you already hold an undergraduate degree, your first step is to earn your BSN. Depending on the program and course load you choose, this can typically be accomplished in two to four years. If you are already working as an RN, you can enroll in an accelerated RN to BSN online degree program to speed up the process.At that point, youwill need to move on to a graduate-level nursing degree. A minimum of an MSN isrequired to become a psychiatric NP. Look for a program that offers an emphasisor specialization in psychiatric nursing practice, which will prepare you topass the psychiatric-mental health licensing exam after graduation. While somenurses do go on to earn a doctorate in this area of practice, it is rarely requiredfor roles outside of academia and research. An MSN will usually suffice forclinical practice.
Gain experience working as a registered nurse. While not necessarily a requirement, gaining experience working in the field will help prepare you for eventual work as an NP. Much of your experience in general nursing practice should typically be completed prior to enrolling in an MSN program. If possible, look for opportunities to work with mental health patients in some capacity to gain exposure to the specialty.
Complete Board Certification in Psychiatric-Mental Health. In addition to current Registered Nurse licensure, you must earn certification in psychiatric-mental health from the American Nurses Credentialing Center (ANCC) in order to practice as a PMHNP. This competency-based examination measures your entry-level clinical knowledge and skills in the area of psychiatry-mental health.
Apply for psychiatric NP roles. Once these requirements are met, you will be ready to apply to new roles as a psychiatric NP in a variety of health care settings.
Ready to get started? Whether you have alreadycompleted a BSN or still need to pursue an undergraduate nursing degree, it isnever too early to start researching psychiatric-mental health nursing programsat the graduate level and learning about your options.
Finding the Right Psychiatric Nurse Practitioner Program
When it comes to pursuing a career as a psychiatric NP, the program you choose will play a significant role in shapingyour mental health care skills and knowledge. If you choose to pursue a careeras a PMHNP through a master's degree, you will need to choose a program with anemphasis or specialization in mental-health psychiatric nursing or somethingsimilar in order to pass the certification exam upon graduation.
PMHNP programs are designed for BSN-certifiednurses who are ready to further their knowledge, education, and skills topractice in the area of psychiatry and mental health. The coursework isdesigned to prepare you to drive outcomes in a variety of areas in the field,including patient safety and quality.
For example, the program learning outcomes forNational's MSN with Specialization in Psychiatric-Mental HealthNurse Practitioner – Lifespan are as follows:
Synthesize knowledge from physical and behavioral sciences as a basis for advanced nursing practice in the clinical setting.
Create evidence-based strategies at the population, communication, organizational, family and patient level for improving outcomes through disease prevention and health promotion.
Use current technologies to drive optimal outcomes through documented care, delivery, and enhancement.
Promote quality, effective, and safe patient care by providing systems and organizational leadership to efforts related to critical and ethical decision making, health care team working relationships, and other current challenges.
Set an example for interprofessional teams in the coordination and collaboration of care delivery for complex, multi-need communities, families, and patients.
Create evidence-based clinical behavioral health care and prevention services for individuals, families, and identified populations that are client-centered and culturally appropriate.
When you enroll in a psychiatric nurse practitioner program, you will study a variety of topics pertinent to yourfuture career, including subjects such as:
Advanced physical assessment
Advanced pathophysiology
Advanced pharmacology
Psychopharmacology in mentalhealth care
Mental health care in adults/agingadults
Mental health care ofchildren/adolescents
Diversity issues in advancedpractice nursing
Psychotherapy
MSN programs typically take about two years tocomplete, though the exact length depends on the program and your course load.It will generally take approximately the same length of time to complete amaster's level degree with a psychiatric-mental health emphasis, though thespecialization may require additional courses.
If you enroll in the National University PMHNPprogram, you will be eligible to sit for the ANCC Psychiatric-Mental Health Nurse Practitioner (Lifespan) examination upon completion ofyour degree.
The Psychiatric Mental Health Nurse Practitioner Certificate
While an MSN program with a specialization in mentalhealth is perhaps the most common path to a career as a PMHNP, it is not youronly option for obtaining this position. If you have already completed an MSN,Doctor of Nursing Practice, or Doctor of Philosophy in Nursing, a psychiatric nurse practitionerprogram thatis not degree-based is an option. A Psychiatric Mental Health Nurse Practitioner Certificate can help advance your specific knowledge,education, and skills in mental health to prepare you for an advanced practicePMHNP role.
For example, the National University PMHNP Certificate is a 46.5 quarter unitprogram, designed to equip graduate-level advanced practice nurses withthe skills and knowledge required to provide primary mental health care forindividuals, groups, and populations across the lifespan.
The certificate program includes the following corerequisite courses:
Advanced Physical Assessment
Advanced Pharmacology I
Advanced Pathophysiology
Psychopharmacology in MH Care
Adults/Aging Adults
MH Care: Children/Adolescents
Introduction to Psychotherapy
Upon completion of the program, you willreceive a PMHNP Certificate of Completion, as opposed to a formal nursingdegree. But combined with the higher nursing degree you earned previously, thecertificate will enable you to qualify for most positions in this clinicalspecialty.
Aswith the MSN program, graduates of National's Post-Graduate PMHNP CertificateProgram are eligible to sit for the ANCC Psychiatric-Mental Health Nurse Practitioner competency-based test after completing the program.
Characteristics of a Good Psychiatric Mental Health Nurse Practitioner
To succeed in a career as a psychiatric NP,you need more than degrees and technical knowledge. You also needwell-developed soft skills — the interpersonal abilities that help you workwell with others.
The following soft skills are important toexcel in a career as a psychiatric NP.
Ability to work independently: As a PMHNP, youwill work as part of a health care team, but often function independently ofthe other members. As such, you will need the confidence and skills tofrequently manage your own work and responsibilities.
Communication: To excel in the workplace, youwill need to be able to communicate effectively with both your patients andother members of your health care team to ensure positive outcomes.
Problem-solving: From the challenges faced byyour patients to logistical difficulties behind-the-scenes, you will needstrong problem-solving skills to work as a PMHNP.
Time management: As in any health caresetting, balancing the many demands on your time is critical in this specialty.Time management skills will help you not only provide the best care to yourpatients but contribute to your own work-life balance.
Want to further develop these abilities? Thecoursework and other requirements of a psychiatric nurse practitioner program can providevaluable opportunities to refine your soft skills as you work to complete yourdegree.
While soft skills are important for yourperformance as an NP, they provide more than just benefits to your patients.These abilities are increasingly valued by employers, which means that they canhelp you stand out as an applicant when interviewing for new roles.
Working as a Psychiatric Mental Health Nurse Practitioner
With the increasing demand for NPs, an MSN isa valuable asset when searching for a job. Adding a PMHNP specialization toyour degree can open up more opportunities for work in the mental healthsetting.
As a PMHNP, you can find employment in avariety of settings, ranging from large health care organizations to smalloffices. These options include:
Psychiatric and behavioraltreatment clinics
Private practices or corporations
Public health agencies
Residential treatment facilities
Family practices or clinics
Correctional facilities
Rather than taking a position in a clinicalsetting, some NPs with mental health specialization choose to go into consultingfor public or private organizations, working either independently or as part ofa firm.
The salary for these roles can vary due to avariety of factors, including experience level, job title, work setting, andlocation. However, earning potential across the board tends to be high.According to the job and salary website Payscale, the average annual salary of apsychiatric nurse practitioner is $100,049. This is about $30,000 more a yearthan the median annual salary of an RN, asreported by the Bureau of Labor Statistics.
Your PMHNP Degree at National University
When it comes to a psychiatric nurse practitioner program,California offers numerous options for aspiring PMHNPs. To jumpstartyour career, consider enrolling in a psychiatric nurse practitioner program through NationalUniversity to earn your MSN with psychiatry mental health emphasis or apsychiatric mental health nurse practitioner certificate.
The National MSN program is approved by theCommission on Collegiate Nursing Education and created in line with thestandards for advanced practice nursing graduate education by the AmericanAssociation of Colleges of Nursing. Through the added specialization, youbenefit from the advanced practice focus of the core MSN curriculum, withadditional courses designed to equip you for PMHNP practice. These subject-specificclasses cover topics such as pathophysiology, pharmacology, and mental healthcare in order to prepare you to practice in the mental health setting.
This graduate-level nursing degree typicallytakes about two years to complete, though the exact length will depend on yourcourse load. And when considering National's psychiatric nurse practitioner programs, Californiaresidency is not a requirement. To make it as convenient as possible to pursueyour MSN, National offers online courses, classes at a physical campus, or acombination of the two, to help ensure that you are equipped with the advanced practice skills you willneed to assume a leadership position in the psychiatric-mental health nursingfield.
Ready to learn more about pursuing your MSN degreewith a specialization in Psychiatric-Mental Health Nurse Practitioner-Lifespan or a Psychiatric Mental Health Nurse Practitioner Certificate through National University? Fillout the information form online and an admissions advisor will contact yousoon to help you determine which psychiatric nurse practitioner program is the right choice for yourcareer goals.