LGBTQ Couple & Family
Therapy Specialization
NO Residency
NO Group Work
100% Online Learning
Master's (MA-MFT) in LGBTQ Couple and Family Therapy
Same-sex couples face many of the same relational issues as heterosexual couples, but the attendant differences can create unique challenges as well. The LGBTQ Couple and Family Therapy specialization is designed to prepare you to work with clients in the LGBTQ community and to specialize in working with couples and families using a family therapy, systems-oriented approach. In this specialization, you will be required to complete two content courses focused in this area, a research course focused on issues related to working with LGBTQ couples and families, and at least 50 hours of clinical experience in an approved setting with a qualified local clinical supervisor.
Why Earn Your Master's in LGBTQ Couple and Family Therapy with National University?
Unmatched Flexibility
NU offers weekly course starts, no scheduled lecture hours, no group assignments, weekly assignments, and the ability to schedule courses around your personal and professional obligations.
100% Doctoral Faculty
No matter the degree level you pursue, you can rest assured that you will be mentored by doctors in your field of study.
One to One Engagement
You won't have to fight for facetime as one of many within a classroom. At NU, you'll have the opportunity to interact one to one with your professor, receiving personalized mentoring.
Course Details
Credit Hours : 45
Courses: 15
Estimated Time to Complete: 33 months
*Credit hours and courses reflect new students meeting credit requirements and utilizing no transfer credits. Est. Time of Completion reflects new students following the preferred schedule designed by the Dean for the program.
Master of Arts in Marriage and Family Therapy Learning Outcomes
Employ competence in working with diverse populations in clinical settings.
Evaluate family systems oriented clinical skills across a variety of contexts.
Examine family systems theory oriented models of therapy.
Formulate a decision-making process for ethical dilemmas congruent with the AAMFT Code of Ethics.
National University pursues programmatic accreditation whenever appropriate. The Master's and PhD in Marriage and Family Therapy are COAMFTE and IACSTE accredited.

The Commission on Accreditation for Marriage and Family Therapy Education (COAMFTE) is the accrediting body for the American Association for Marriage and Family Therapy (AAMFT).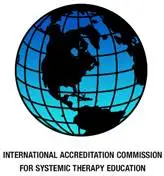 The International Accreditation Commission for Systemic Therapy Education (IACSTE) focuses on the development and implementation of quality standards for programs around the world that provide systemic therapy education and training.
Program Disclosure
Successful completion and attainment of National University degrees do not lead to automatic or immediate licensure, employment, or certification in any state/country. The University cannot guarantee that any professional organization or business will accept a graduate's application to sit for any certification, licensure, or related exam for the purpose of professional certification.
Program availability varies by state. Many disciplines, professions, and jobs require disclosure of an individual's criminal history, and a variety of states require background checks to apply to, or be eligible for, certain certificates, registrations, and licenses. Existence of a criminal history may also subject an individual to denial of an initial application for a certificate, registration, or license and/or result in the revocation or suspension of an existing certificate, registration, or license. Requirements can vary by state, occupation, and/or licensing authority.
NU graduates will be subject to additional requirements on a program, certification/licensure, employment, and state-by-state basis that can include one or more of the following items: internships, practicum experience, additional coursework, exams, tests, drug testing, earning an additional degree, and/or other training/education requirements.
All prospective students are advised to review employment, certification, and/or licensure requirements in their state, and to contact the certification/licensing body of the state and/or country where they intend to obtain certification/licensure to verify that these courses/programs qualify in that state/country, prior to enrolling. Prospective students are also advised to regularly review the state's/country's policies and procedures relating to certification/licensure, as those policies are subject to change.
National University degrees do not guarantee employment or salary of any kind. Prospective students are strongly encouraged to review desired job positions to review degrees, education, and/or training required to apply for desired positions. Prospective students should monitor these positions as requirements, salary, and other relevant factors can change over time.