May has been a very exciting month. I participated in my first commencement ceremony at National University and I have been able to meet with more of our NU community as I travel to NU's campuses. In addition, I was able to congratulate San Diego County Teachers of the Year, which included 13 alumni from NU!
It was such an honor to meet our graduates as they lined up for the Northern Commencement ceremony in Sacramento. So many of our students have had to overcome obstacles to achieve their goals, like Maria Berry, who earned a master's degree from the Sanford College of Education while raising seven children and working full time. And Armando Orozco, who dropped out of school at a young age to help his family earn money; yet he persevered and went on to earn his GED and ultimately his MBA from NU's School of Business and Management. Several students are the first in their family to receive a college degree, like Cindy Weidman, who has survived two bouts of cancer and earned a degree from the School of Health and Human Services. We are so proud of all of our students, and I'd like to say a special "thank you" to all of you who have helped our students, directly or indirectly, along their path to graduation.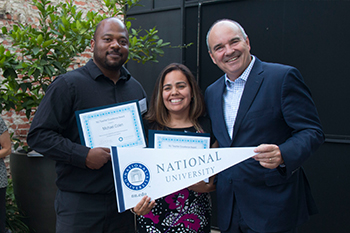 As we continue to celebrate National University's 45th year, I am very excited for our upcoming Southern Commencement ceremony at San Diego's Petco Park on June 11! Our graduates will hear from keynote speaker, Wes Moore, a decorated Army combat veteran, youth advocate, and CEO of BridgeEdU. He is also the author two New York Times bestselling books, The Other Wes Moore, a story of the importance of individual decisions as well as community support, and The Work, which chronicles Wes's journey to discover meaning in his work and how he found that meaning in service. Wes has been featured by USA Today, People Magazine, "Meet the Press," "The Daily Show" with Jon Stewart, "The View," MSNBC, and NPR, among many others. He is also the host of "Beyond Belief" on the Oprah Winfrey Network and Executive Producer and host of "Coming Back with Wes Moore" on PBS. It's going to be another great ceremony to celebrate the accomplishments of our hard-working students.
As previously mentioned, I have had the pleasure of visiting a number of our locations, and the privilege of meeting staff, students, and faculty where they work and study. From cubicles to classrooms it was so much fun to see you all in action. While it will take a while to get to all of our locations, I will get there! And congratulations to the Fresno campus, which celebrated its 30th year in May!
On May 6, National University and the San Diego Padres honored 43 newly named San Diego County Teachers of the Year, which included 13 alumni from National University! I was thrilled to be a part of the on-field activities at Petco Park, and I also had the pleasure of throwing out the honorary first pitch. I am so proud of the long-term impact of our work. And congratulations again to the Teachers of the Year and all of our graduates!