On June 11, I participated in my first Southern Commencement Ceremony at National University! It was such a special day to celebrate the accomplishments of our students with their loved ones at the University's inaugural commencement ceremony held at San Diego's Petco Park. What a privilege to congratulate each student as they crossed the stage. Our students worked hard to get to this day and I know that our faculty and staff also worked very hard to make this day a reality. I'd like to thank all of our faculty and staff members for their dedication to bringing quality education programs to the students of National University, and for their incredible job with this amazing commencement ceremony!
I'd like to give special acknowledgement to the recipient of the 2016 President's Distinguished Teaching Award, Dr. Ronald Uhlig, a professor in the School of Engineering and Computing. Through his excellence in teaching, Dr. Uhlig demonstrates National University's and the National University System's commitment to the highest quality of instruction and dedication to teaching.
We were fortunate to hear a special message from keynote speaker, Wes Moore, who is a decorated Army combat veteran, Rhodes scholar, best-selling author, and education leader. His dedication and commitment are inspiring, just as we are inspired by students, such as Otani Lin Laster. Otani is part of our National University Guardian Scholarship Program. Otani beat the odds by being among just three percent of foster youth who complete a university degree. She is planning to use her newly earned business degree to launch a project that will help other foster youth be better prepared for their adult lives. And we are so proud of many other students that have overcome obstacles. For example, Roger Magana grew up in a challenged Los Angeles neighborhood, yet today he serves proudly in the U.S. Navy, mentoring young sailors and troubled youth in San Diego to help them achieve their career and educational goals. Though his path was not easy, Roger persevered and graduated Magna Cum Laude with a business degree, and is already working toward his master's degree in business! This was a special day for many of our students who became the first in their families to receive a college degree, such as Melissa Giard. As the youngest of ten children, and a working mother of four teenagers, Melissa started her degree years ago and then put it on hold. As she received her bachelor's degree in Communications, she achieved her goal of setting an exceptional example for her children to get a college education, and she also joined her husband as a National University Alum.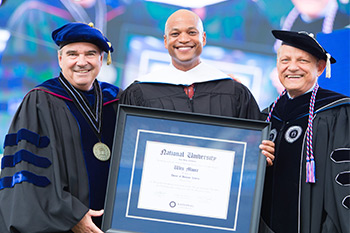 As I reflect on our awesome students, faculty, and staff, I also want to recognize another special group, our Alumni Association, which as of June 11 has added to the network that is 150,000 strong. National University alumni include mayors, superintendents, CEOs, fire chiefs and award-winning teachers, and this vibrant community is dedicated to supporting the ongoing professional and educational development of our graduates. We encourage everyone in our National University community to get involved with our wonderful Alumni Association!