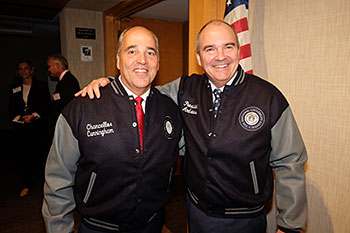 Hello, National University! Thank you for the kind welcome that I have received thus far. I am honored to assume the leadership of National University during this exciting and transformative time within the higher education sector. Together, we have an incredible opportunity to build upon the already impressive impact of National University, and transform higher education in the U.S. I look forward to creating strong partnerships both within the University and with community groups and organizations that share our dedication to providing adult learners with access to an affordable, high-quality education that has the power to transform individual lives and our regional economies.
Many thanks to Chancellor Cunningham, the Board of Trustees, the search committee, and those of you I met during the search. Your dedication, vision, and extraordinary hospitality made my decision to come to National University quite easy. I am excited to join the National University family and I look forward to meeting those I have yet to meet in the very near future.
I've quickly learned that here at National University, we are dedicated to serving our students and communities "For the Greater." We believe that education isn't just the degree you earn, but the degree to which you use it, which is why it was such an exciting and memorable moment to have Oprah Winfrey speak to us about living an intentionally good life. We all aspire to this intentionality – In our Relationships. In our Life. In our work and study at school, and in our community.
We were fortunate to have a few of our students across the state share their inspirational stories and address questions directly to Ms. Winfrey. I am so proud of what an amazing job they did, and I'd also like to applaud all of our staff and faculty who participated in making this such a successful event. As Oprah said, "We are all here to offer our energies in service of each other, for the greater good." I saw our team pull together last week for this momentous occasion and I'd like to offer a big congratulations on a job well done!