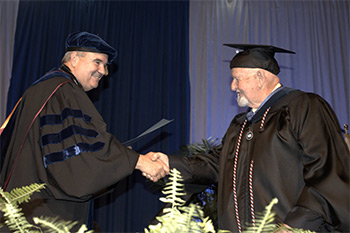 This is a special time of year when we pay tribute and show appreciation to many. This month, we celebrated Mother's Day where we showed appreciation for the wonderful guidance and care of our mothers; and we recently celebrated Memorial Day, when we recognized the selfless service of our active-duty military and veterans. Commencement is also upon us, and we were thrilled to honor the dedication and drive of over 500 graduates, as they crossed the stage at the Sacramento Convention Center on April 23.
The Northern California Commencement Ceremony is truly a special event. It was a distinct privilege to meet our graduates and their families before the ceremony and to address everyone on this significant day. Graduates heard inspirational words from Chancellor Cunningham and from keynote speaker, California Assemblywoman Catharine Baker, who both set a standard for leadership and service, and embody the attributes of empowerment, dedication and compassion that serve as a benchmark for our graduates. It was a treat to hear our graduates talk about their academic journeys, such as Patricia Elton, who raised four children as a single mother and at 62-years young earned her master's degree in education because as she likes to say, "It's never too late to get an education."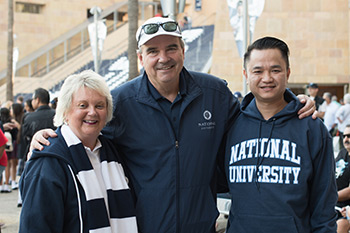 It was a pleasure to welcome these graduates to our Alumni Association and to congratulate current alumni who received the Teachers Excellence Fund Award, which aids teachers in purchasing much-needed classroom supplies. We were all honored to hear from the Northern California Alumnus of the Year, General Robert Hipwell and his wife Cindi, who is also an alumna of National University.
We are so proud of all of our students, and I'd like to say a special thank you to all of you who have helped our students, directly or indirectly, along their path to graduation. We are looking forward to celebrating our Southern California graduates on June 17 at San Diego's Petco Park.
May is also Teacher Appreciation Month and we were excited to team up with the Padres to honor San Diego County Teachers of the Year, which included eight alumni from National University! I was thrilled to be a part of the on-field activities at Petco Park, and cheer on Shaun Bunn, an NU alumnus and a 2016-2017 California Teacher of the Year, as he threw out the honorary first pitch. I am so proud of the long-term impact of our work and want to again congratulate the Teachers of the Year and all of our graduates.